For women who are driven to lead and participate, meeting a fundraising goal for Augsburg College doesn't mean your work is done. It just means it's time to engage in another meaningful challenge to continue positively impacting the lives of Augsburg students, faculty, staff, and the Cedar-Riverside neighborhood.
That's just what Augsburg Women Engaged (AWE) is doing through the leadership of Lisa Svac Hawks '85, vice president of external communications for UnitedHealthcare, who was moved to make a lead gift to fund a mural planned for the interdisciplinary Norman and Evangeline Hagfors Center for Science, Business, and Religion.
"When I learned about the way Augsburg is bringing these disciplines together under one roof, I knew this was something distinctive and powerful," said Hawks. "The Hagfors Center will measurably contribute to shaping greater leaders for tomorrow."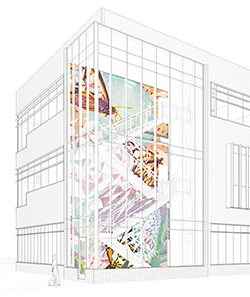 The mural that AWE will fund, titled "Emergence," incorporates the image of monarch butterflies with references to symbiosis, textile traditions, geometry, faith, home, prayer, and identity. The $150,000 project will express the College's commitments to hospitality and serving the neighbor, two core principles of the Lutheran tradition in which the College is rooted. The large-scale mural will adorn the staircase at the end of the west wing.
Making the lead gift for this powerful installation, which will be created by muralist Greta McLain, came naturally to Hawks.
"Art has a special way of helping us experience what it means to come together in a new way. Art helps us visualize new futures. It helps us connect to big concepts and to engage emotionally with them so we can see ourselves in big ideas," Hawks said.
"As a group of women, we believe that art connects the heart and head. By funding this mural as a permanent beacon in the Hagfors Center, we invite everyone to connect our heads and our hearts, so our hands can get to the good work."
For McLain, the collaboration between space, artist, community, and construction can take many forms. "We all are asking: In what ways are we shaping the future leaders we need to address the challenges of the future?" she said.
AWE is undertaking this new challenge and commitment to the greater Augsburg College community at the same time it successfully closes out another project for the Hagfors Center. This group of 70 women already raised $130,000 to sponsor a student study lounge in the building.
The AWE-Inspired Philanthropy Council invites all Auggie women to join them in sponsoring "Emergence." They supported a Give to the Max Day project to raise funds for the work, and are partnering with Donna McLean and Martha Truax '16 MAL in Institutional Advancement to reach their goal of $150,000 in gifts and pledges by December 31. Email mclean@augsburg.edu or truaxm@augsburg.edu for more information.
---
View artwork available for sponsorship, including 21 pieces created by faculty, staff, alumni, and artists who have exhibited previously in Augsburg galleries.