1960-1969 | 1970-1979 | 1980-1989 | 1990-1999 | 2000-2009 | 2010-2015 | Graduate Programs
---
1960
The newest book by Lowell "Zeke" Ziemann '60 is "America's First Centennial and the Old West: 1876 A Year to Remember." This book presents prominent events in the Western Territories during the United States' centennial year. Incidents of 1876 described in the book include: the Little Bighorn conflict, Wild Bill Hickok's murder, the capture of Jesse James' gang, and Bat Masterson's first gunfight.
1968
The Rev. Mark Hanson '68, former presiding bishop of the Evangelical Lutheran Church in America, received the Walk of Faith Award from Lutheran Immigration and Refugee Service on October 26 in recognition of his career in service to the Lutheran community. The ELCA is the nation's largest Lutheran denomination. Hanson was ordained in 1974 and has since served as a pastor for three Minnesota congregations, as bishop of the St. Paul Area Synod, and as the president of the Lutheran World Federation in Geneva. Hanson is an advocate for migrants and refugees. He currently serves as the executive director of the Christensen Center for Vocation at Augsburg College.

Regent Emeritus Ron Nelson '68 was honored with a Distinguished Alumni Award at Homecoming. He retired from 3M after 33 years with the company and spent 11 years as vice president and controller. A captain for the baseball and basketball teams at Augsburg, Nelson was inducted into the Augsburg Athletic Hall of Fame in 1991. He is one of the owners of Thawzall, LLC, located in Alexandria, Minnesota, and is a member of the board of Oakdale-based Hearing Components, Inc. Nelson lives in Mendota Heights, Minnesota, and is an active member of St. Stephen's Lutheran Church. His wife, Mary Kay (Belgum) Nelson '68, passed away in July after a courageous 11-year battle with leukemia. They were blessed in their marriage with a focus on faith and their family, including daughters Kristy and Becky.
1971

Professor Emeritus and Retired Chair of the Augsburg College Music Department Robert "Bob" Stacke '71 was honored with the Spirit of Augsburg Award at Homecoming. In retirement, he pursues his passion for photography and continues to be a guide and mentor for music and arts alumni as the leader of Bob's Band, an ensemble comprised primarily of Augsburg jazz band alumni. Since 2001, he has volunteered at a music camp in Haiti during his summers to share the joy of music with children.
1972

Ray Yip '72 received the Distinguished Alumni Award at Homecoming. Yip is an international public health leader who has had a significant impact on global public health in the areas of nutrition, maternal and child health, HIV/AIDS, and tobacco control. He has held positions with UNICEF, the Centers for Disease Control, and the Bill and Melinda Gates Foundation. Since 2015, he has served as special advisor with a focus on health and clean energy for bgC3, a think-tank and incubator founded by Bill Gates. Yip lives in Beijing with his wife, Florence Bannicq.
1983
Tim Schultz '83 has been named private client services market leader for Arizona Bank & Trust, a division of Heartland Financial USA, Inc. He most recently served as regional wealth manager at Johnson Bank and chief operating officer for the western region of BMO Private Bank.
1987
Richard Bahr '87 released his book, "Amazed: Why the Humanity of Jesus Matters," in June. The book provides a one-of-a-kind look at Jesus through the lens of his humanity. Bahr and his wife, Carla, operate the Threshold to New Life ministry (threshold2newlife.org), providing relief and restoration to homeless persons. Bahr coordinates the volunteers for a daily breakfast held at Minneapolis' Salvation Army Harbor Light Center, which serves more than 40,000 meals per year. His blog can be found at richardbahr.com.

Amy Hyland Baretz '87 had an outstanding pitching career on the Auggie softball team, an accomplishment that earned her induction into the Augsburg Athletic Hall of Fame. She set the school record for career victories, twice earned All-MIAC honors, and was a member of an Auggie squad that won the MIAC title and reached the NCAA Division III national tournament in 1984. She also played volleyball at Augsburg. Following graduation, she became the owner of franchise businesses in southern Wisconsin and northern Illinois.
1988

Lee Roper-Batker '88 received the Distinguished Alumni Award at Homecoming. She is president and CEO of the Women's Foundation of Minnesota, and she has spent her career working to further gender equality, create equal opportunities, and build pathways to economic security for women and girls. Roper-Batker founded and serves on the executive committee of Prosperity Together, a nonpartisan coalition of public women's foundations that, at the White House in November 2015, publicly committed $100 million to improve the economic security of low-income women and their families in America.
1990
Matt Staehling '90 is the new city administrator for St. Cloud, Minnesota. He has served the city for 20 years, most recently as the city attorney.
1992

Augsburg volleyball star Tina (Kubes) Peterson '92 was a dominant player in the early '90s, securing All-MIAC honors, earning a season MVP nod, producing impressive numbers as an outside hitter, and serving as a multi-year captain. Peterson, who was inducted in the Augsburg Athletic Hall of Fame, also was a member of the Auggie women's basketball team. Following her graduation, Peterson has used her health and physical education degree as a teacher and coach. She has coached volleyball and track athletes in Minnesota's New London-Spicer school district.

Joel Tveite '92 was inducted into the Augsburg Athletic Hall of Fame in recognition of his successes on the baseball, basketball, and golf teams. Tveite was an all-around talent for Auggie baseball, pitching and playing third base. On the mound, he set school records with 28 complete games, 253 innings pitched, and 36 starts. He earned All-MIAC honors and was a team captain. Since graduation, Tveite has worked in accounting and management positions, and he has been active in baseball and basketball leagues as a player and coach.
Sharol Tyra '92, professional certified coach, certified professional co-active coach, mentor, makeup artist, and president of Life Illumination Coaching & Image (lifeillumination.com), and a Lord of Life Canticle Choir member was the 2016 finalist for Entrepreneur of the Year at the TwinWest Chamber of Commerce small business awards luncheon. She was also a 2016 nominee for the Excellence in Leadership Award at the I-94 West Chamber's small business awards breakfast. Candidates were judged on business strategies, drive for excellence, financial success, and community involvement.
1993

Augsburg Athletic Hall of Fame inductee Kevin Schiltz '93 was a dominant wrestler for the Auggies in the early '90s who earned three All-American honors and qualified for national tournament competition four times. He was a MIAC champion in wrestling as well as an offensive and defensive lineman for Augsburg's football team. Schiltz was a team captain for both sports. Since graduation he has worked in university athletics. Today he serves Saint John's University in Collegeville, Minnesota, as a wrestling assistant coach and department equipment manager.

Jodi (Divinski) Walfoort '93received recognition for her time on the Auggie cross country and track teams when she was inducted into the Augsburg Athletic Hall of Fame. Walfoort competed in her first athletic season in 1991 at the age of 25 when the Auggies re-started the cross country program. She made the most of her two years as a runner, earning All-Region honors twice, and she was voted a two-time MVP. After Augsburg, Walfoort became an IT professional and went on to start a commercial real estate company.
1994

Athletic Hall of Fame inductee Bill Gabler '94 transferred to Augsburg and competed in wrestling, football, and baseball. As an Auggie wrestler, he twice earned All-American honors, won a MIAC championship, and was on the program's first NCAA Division III national title winning team. He later served as an Augsburg assistant coach who helped guide the Auggies to two NCAA national championships. In football, Gabler was a starting middle-linebacker, and in baseball he was the starting shortstop. He has enjoyed a career in sporting goods, fundraising, and corporate promotions.
1996

Robert Anderson '96was the first Auggie football player to earn All-American honors, and the former defensive lineman was inducted into the Augsburg Athletic Hall of Fame this fall. Some of Anderson's athletic achievements at Augsburg include setting school records for sacks, being named a MIAC conference lineman of the year, and serving as a co-captain. Following his graduation, Anderson has worked as a sales director for the software industry in locations including Australia, Austria, China, Germany, New Zealand, and Singapore.

Athletic Hall of Fame inductee Bill Kriesel '96 is one of the top defensive backs in Augsburg football history. He set a single-season school record for interceptions, was named a team MVP on defense, earned All-MIAC first-team honors, and served as a co-captain. Following his graduation, Kriesel played professional football in Germany, earned his MBA, and served on the Augsburg football coaching staff, among other roles. Since 2013, he has worked as a defensive coordinator and defensive backs coach at Southwestern University in Georgetown, Texas.
Jodi Markworth '96 was hired as the new principal at Cedar Ridge Elementary in Eden Prairie, Minnesota. She had been principal at Sheridan Hills Elementary in the Richfield (Minnesota) School District.

Former men's basketball player Jim South '96 was inducted into the Augsburg Athletic Hall of Fame. South was a four-year starter for the Auggies, and he holds Augsburg's career record for field-goal percentage. He earned All-MIAC honors in basketball three times and also played on the Augsburg baseball team for three seasons. Following graduation, South worked for Coca-Cola before obtaining a law enforcement degree. He also is an active volunteer who serves as an assistant coach for a high school basketball team.
1997
Derrin Lamker '97 received Augsburg's Excellence in Coaching Award in recognition of his impressive career. After quarterbacking Augsburg's football team to a MIAC championship and several of its best seasons in school history, Lamker moved into teaching and coaching. He served as head coach at Osseo (Minnesota) High School for 11 years, winning three Northwest Suburban Conference titles, two section championships, and a Minnesota Class 6A state title. This season he became the offensive coordinator at Edina (Minnesota) High School, and he also has coached basketball and baseball.
2000
Dwayne Lowman '00 has been appointed to the inaugural advisory board of Definitely Someday, a nonpartisan firm that helps Minnesotans prepare for a future run for political office.
2004
Melissa "Mel" Lee '04 has taken the reins as interim head softball coach during the 2017 Augsburg College athletic season after serving as an assistant with the program for the past 12 years. She will continue her duties as an assistant athletic director and an instructor in Augsburg's health and physical education program. In addition, as a member of the National Fastpitch Coaches Association, Lee is one of two 2016 recipients of the Mary Nutter Scholarship. The educational grant will fund Lee's attendance at the 2016 NFCA National Convention.
2006

Kyle Loven '06, a Seattle-based performance and visual artist, was recognized with the First Decade Award at Homecoming. His work combines puppetry, projections, objects, sound, and other art forms with the human presence. Since moving to Seattle in early 2009, Loven has created and toured his original works. His shows have premiered at venues such as the acclaimed Guthrie Theater in Minneapolis and Seattle's On the Boards. Loven is the recipient of grants from the Jim Henson Foundation and numerous arts organizations based in Washington state.

Hernan Moncada '06is the new principal at Eagle Heights Spanish Immersion, a K-6 elementary school in Eden Prairie, Minnesota.
2007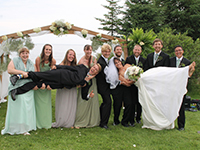 On July 23, Brett Cease '07 married Julia Besser in Grand Portage, Minnesota. Auggies in the wedding party included [L to R]: Micah Erickson '07, Chris Swanson '07, Eriks Dunens '06, and Lava K.C. '07.
Wolfgang Laudert '07 attended the ELCA Grace Gathering this summer and made a pilgrimage in October to the Taizé community in France as the result of receiving a leadership development grant. His European trip ended on a journey to the joint Lutheran-Catholic ecumenical prayer service commemorating the 500th anniversary of the Reformation in Lund, Sweden, which was attended by Pope Francis.
Laudert says, "I am beyond thankful, inspired, and thrilled at this opportunity. I am incredibly grateful to the Metropolitan New York Synod and my congregation for the chance to do this. [I am] even more thankful for our partnership in the gospel and the ecumenical mission we share together."
2008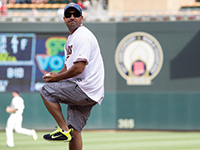 Cyrus Batheja '08, '10 MBAthrew out the ceremonial first pitch at the Twins baseball game on August 6. The Augsburg nursing grad and Alumni Board member was given the honor for his community work including homeless outreach and assistance with UnitedHealth Group, his family's commitment to quality disabled living situations, and his work on the Tix for Tots advisory board.
Matthew Dunn '08 received his doctorate in sociology from the University of California-Riverside in June. He is married to Gabriela Oliva Dunn. They live in Murrieta, California.
Sara Horishnyk '08 earned a master's degree in arts and cultural management from Saint Mary's University of Minnesota and is now working at Twin Cities Public Television.

Brian Krohn '08and Kari Aanestad '08welcomed a baby girl, Seora Eileen Aanestad Krohn, on May 11.
2009
Brian Gullick '09and Matt Tonsager '09 are custom woodworkers of furniture, games, and décor. Their business is Gullton Wood, and the pair created a set of Augsburg College bean bag boards used at Homecoming in September.
2011

Amy (Satnik) Bachman '11and her husband, Blair, welcomed a baby girl, Mackenzie Peach, on March 3.
2012
Angelica Erickson '12 graduated from Saint Mary's University of Minnesota with a master's degree in arts and cultural management. Her thesis was, "Every Child is a Work of Art: Helping Children Heal through the Arts after Multiple Traumatic Experiences."
Andrew Fox '12 is the new manager of the 180-year-old Mendota, Minnesota, home of Henry Hastings Sibley, Minnesota's first governor. Fox is the point person in a partnership between the Minnesota Historical Society and the Dakota County Historical Society. The state will own and preserve the Sibley site, while the county will staff and operate the three restored houses on the property. Fox studied medieval history at Augsburg.
Kimberly Simmonds '12, with the MonDak Heritage Center in Sidney, Montana, co-authored the book, "Sidney," in Arcadia Publishing's Images of America series.
2013
Anthony Gore '13, Steven Schwartz '13, Ryan Bachman '14,and Shea Drenkow '14, all members of the Minneapolis-based band Porno Wolves, recorded the live album "Young Moon Rising" on a cold evening last winter. The friends formed the rock 'n' roll band in 2012.
2014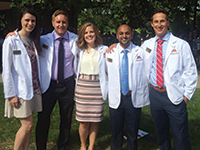 Five Auggies received their white coats this fall as part of the incoming University of Minnesota Medical School class. Congratulations to [L to R]: Anna Weitz '14, David Bergstrand '14, Michelle Grafelman '15, Mahad Minhas '12, and David Fowler '14.
2015
Riley Hunter '15 has a new position as assistant service desk analyst in the IT department at Securian Financial Group in downtown St. Paul.
GRADUATE PROGRAMS

Heidi Kammer-Hodge '00 MSWjoined Jackson Recovery Centers in Sioux City, Iowa, as a vice president and chief operating officer. Kammer-Hodge's position at Jackson comes after serving at Resource in Minneapolis for the past 17 years, where she held many leadership roles, most recently as a vice president.
Derek Nord '04 MSW is the new director of the Indiana Institute on Disability and Community at Indiana University. Nord previously was associate director of the Research and Training Center on Community Living, part of the University of Minnesota's Institute on Community Integration.
Dr. Amit Ghosh '12 MBA placed third in the 2016 District 6 Toastmasters International spring convention held in April in Minneapolis. Ghosh competed in the international speech category. District 6 is comprised of 290 clubs and 5,000 members. It serves most of Minnesota and southern Ontario, Canada.
Jeremiah Dagel '15 MPA has joined the urgent care department at the Essentia Health Saint Mary's Detroit Lakes (Minnesota) Clinic. As part of the urgent care team, Dagel will treat medical conditions that require immediate attention but that are not life-threatening.

Laura (Swanson) Lindahl '15 MBA and David Lindahl were married May 21 in Dellwood, Minnesota.
AUGGIES HONORED
Karim El-Hibri was recognized with the First Decade Award at Homecoming. He is a strategic advisor and founding board member of the El-Hibri Foundation, which focuses on peace education and interfaith cooperation through grants and awards that recognize leadership, and programs that promote learning and inclusion. He holds a BA in international relations from the American University School of International Service, and graduated from the StepUP® Program at Augsburg. El-Hibri lives in the Washington, D.C., metropolitan area with his wife, Carley, and two children, Roula and Sami.

Norman and Evangeline Hagforsreceived the Spirit of Augsburg Award at Homecoming in recognition of their leadership in the campaign for the Center of Science, Business, and Religion. As community leaders and longtime friends of Augsburg, the Hagfors embody Augsburg's faithfulness to education grounded in the Lutheran faith and relevant to the evolving needs of our students and the world. Norman served as an Augsburg College Regent from 1989-2001, providing active participation during a critical stage of the College's growth. In October 2005, he was re-elected to the Augsburg Board of Regents. A chapel on the third floor of the new building will be named for Evangeline's father, the Rev. Elnar Gundale '33, who graduated from Augsburg College and Augsburg Seminary and went on to serve as a pastor in the Lutheran Free Church and ELCA.