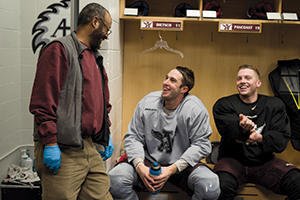 Minasie Theophilos has cared for Augsburg's athletic facilities—most notably the ice arena—during his more than 25 years of service on the College's custodial staff. Theophilos and the men's hockey team developed a life-changing relationship that was shared by media outlets across the United States and around the globe.
When members of the team learned that Theophilos' mother had died in Ethiopia—a home Theophilos hasn't seen for nearly 35 years—and that Theophilos missed her funeral because he didn't have the money to visit, the team created a fundraiser.
In less than 48 hours, the players and Auggies worldwide raised thousands of dollars for Theophilos to use to visit his family. Today, Theophilos and his wife are planning a trip to see his father and their families, thanks to a special friendship with the Augsburg athletes he has supported for decades.
"In the category of 'you raised 'em right,' we give you the kids of the Augsburg hockey team."
---
[Top image]: After a morning practice, goaltender Jordyn Kaufer '17 and members of the Augsburg men's hockey team presented Theophilos with a check for $5,000. In comments aired on KARE 11 news, Kaufer told Theophilos the sum was, "A token to give you thanks for your selflessness, your service, your care to the rink and the guys."