1950-1959 | 1960-1969 | 1970-1979 | 1980-1989 | 1990-1999 | 2000-2009 | 2010-2015 | Graduate Programs
---
1950
Carl Vaagenes '50, a retired pastor, helped to translate the mission articles of Georg Sverdrup. Vaagenes was inspired to translate Sverdrup's sermons for future generations and did this as a member of The Georg Sverdrup Society. In 1898, Georg Sverdrup and Sven Oftedal, co-founders of Augsburg Seminary and College, published their sermons at the founding of the Lutheran Free Church but without their names. In "Aand og Liv" ("Spirit and Life"), they reveal their mind and heart for the church and for Augsburg.
1952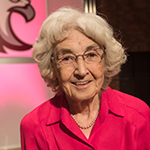 Millie Nelson '52 received a Spirit of Augsburg Award at Homecoming in recognition for her dedication to Augsburg University. Before retiring, Nelson worked at Augsburg for decades. In her role as Christensen Center manager, she guided student assistants who described her as professional, competent, knowledgeable, and kind. These former students acknowledged that Nelson embodied the spirit of Augsburg.
1957
Stan Baker '57 received the Ella Stephens Barrett Award for excellence in professional leadership and counseling from the North Carolina Counseling Association during its annual conference in February in Durham, North Carolina.
1964
Garrett "Gary" Waldner '64 and his wife, Nancy, celebrated their 50th anniversary in October. They have three sons and four grandchildren. Waldner is active in the real estate appraisal field, specializing in litigation valuations.
1966
After graduating from Augsburg, Ron Blake '66 went on to Luther Seminary and has pastored several churches before retiring in 2009 as a pastor with dual membership in the Evangelical Lutheran Church in America and the United Church of Christ. Blake and his wife remain active members of Trinity Lutheran Church in Lynnwood, Washington. They have two children and four grandsons.
1968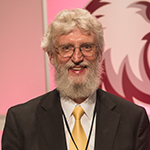 Bruce Benson '68 received a Distinguished Alumni Award at Homecoming. Benson served as campus pastor at St. Olaf College for 30 years and has been a board member at church camps in Minnesota, Montana, and Ohio. He graduated cum laude from Augsburg with a Bachelor of Arts in English, earned his Master of Divinity degree from Luther Seminary in 1972, and further earned a degree in Sacred Theology from Yale Divinity School in 1980. Benson hosts a radio program called, "Sing for Joy," which is broadcast on 140 radio stations in the United States, carried by cable networks, and broadcast in 40 countries in and near Africa.
1970
Mark Francis '70 received a Distinguished Alumni Award at Homecoming and was recognized for his leadership in the Arizona school system. After graduating from Augsburg with a music degree, Francis founded the Arizona School for the Arts in 1995. ASA became one of the top charter schools in the state. Today, Francis is a deputy associate superintendent within the Arizona Department of Education. He is an active member of Shepherd of the Valley Lutheran Church, which he has served in a number of capacities, including as congregational president, treasurer, and music leader.
In June, Ray Hanson '70 retired and moved to Lancaster, Pennsylvania, one day later. He completed his career with Goldbelt Raven, where he provided scientific and technical assistance to the chemical forensics program at the Department of Homeland Security.
1972
In May, Rob Engelson '72 received the Distinguished Service Award from Ashford University at its commencement ceremony in San Diego. The award acknowledged 21 years as a faculty member and five years as a member of the Faculty Senate.
1973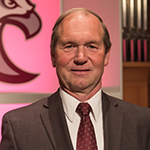 Terry Lindstrom '73 received a Distinguished Alumni Award at Homecoming. After graduating from Augsburg with degrees in chemistry and biology, Lindstrom received his doctorate in biochemistry with a pharmacology minor in 1977. He went on to complete postdoctoral research at Michigan State University from 1978 to 1979. During his career, Lindstrom led research teams that obtained patents for prescription medications Evista and Cymbalta. In addition to Lindstrom's many scientific achievements, he and his wife, Janet Lindstrom, have provided 16 full Undergraduate Research and Graduate Opportunity summer scholarships for Augsburg students during the past five years.
1974
Thomas Koplitz '74 has been elected to the Minnesota Baseball Hall of Fame and was inducted at a September ceremony held in St. Cloud, Minnesota.
1976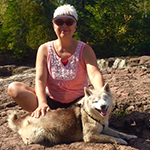 Leah Abdella '76
retired in 2016 from a 40-year teaching career in the field of special education. At Augsburg, Abdella earned a double major in music and music therapy as one of the first three music therapy majors. Abdella stays fulfilled in retirement through volunteer work and flute performance at assisted living residences, nursing homes, and churches. She also stays active in ballet classes and yoga. She is a former member of the Andahazy Ballet Company.
1977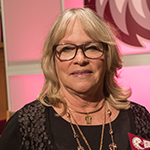 Augsburg honored Inez Bergquist '77 with a Distinguished Alumni Award at Homecoming. As the current president of Waltman Associates, Bergquist has more than 35 years experience in fundraising and is an expert in the area of nonprofit management. She served on the Augsburg University Alumni Board for eight years and on the Augsburg Parent Council for four years. Bergquist authored several books on families of wealth including the "Book of Minnesota Family Trees." She also is a Wells Foundation board member.
1978
Phyllis Bartel '78 published "Scooter 'n' Oaks: A Cat Adoption Story" in October 2016. As Bartel's premier work, this fictionalized tale teaches children about the pet adoption process with copassion and gentle humor and shares similar themes with human adoption.
1979
Dave Boots '79, who was inducted into Augsburg's Athletic Hall of Fame in 2004, was named to the University of South Dakota Vermillion's Henry Heider Coyote Sports Hall of Fame in October after retiring in 2013 with the 14th most wins in Division II men's basketball history. He led the Coyotes to 23 consecutive winning seasons from 1989-2011, 10 NCAA Division II tournaments, six NCC titles, and back-to-back Elite Eight appearances in 1993 and 1994. At the Division I level, Boots also won a Great West Championship in 2010. Boots began his coaching career at Anoka Ramsey Community College and spent six years coaching at Augsburg before arriving in Vermillion.
Sally (Hough) Daniels Herron '79 is the new parish and communications administrator for Valley of Peace Lutheran Church in Golden Valley, Minnesota.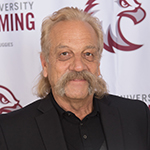 Former hockey and football player Paul Holmquist '79 was inducted into the Augsburg Athletic Hall of Fame. Holmquist was a key member of Augsburg teams that dominated in the late 1970s, earning the National Association of Intercollegiate Athletics national title in 1979 and qualifying for NAIA national tournament play all of Holmquist's four seasons. The teams he competed with also won Minnesota Intercollegiate Athletic Conference titles in 1978 and 1979. He was named a team MVP in the 1978-79 season, the same time period in which he earned All-MIAC Honorable Mention honors.
1980
Paul Kilgore '80 wrote a novel, "The Broken Key," that is available through online and retail outlets.
1985
Brian Ammann '85 has been running the Minnesota School of Basketball in Apple Valley and Golden Valley for 12 years. He is the former head basketball coach at Augsburg.
1987
Lee Ann (Burson) Hohenstein '87 left a 20-year career in mortgage banking to follow her dream and become a staff writer for the Mille Lacs Messenger. She also opened Restoration Books and Gifts in Crosby, Minnesota.
1989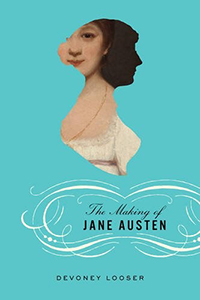 Devoney Looser '89 published a new book, "The Making of Jane Austen," which was named in Publishers Weekly's list of Best Summer Books of 2017 (nonfiction).
1991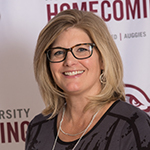 Kristin Dragseth Wiersma '91 had an outstanding volleyball career at Augsburg, an accomplishment that earned her induction into the Athletic Hall of Fame. Wiersma played three seasons of volleyball, earning All-MIAC and Academic All-MIAC honors in 1990, and All-MIAC Honorable Mention honors in 1989. She remains in the top 10 players in school history in three career statistical categories: kills per-set, attack percentage, and digs per-set. A team co-captain in 1990, Wiersma also served as an assistant coach at Augsburg in 1991.
1992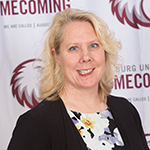 Athletic Hall of Fame inductee Juli Gustafson '92 played two years of softball at Augsburg earning All-MIAC honors as a shortstop in both 1991 and 1992, while also earning National Fastpitch Coaching Association All-West Region honors in 1991. Her .395 career batting average is the third-best in school history. She also ranks third in career slugging percentage and sixth in career doubles. Gustafson was a member of Auggie teams that went 47-22 in her two seasons.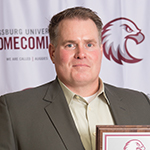 Though he only competed in one season of wrestling at Augsburg,
Bret Sharp '92
made the most of it. He went 43-2-1 with 15 pins and 95 takedowns, won the MIAC title at heavyweight, and finished third at the NCAA Division III national tournament in the 1991-92 season, where he helped to clinch a second-place national team finish for the Auggies. Sharp was inducted into the Augsburg Athletic Hall of Fame. He competed his first three seasons at Drake University in Iowa.
1993
Dr. Jason Koch '93 was appointed president of Southdale Pediatrics, where he has worked for the past 16 years.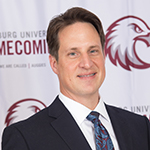 Wrestling star Gary Thompson '93 was inducted into the Augsburg Athletic Hall of Fame. A four-year competitor in wrestling, Thompson completed his Auggie career with a 91-40-1 record, finishing fourth at the 1993 NCAA Division III national championships and earning All-American honors. He was a MIAC champion, a National Wrestling Coaches Association Scholar All- American, and a two-time Academic All-MIAC honors student-athlete. Thompson was a member of Augsburg squads that won the NCAA national championship in 1993 and finished second and third in other years.
1994
Chris Terrell '94 was promoted to vice president of finance for Medtronic's Cardiac and Vascular Group Global Operations. Terrell joined Medtronic in 2003 and most recently served as a senior director of operations in finance, where he drove finance strategies for nine manufacturing locations.
1995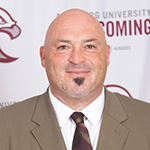 Dual sport athlete Marty Alger '95 was inducted into the Augsburg Athletic Hall of Fame. In football, Alger set an Augsburg program record for career rushing yardage, which stood until 2014. In 1992, he became the first Auggie ever to rush for 1,000-plus yards in a season. He earned All-MIAC honors in football in both 1992 and 1993. As an Auggie wrestler, he qualified for the 1993 NCAA Division III national tournament after winning the MIAC title at 190 pounds.
1997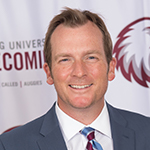 Augsburg Athletic Hall of Fame inductee Eric Rolland '97 was a leader on some of the most successful men's golf teams in school history. He led squads that won the MIAC championship in 1995 and recorded second-place finishes in 1994 and 1996, while competing in three straight NCAA Division III national tournaments. Rolland earned All-America honors in 1995, All-District honors in 1997, and All-MIAC honors in 1995 and 1996. Since 2014, he has served as Augsburg's men's and women's golf head coach.
1999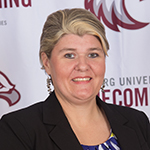 Elizabeth (Petrik) Brown '99 had an outstanding goaltending career on the Augsburg women's soccer team, an accomplishment that earned her induction into the Athletic Hall of Fame. Brown started all but one game of her collegiate career, finishing with 34 career victories, including a then-school-record 13 in 1995. She stands second in school history in career shutouts, fourth in career wins, and eighth in career win-loss percentage. Her 1.69 career goals-against-average is 10th-best in school history.
Cheri Johnson '99 wrote two book series released this fall for young readers. "Origins: Urban Legends" and "Origins: Whodunnit" are high-interest, low-reading- level books that target upper-elementary and middle-school students. The books will be distributed by Lerner. Johnson also is working on a performance project in Minneapolis called "Crocus Hill Ghost Story" with the music ensemble Zeitgeist; her sister, Julie Johnson '98; and actor, director, and filmmaker D.J. Mendel. "Crocus Hill Ghost Story" tells a tale set in an evil house in St. Paul.
2000
The Rev. Sara (Quigley) Brown '00 has accepted a term-call as the associate interim pastor at Saving Grace Lutheran, Lutheran Congregations in Missions for Christ, in Eau Claire, Wisconsin. She will serve and work alongside its faithful congregation and pastor, the Rev. David Irgens, during a time of great transition and growth. Brown will serve Saving Grace Lutheran for one year until the congregation places a call for a permanent associate pastor.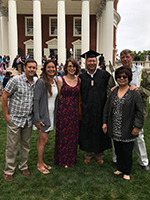 This May,
Lewis Nelson '00
graduated from the University of Virginia's Darden School of Business with a Master of Business Administration degree. Nelson left a 15-year military and government career and is seeking the next challenge. Nelson resides in Charlottesville, Virginia, with his three children.
2001
James Shropshire '01, former assistant director of public safety at Augsburg, is the new director of campus safety at Grinnell College. At Augsburg, Shropshire also served as a Title IX adjudicator and investigator. Besides revising diversity training, Shropshire's agenda for campus safety at Grinnell will include updating the department's software, computers, and other equipment.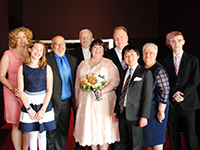 Katie (Koch) Code '01, director of alumni and constituent relations at Augsburg University, married Chris Code in April during an intimate ceremony at the Guthrie Theater—where the couple met while both on staff. The wedding was officiated by Code's father, the Rev. Jack Koch, and was witnessed by sibling Jason Koch '93 and sister-in-law Heather Johnston '92.
2002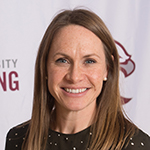 Augsburg Athletic Hall of Fame inductee
Chrissy (Baune) Bloemendal '02
was a 16-time All-MIAC selection in cross country (three times) and track and field (13 times). The team's No. 1 runner her final three seasons in cross country, Bloemendal finished sixth in the MIAC championships in 2001 and 13th in 2000. In track and field, she won the MIAC title and qualified for the NCAA Division III outdoor national championships in the 3,000-meter steeplechase in 2002, finishing ninth nationally.[/block
Two years ago Heather Cmiel '02 left 13 years of communications agency life behind to go corporate. She now serves as global marketing communications strategist within 3M Healthcare. Cmiel spends her free time as president of Minnesota Public Relations Society of America. She also leads a contemporary worship band.
2003
Reginaldo Haslett-Marroquin '03 is the founder and director of the Rural Enterprise Center, a program of Main Street Project, a nonprofit organization focused on rural development. Haslett-Marroquin also serves on the boards of the Northfield Area Foundation, the Northfield Area United Way, and Fifth Bridge, a nonprofit organization promoting volunteerism.
2005
Ryan Bosshart '05 is a vice president of services at phData, a global leader in big data consulting and managed services. Most recently, Bosshart was a principal sales engineer at Cloudera.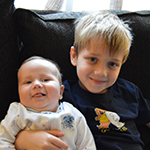 Allison (Cornell) Broughton '05 and Matt Broughton '06 welcomed new baby Nicholas James in June. Nicholas joins big brother Calvin, age 4.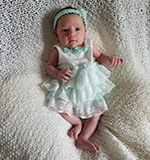 Rebecca (Welle) Winters '05 and Paul Winters '07 welcomed a daughter, Maisy Beverly, in May. She joins siblings Max, who is six years old, and Millie, who is three years old.
2006
Michelle Dirtzu '06 is a new marketing manager at Pacific Trellis Fruit/Dulcinea Farms based in Los Angeles, California. Dirtzu has 10 years of experience in the grocery-retail-produce business. Previously, she was a marketing director for North Shore Living Herbs, in marketing with Flagstone Foods, and in brand management with Supervalu. Dirtzu earned a Master of Business Administration degree from Opus School of Business at the University of St. Thomas in 2014.
Brenda Valentine '06 welcomed her son, Jackson James Valentine Rice, in April.
2007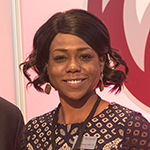 A managing partner of business planning at the American Public Media Group, Danielle Stellner '07 received a First Decade Award at Homecoming. After graduating from Augsburg, Stellner went on to earn a Master of Business Administration degree from the Carlson School of Management at the University of Minnesota in 2016. She was recruited for the board of Isuroon and Secretary, and she is the active co-chair of the AWE Philanthropy Council at Augsburg. In addition, Stellner serves the Friendship Academy of the Arts as a board member and expansion committee member.
2008
Tony Landecker '08 serves as a portfolio manager in the U.S. Department of Housing and Urban Development's Minneapolis-St. Paul field office and is responsible for assisting with the management of local housing stock. Landecker was named the Minnesota Civil Servant of the Year by HUD's Federal Executive Board for helping others find the comfort of a home in the aftermath of a disaster. In 2016, he left his home and family to spend time helping Baton Rouge flood victims, leading a team that found permanent housing for 130 families initially placed in temporary shelters.
Curtiss Schreiber '08 is now an associate at the law firm Donohue Brown Mathewson & Smyth LLC in Chicago.
2009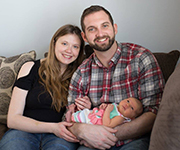 Matt Tonsager '09, co-owner of Gullton Wood, and Melissa (Moberg) Tonsager '10 welcomed a daughter, Adalind Kay Tonsager, in April.
2011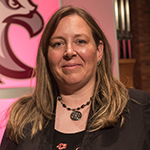 Jennifer Weber '11 received a Spirit of Augsburg Award at Homecoming for her dedication to Minneapolis'Cedar- Riverside community and in recognition for the projects she has initiated in the Twin Cities area. Before graduating from Augsburg with a triple major in emotional/ behavioral disabilities, learning disabilities, and American Indian studies, Weber created an American Indian resource library for the Anoka-Hennepin Indian Education Program. Weber has been involved in many community projects and is a crisis prevention and interventions trainer at the Charter School Special Ed Network. She is also a certified school coach, teacher, and member of the Cedar Riverside Community School Board.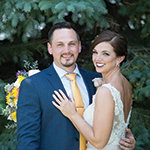 Denielle (Johnson) Stepka '11 and Timothy Stepka were married July 15 in Prior Lake, Minnesota. Their ceremony was officiated by Josh Corrigan '11, and their wedding party included Augsburg alumni Katie (Christensen) Beadell '11, Korri (Yule) Corrigan '11, Tim Lund '12, Amy Jo Opsal '12, and Tyler Phillips '12.
2012
Katie Radford '12, '18 MBA started a new position at Fairview Health Services as a training consultant. She helps facilitate individual and team development sessions for professional growth.
2014
Maren Daniels '14 teaches elementary visual art at Hiawatha Academy Morris Park in Minneapolis.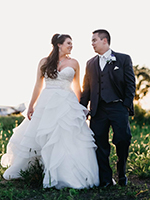 In July, Enrico Barrozo '14 and Mara (Breczinski) Barrozo '14 were married at Augsburg University's Hoversten Chapel. The ceremony was officiated by the Rev. Mike Matson '06. The newlyweds live in Gainesville, Florida, where Enrico is pursuing a Ph.D. in genetics and genomics at the University of Florida, and Mara teaches middle school science.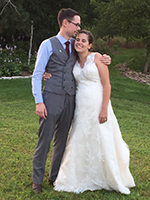 This August,
Samantha Cantrall '14
and
Austin Smith '14
were married in Ellsworth, Wisconsin, by Augsburg Professor of Computer Science Larry Crockett. The couple met in Augsburg's Urness Hall in 2010, and both graduated from the Honors Program in 2014. They have taken Samantha's mother's last name as their wedded name and will be known as Samantha and Austin Wolf.[/block
2015
Awale Osman '15 serves as a community innovation associate at the Bush Foundation. He has experienced much change: coming to the U.S. from war-torn Somalia and Kenyan refugee camps to learning English as a third language and graduating with high academic honors. His work as a change agent has included expanding after-school opportunities for Somali youth; impressing upon Congress the value of federal TRIO programming; and activating safe spaces for women, people of color, and queer students.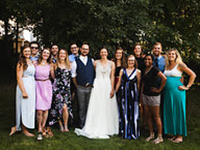 Rachel Shaheen '15 and Christopher Kopp '15 were married in July. The bride and groom were joined by fellow Augsburg alumni [L to R]: Becky Shaheen '11, Patrick DuSchane '13, Laura Schmidt '11, Jakob Anderson '12, Erika Osterbur '11, Aren Olson '11, Lily Moloney '15, Mary Stickelmeyer '74, Emily Knudson '15, Kate Gray '15, Tyler Dorn '15, and Alisha Esselstein '15.
2016
Victoria Linstrom '16, Andrew Kleidon-Linstom '16, Bridgette Henry '16, and student Mitch Ross '18 formed the Open Door Theater where Linstrom serves as the executive director, Kleidon-Linstom is the artistic director, Henry is the company manager/dramaturg in residence, and Ross is the marketing director.
Muna Mohamed '16 received a scholarship at the University of Minnesota to pursue a Master of Science degree in behavioral aspects of physical activity. At the university, Mohamed conducts research on East African mother-daughter physical activity.
2017
Minnesota Gov. Mark Dayton appointed Eron Godi '17 to the Young Women's Cabinet, part of the Young Women's Initiative of Minnesota that aims to improve opportunity for women ages 12 to 24 by bringing together nonprofits, businesses, government, philanthropic organizations, and young women to create plans for building equity. Godi was one of 25 women selected statewide for a cabinet position.
Emily Gregg '17, former Augsburg women's soccer defender, was named one of 174 nationwide recipients of a $7,500 NCAA Postgraduate Scholarship honoring her achievements as both a scholar and an athlete. A biology major with a 3.72 GPA, Gregg is the first Auggie to receive an NCAA Postgraduate Scholarship since 2014. Gregg will attend graduate school at the University of Wisconsin-Madison. She hopes to someday work as a wildlife/large animal veterinarian.
Anna Renner '17 has been accepted to the Clarkson University Master of Physician Assistant Studies program in Potsdam, New York.
Dua Saleh '17 had one of her songs played on "The Current" radio station. She performs music and poetry at Twin Cities venues.
Riley Siddorn '17 was among nearly 450 summer interns at NASA's Goddard Space Flight Center. Interns seek out new ways to explore their career fields and engage NASA's international scientific community in Goddard projects. Siddorn, who majored in physics, held an internship in ionospheric physics. The internships covered a wide spectrum in science-related areas, from planetary science to sounding rockets to Earth science.
Graduate Programs
Doris Rubenstein '93 MAL won the silver Independent Book Publishers Association Benjamin Franklin Award for her book, "The Journey of a Dollar," at the association's 29th annual award ceremony in Portland, Oregon.
Kathleen Clark '10 MAN, '14 DNP; Joyce Miller '02, '04 MAN, '11 DNP; Katherine Baumgartner '04 MAN, '11 DNP; and Cheryl Leuning, former Nursing Department chair, co-authored an article, "The Citizen Nurse: An Educational Innovation for Change," which was published in the Journal of Nursing Education.
Jamie Heitzinger '11 MPA earned a Certificate of Added Qualifications by completing specialty training from the National Commission on Certification of Physician Assistants. She works at Queens Medical Center in Honolulu.
Ryan Stopera '11 MSW/MBA is a social worker and social entrepreneur. He serves as a program analyst for the Graves Foundation and teaches in Augsburg's Social Work Department. Stopera enjoys building community through art, cycling, and rock climbing in his spare time.
Allison DeGroot '15 MAL is the new head women's soccer coach at the University of Wisconsin-Superior. The women's soccer program competes at the highest level in the Upper Midwest Athletic Conference, and DeGroot is looking forward to working with players to help the program reach its potential. DeGroot was an assistant coach at Augsburg from 2012 until 2016.
Angela Mejdrich '15 MAE is the new director of administration at Spirit of the Lake Community School in Duluth, Minnesota. She provides lead support and oversight of several administrative and business matters. Mejdrich has more than 20 years of teaching and administration experience, most recently as vice principal of St. Michael's Lakeside School.
Thomas Hirsch '16 MPA is a new physician assistant at the Essentia Health–Hermantown Clinic in Minnesota.