1930-1949  |  1960-1969  |  1970-1979  |  1980-1989  |  1990-1999  |  2000-2009  |  2010-2015  |  Graduate Programs
---
1933
The chapel in Augsburg's new Hagfors Center for Science, Business, and Religion is named for Elnar Gundal '33. Read more in the Inspired Design feature.
1943
Legendary high school coach and veteran Stan Nelson '43 was honored in September by the Anoka, Minnesota, community. Following his World War II service, Nelson coached in Anoka for more than 30 years and won conference championships in '55, '62, '63, '64, '72, and '76, including 33 consecutive wins from '62 to '64.
1960
Retired ELCA pastor Rev. Byron Schmid '60 received his Swiss citizenship and was honored when he returned to Switzerland in September for the 750th anniversary of Rubigen, his ancestral village. He has done extensive genealogical work to document his family history and lead family tours in both Switzerland and Norway.
1968
50-Year reunion celebration at Homecoming 2018. Learn more about how to get involved with your reunion.
Board of Regents Member Karolynn Lestrud '68 sponsored an art installation for Augsburg's newest skyway. Read more in the Inspired Design feature.
1967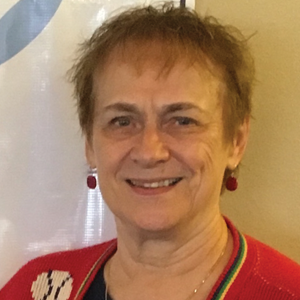 Sue Nelson '67
received the President's Award from the U.S. Tennis Association in October. Nelson organizes the Iowa All Stars event, a one-day tournament designed for athletes who compete in the Special Olympics.
1969
Glen Peterson '69 began teaching in Stillwater, Minnesota, in 1969 and taught for 40 years at Lakewood Community College in White Bear Lake, Minnesota. He spent many years coaching and was the director of the ski/snowboard school at Hyland Hills Ski Area in Bloomington, Minnesota. In retirement, he continues to help with instructor training. He and his wife, Kathy (Palmer) Peterson '70, met at Augsburg, and daughter Jessica Peterson '09 also attended Augsburg.
1974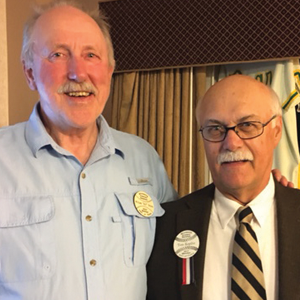 As of this past September,
Tom Koplitz '74
[right] and
Bill Nelson '74
are both in the Minnesota Amateur Baseball Hall of Fame. They were co-captains of the 1974 Augsburg baseball team.
1976
In November, Larry Morgan '76 was presented with the Lifetime Recognition Award by the Twin Cities Compensation Network for his work in compensation and human resources.
1977
Augsburg Board of Regents Chair Jeffrey Nodland '77 and Becky (Bjella) Nodland '79 sponsored a sculpture now on display in the Hagfors Center for Science, Business, and Religion. Read more in the Inspired Design feature.
1978
40-Year reunion celebration at Homecoming 2018. Learn more about how to get involved with your reunion.
John Karason '78 was among 100 Macy's employees chosen for a national choir to premiere "Home For Christmas" by composer Wesley Whatley during the 2017 Macy's Thanksgiving Day Parade in New York. The choir rode atop the new Macy's Singing Christmas Tree, caroling from Central Park to Herald Square. Grammy-nominated conductor Judith Clurman led the choir, and Broadway director Stephen Nachamie oversaw production.
1979
Athletic Director Jeff Swenson '79 shares his perspective on Augsburg's upcoming 150th anniversary. Read more in the Best Is Ahead feature.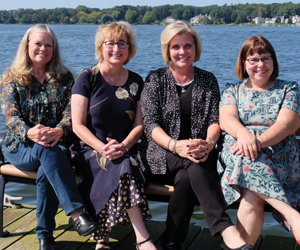 Mortensen Hall roommates [L to R]:
Karen (Sougstad) Richard '79
,
Laurie (Nelson) Orlow '79
,
Sue (Johnson) Drakulic '79
, and
Deanna (Stanger) Feldner '79
reunited in September.
1982
Rev. Scott Snider '82, priest of the Roman Catholic Diocese of Springfield, Illinois, was named ecumenical and interreligious officer for the diocese in July 2017. Snider is also the pastor of three Illinois parishes in Pierron, Grantfork, and Pocahontas.
John Evans '82 finds a volunteer opportunity unites his Augsburg legacy and desire to serve. Read more in the Building Bonds, Strengthening Community feature.
1987
Scott Anderson '87 retired from the City of Bloomington (Minnesota) Public Works Department in September after 30 years of service. Anderson currently owns the Scott L. Anderson Agency, LLC, an independent insurance agency in Maple Grove, Minnesota.
1990
Alisa "Al" Holen '90 received tenure at the University of Southern Indiana and is now an associate professor of art and design, ceramics. She also was selected as one of the featured artists in the 2018 American Pottery Festival at the Northern Clay Center in Minneapolis. She and her father, Professor Emeritus Norman D. Holen, were honored to present their exhibition, "Nature/Nurture," at the Northern Clay Center this past October.
1993
25-Year reunion celebration at Homecoming 2018. Learn more about how to get involved with your reunion.
1994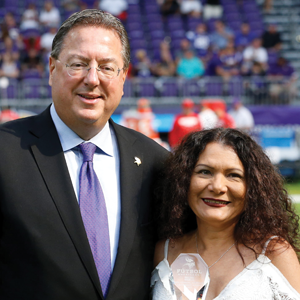 Eloisa Echávez '94, '98 MAL, executive director of La Oportunidad, a social services organization in Minneapolis, was honored by the Minnesota Vikings in September as part of Hispanic Heritage Month. She received a $2,000 grant, which she donated to La Oportunidad.
1996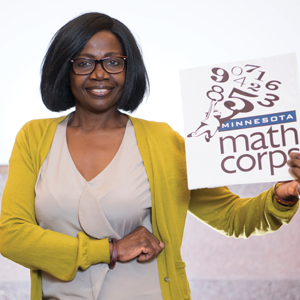 Margaret Johnson '96
has committed to a year of service with Minnesota Math Corps. She will tutor students in Roseville, Minnesota, in eighth grade math.
2000
Guillaume Paek '00 was named interim athletic director at Burnsville High School, Minnesota. He was previously the athletic director at Patrick Henry High School in Minneapolis.
2001
Trang Dinh '01 was awarded the 2017 Excellence in Servicing Award from NorthMarq Capital. Dinh has 15 years' experience as a portfolio analyst and asset manager, and is a respected, knowledgeable, and accomplished professional in her field.
Mark Peterson '01 recently concluded a successful season of coaching his son, Charlie, on his first- and second-grade soccer team.
2003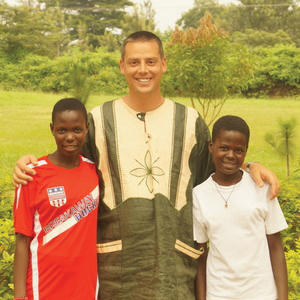 Brian Kuhl '03, an associate at Mayer Brown law firm, and his wife, Jesca Kuhl, generously donate their money to build homes in Uganda. The couple met while Brian worked as a teacher in the Peace Corps. In addition to paying for two homes that house roughly 15 Ugandan children, the Kuhls also have paid for schooling for these children and more than a dozen others.
2005
Allison (Cornell) Broughton '05 and Matt Broughton '06 welcomed new baby, Nicholas James, on June 10, 2017. Nicholas joins big brother Calvin, age four.
Timothy "Tim" Stowe '05 is the principal for Westwood Elementary School in Zimmerman, Minnesota. He previously served as principal and technology coordinator at Waterville-Elysian-Morristown, Minnesota.
2007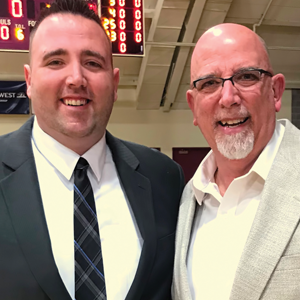 Grant Hemmingsen '07
is the new men's basketball head coach at Concordia College, Moorhead, Minnesota. Grant worked his first college coaching job with his brother, George Hemmingsen IV, at Kentucky Wesleyan College in Owensboro. Grant [at left] is shown with his father, George Hemmingsen III, before a Cobbers basketball game.
2008
10-Year reunion celebration at Homecoming 2018. Learn more about how to get involved with your reunion.
Brian Krohn '08 is launching a smartphone app called Soundly. Developed with funding from the National Science Foundation and the National Institutes of Health, the app is designed to help people who snore through a voice-activated game that strengthens the muscles in the upper airway.
Newly promoted high school guidance counselor Derrick Smith '08 received the THRIVE Teacher of the Year award for his work with middle- and high- school students. He teaches math and social sciences to eighth, ninth, and 10th graders of diverse backgrounds at a nontraditional Christian school in Augusta, Georgia.
2009
Andrew "Andy" Kent '09 has joined the University of Minnesota's hockey program as the team's volunteer goalie coach. Kent has
spent the last six seasons as the volunteer goaltending coach with the Gopher women's program and will continue to work with both teams. He served as the goaltending coach for Finland's Women's National Team at the 2014 Winter Olympic Games in Sochi, Russia, and also served as the goaltending coach for the Augsburg men's team from 2013 to 2017.
2010
In October, Joe Finstrom '10 opened Lithium Mastering LLC, a mastering and music production studio in St. Cloud, Minnesota. Finstrom teaches at the Wirth Center for Performing Arts and plays cello in the St. Cloud Symphony Orchestra. After graduating from Augsburg, Finstrom attended the Institute of Production and Recording, where he earned an associate degree in audio production and engineering.
2011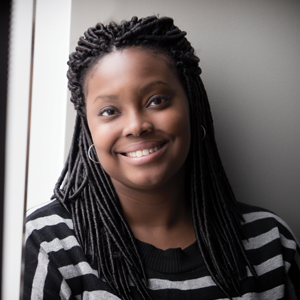 Kia Burton '11 is Augsburg's new alumni engagement program associate. Burton most recently worked at the MHC Culinary Group assisting the accountant and the sales team. Prior to that, she was a sales coordinator at the St. Paul Hotel, in St. Paul, Minnesota. As an Augsburg student, Burton was a member of the Pan-Afrikan Student Union, worked as a Summer Bridge program mentor for TRIO/ Student Support Services, and served as a residence advisor in Urness Tower. She was also an Auggie Guide and worked in the James G. Lindell Library for four years.
2012
Katia Iverson '12 and Luke Iverson '15 describe the joys and challenges of helping new arrivals acclimate to life in the U.S. Read more in the Welcome to America feature.
2013
Grant Niver '13 founded Surrender Salmon in Minneapolis in 2016. Surrender Salmon specializes in distributing wild sockeye salmon from Alaska to Twin Cities restaurants, meal delivery services, and farmers markets.
2014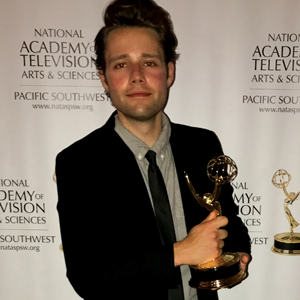 Nial Nelson-Hopkins '14
is currently employed by the San Diego Padres in their production department. Nelson-Hopkins received a 2017 Emmy Award for his part in producing a commercial advertisement for Padres membership.
2015
Alisha Esselstein '15
and
Tyler Dorn '15
welcomed their son, Liam, on August 14.
2017
Katelyn "Katie" Davidson '17 is the new sports and education reporter for the Pierce County Herald in Ellsworth, Wisconsin. While a student at Augsburg, Davidson worked at the League of Minnesota Cities in St. Paul, in the communications and public affairs department. She also worked part-time with Minnesota United FC professional soccer club in the public relations department.
GRADUATE PROGRAMS
Laura (Swanson) Lindahl '15 MBA recently was promoted to assistant director of marketing management in Augsburg University's marketing and communication division, which serves both Augsburg University and Luther Seminary. In her new role, she will continue to serve as editor of Augsburg Now.
Heather (Smith) Pokrzywinski '16 MPA was hired by Essentia Health in the Moorhead (Minnesota) Clinic as a physician assistant.
Elaine Eschenbacher '18 MAL, director of the Sabo Center for Democracy and Citizenship, describes how Augsburg's LEAD Fellows Program shapes students and alumni. Read more in the Welcome to America feature.