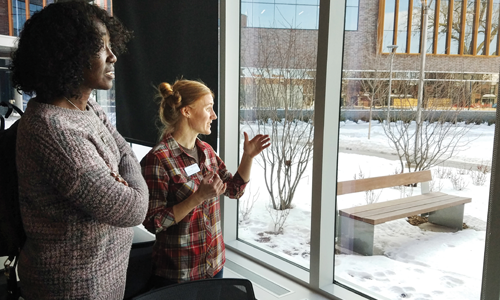 This spring saw the unveiling of the Medtronic Community Garden at Augsburg University. Nestled in the center of the open-arms design of the Norman and Evangeline Hagfors Center for Science, Business, and Religion and facing the Cedar-Riverside neighborhood, the innovative garden supports food sustainability and the community's need to grow, sell, and eat healthy food. The garden was designed by Oslund and Associates, award-winning landscapers who describe the reimagined community garden for Augsburg University as "a place on campus to celebrate the diversity of plants, people, and the community it serves."
The innovative style of the community garden attracted interest from Fortune 500 company Medtronic, which donated $100,000 to officially name it the Medtronic Community Garden.
"The Medtronic Foundation focuses on expanding access to quality chronic disease care among underserved populations worldwide, as well as supporting health initiatives in communities where Medtronic employees live and give," said Sylvia Bartley, global director of Medtronic Philanthropy.
"We are proud to sponsor the transformation of the Augsburg University community garden in the Cedar-Riverside neighborhood, where access to healthy foods is scarce," Bartley said. "Providing opportunities for communities to cultivate their own natural foods is one of the ways the Medtronic Foundation strives to improve the lives of communities around the world."
According to Allyson Green, chief sustainability officer and program coordinator of Augsburg University's Campus Kitchen program, the redevelopment of the garden has been an opportunity to further Augsburg's ongoing sustainability work. Promoting food security, reducing food waste, and feeding students through Campus Kitchen programs are just some of the benefits of the on-campus community garden.
Medtronic provided $100,000 to fund Augsburg's community garden expansion that will improve accessibility, provide additional space for increasing plot demand, and enhance sustainability through compost management and other initiatives. The community garden expansion reflects Augsburg's commitment to stewardship of natural resources, student leadership around issues of nutrition and wellness, and development of public spaces that are both aesthetically pleasing and environmentally sound.
Another key feature of the garden is the consistent design for the planter beds— some of which are raised to make the garden accessible to individuals with mobility constraints, while others are traditional, ground-level planters. These distinct planter beds create a physical language that make them recognizable as part of the community garden, which will eventually enable Augsburg to expand the gardens in small pockets to additional locations across campus.
The redesign project also widened the pathways between planters and introduced a series of benches throughout the garden to create a welcoming environment for gardeners and nongardeners alike, transforming the west edge of campus into a public green space for Augsburg and its neighbors.