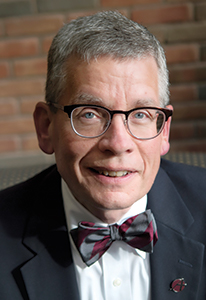 It is indeed remarkable for any of us today to stand in the shadows of an institution that has existed for 150 years. Institutions such as Augsburg University—no matter their meaningful legacy and inspiring mission—are viewed with some skepticism by a citizenry more and more committed to going it alone.
I am privileged to lead Augsburg on the occasion of its 150th anniversary and dedicated to ensuring that our academic mission and democratic engagement remain firm for the next 150 years. In that way, the history of Augsburg is in service of going forward together.
There are four themes that I believe are at the heart of this university's identity. The themes are abundance, generosity, engagement, and service. Throughout Augsburg's 150 years, there is ample evidence that the interplay of those themes has helped to shape what Burton Clark has called "the saga" of Augsburg. A saga is more than a story or a parable. It is an unfolding narrative anchored in mission, values, rituals, and objects.
This issue of Augsburg Now offers us a glimpse of the ways in which our saga continues to unfold in rich and meaningful ways. From the yearlong celebration of our sesquicentennial, to urgent interfaith and human rights initiatives, to new academic programs, to the remarkable accomplishments of the many alumni, faculty, and students featured in these pages—we are reminded again and again of how Augsburg is both faithful to its historic values and relevant to the needs of the world today.
Augsburg alumni David Cherwien '79 and Gracia Grindal '65 painted with music and words this saga of faith, educational aspirations, and public service in a hymn commissioned for my inauguration in 2006. The final stanza of the hymn proclaims:
Send, oh God your Holy Spirit,
Give us wisdom, love, and faith.
Faith enough to move a mountain,
Love that died to conquer death.
Wisdom crowned with healing leaves,
Truth made flesh to set us free.
Let your glory bear rich fruit,
Growing from your sturdy roots.
Alleluia, Alleluia!
And so we join with the company of saints and witnesses who have lived in the shadows of our beloved Augsburg to renew our vow to hold fast to all that is good.