Sesquicentennial Gala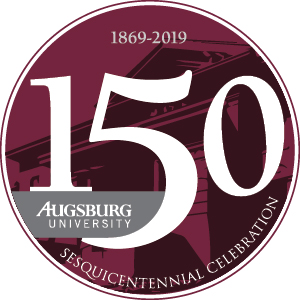 It wouldn't be right to mark 150 years of Augsburg with a small affair—so we threw a huge, once-in-a-lifetime party. On Friday, September 27, Auggies of all kinds dressed up and headed to Renaissance Minneapolis Hotel—The Depot in downtown Minneapolis for the Sesquicentennial Gala, a night of dinner, dancing, revisiting the university's history, and rallying support to propel Augsburg into the next 150 years.
Gala at a glance
1,000 Auggies attended the gala.
Thanks to our generous guests, we raised a total of $1.4 million in support of Augsburg's mission.
Paul Mueller '84 and Nancy (Mackey) Mueller '85 issued a challenge and pledged to match every gift at the $1,000 level dollar for dollar up to $100,000.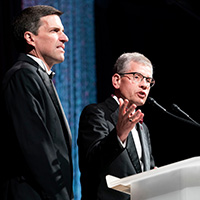 "Augsburg is astonishing. Which is really to say that the people of Augsburg are astonishing—Brilliant. Committed. Resilient. You might try to hide it or downplay it, but it is undeniably, unequivocally, tangibly bursting forth from everything you do. It has been nearly 15 years since I first stepped on campus. And, today, the world is noticing Augsburg, what it is, and does, and stands for. Not just in the Twin Cities, but nationally and internationally."
—from President Paul Pribbenow's gala remarks

"Auggie, you are called into the world. Into your wonder. Your why. To wrestle with reason. To spot the problem. And propose new parts. To walk toward your fears. To find the heart. We are Called. We are Auggies."
—from "We Are Auggies," a spoken-word piece written and performed by Donte Collins '18
View Donte's spoken word-video on the Augsburg University Youtube channel.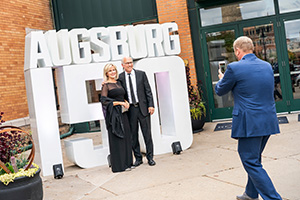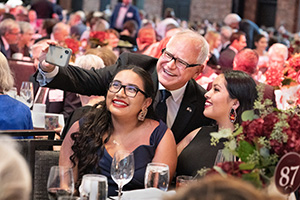 Homecoming
Auggies continued the celebration Saturday, September 28, with a full day of Homecoming festivities, including Taste of Augsburg, a chapel service, the football game, and the Augsburg Music Department Collage Concert. The classes of 1969, 1979, and 2009 celebrated milestone reunions.