Young Mary Taris '04 was so thankful to be a girl. The Minneapolis Public Housing Authority required children of different genders to have separate bedrooms, so while her brothers had to share a room, Taris had her own. Through reading, her bedroom walls grew into a mythical grove where she'd encounter a prince or sit for tea with Frog and Toad.
"I escaped into books. Or maybe," she said, "I disappeared in them." Books gave her the life she longed for, but those beloved tales were someone else's story. She was 20 before she read a book with black characters.
Now 55, the retired teacher is driven to change that narrative. Last August, at the historic James J. Hill Center in St. Paul, Minnesota, Taris stood in front of family and friends to voice her dream, Strive Publishing, into existence. The startup—based out of her Twin Cities home—supports emerging authors of picture books and young adult novels that are culturally relevant, contemporary, and relatable to kids of all shades, abilities, and experiences.
"Everyone has a story, and those stories build bridges to connect us all," said Taris, a graduate of Augsburg University's Adult Undergraduate program, a flexible degree program that pairs on-campus classes with online coursework in a dozen undergraduate majors. "Too often, authors conform to narrow industry standards driven by profit, but I refuse." At Strive, Taris and her team work to create pathways for writers and artists from all backgrounds to write about their own experiences and a wider array of identities.
Publishing stories that represent and connect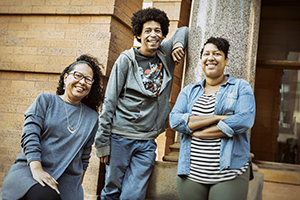 Strive Publishing has released three titles by local African American authors, and several more books are in the works with upcoming launch dates. Taris' efforts have been featured nationally and celebrated locally, with invitations to inaugural African American Voices in Children's Literature Contest in partnership with Free Spirit Publishing.
"Strive is more than a company; it's a mindset," she said. "I was a runaway teen mom who finished high school while striving to raise a son and work for a better life." That determination led her to enroll in Augsburg's elementary education program. Juggling work and family, it took Taris eight years to graduate, but she walked across the commencement stage and into the classroom where she taught a range of grades and subjects (mostly English) for 15 years. "I became the first person in my family to earn a college degree," she said. "It had been my dream since childhood."
Augsburg left a mark on Taris, as classes exposed her to inequities in education and literature. Taris reframed those inequities as opportunities. Now, years later, Barbara West, director of student teacher placement at Augsburg, recalled Taris' embrace of story-filled, relevant learning. While student-teaching, Taris invited a Japanese friend to talk with students who were reading a novel about a Japanese girl during World War II. On her lunch hour, Taris met with eighth-graders to advise on a student-produced newsletter. She sought to incorporate diverse voices and stories into the curriculum.
"Augsburg taught me to consider the whole child and to understand the classroom as a life-giving space where you can listen and let people tell their stories," she said. "As a teacher, I struggled to find diverse texts."
Taris also struggled when administrators brought speakers and books that reinforced cultural stereotypes and limited experiences rather than providing real cultural and ethnic diversity. "I wish they would have, instead, given kids diverse books or brought in local authors who looked like the students."
Celebrating voices that defy stereotypes
Taris launched Strive in 2016 while teaching full time, but three years later, she took early retirement to dedicate herself fully to the publishing company. Taris remains an educator, though, as a mentor to young authors and as an advocate for change. She challenges communities, schools, and publishing houses to invite new titles that can find their way onto more readers' nightstands.
Ricardo Peters is among Strive's "founding authors," as Taris calls them, and he says he is indebted to "Miss Mary" for her guidance and encouragement. Peters' book— the first in a fantasy series— sold out within months. The 35-year-old stands out, Taris said, because he is a black man who loves and lives the arts like few others.
"Plenty of black men are deeply connected to their artistic side, but society doesn't celebrate that expression," Taris added. "Our sons are not all basketball and hip hop. Ricardo defies that stereotype, and his work will lead others to do the same."
Peters had been dreaming up stories since he filled stapled together notebook paper with "Transformers" stickers. Publishing a book remained his dream, but it wouldn't have happened without Taris.
"I had been working on this series for nine years and likely would have sat on it forever," said Peters, who works as a reading instructor at Kumon Math and Reading Center of Maple Grove. "But Mary presented me with this opportunity, she believed in me, and I am eternally grateful."
Making stories more accessible runs in the family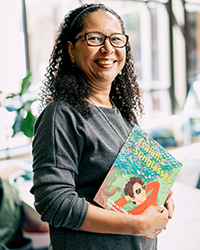 This sentiment is shared among the authors who work with Taris. Her children are equally inspired by her, so much so that they joined the Strive team. Her oldest son, Jermaine Taris, is a book illustrator. Her 16-year-old daughter, Grace Taris-Allen, serves as "quality control," happily reading manuscripts; and her eldest daughter, LaToya Taris-James, assists with marketing and social media.
"My mom makes things happen," said Taris-James, a student leadership program coordinator for Augsburg's Sabo Center for Democracy and Citizenship. "She is resourceful and passionate, with a unique way of connecting with and inspiring others.
"When I was 12, she introduced me to 'Things Fall Apart' by Chinua Achebe. It was the first piece of African literature I had read on my own, and it shaped my view of black people across the African diaspora and helped connect me with my heritage."
Through Strive, her mother is making those connections on a broader scale, said Taris-James, who hasn't fallen far from the tree. Along with a friend, Taris-James created a social impact initiative known as Rooftop (or RFTP) that uses storytelling to engage communities in dialogue around difficult, often polarizing, issues. Mother and daughter are both driven to make stories of all kinds more accessible and communal.
"I felt called to create Strive, and to be honest, it's been difficult to wear so many hats and break through," Taris said. "Where I have come to see the greatest need is for a safe space for all people to tell their stories, whether they get published or not. I'm working with PopUp Think Tank to gather ideas for how Strive can make the greatest impact, and it's feeling more like a social enterprise than trying to operate as a traditional publishing house. Whatever Strive looks like in a year— or five years—I know it will be moving the dial."
Strive Publishing's Book List
"Under a Cloven Sky" and "A Wild Nature Embraced" by Ricardo Peters

Books one and two in the young adult fantasy series, "The Scorched Heavens," in which the fate of two nations rests on the city's young princess and her protector.

"Isaiah's Sunglasses" by Linda Miller

A short, rhythmic story for children about family, hope, acceptance, and learning about different types of people.

"Red's Adventures: The Egg Pie" by Donna Gingery

The hilarious first book in a picture book series for children, this story follows the precocious Red, who grows up in Alabama under the watchful eye of her grandmother.

"Story to Story: A Strive Short Story Series," Volume 1

This collaborative book project aims to celebrate and empower emerging authors and illustrators.

"Who Can I Be?" by Arielle Grant

Created by Strive's founding illustrator, this is a story of a girl who sees her potential through the example of women in her community.
Representation in literature on the rise but has 'a long way to go'
The Cooperative Children's Book Center researched and compiled statistics about the number of children's books and young adult literature published by and about people of color, American Indians, and those of First Nations. "Every year, we see amazing books by and about people of color and first/native nations. There just aren't enough of them," CCBC Director Kathleen Horning reflected in the ongoing study's abstract. "The more books there are, especially books created by authors and illustrators of color, the more opportunities librarians, teachers, parents, and other adults have of finding outstanding books for young readers and listeners that reflect dimensions of their lives and give a broader understanding of who we are as a nation."