Editor's note: In late July, the Minnesota Intercollegiate Athletic Conference announced plans to postpone competition in cross country, football, soccer, and volleyball until the spring. Winter and spring sports are still under consideration.
"I already feel bad for my future children," joked Bel Snyder '23. "They are going to have to hear the story of Minnesota's only collegiate women's wrestling team over and over again."
Snyder is one of 10 women wrestlers who made history at Augsburg during the 2019–20 academic year—a quarter century after the university founded the NCAA's first women's hockey team in the Midwest, followed by Minnesota's first varsity women's lacrosse team in 2014. That pioneering spirit drew Snyder to Augsburg, which received a Breaking Barriers Award in February at Minnesota's National Girls and Women in Sports Day event at the Minnesota History Center.
"I have never felt such close bonds or such support," added Snyder, who's an elementary education transfer student. "I am going to bleed maroon and gray for the rest of my life."
Green but Great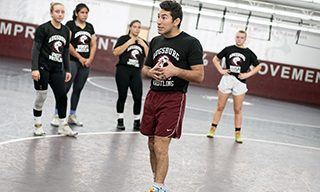 It's a young team with seven first-year and three transfer students who had never wrestled for an all- woman team until now. The roster includes some of the nation's top competitors, including Emily Shilson '23, who's considered the top woman recruit in the country by some wrestling news outlets. The 19-year-old finance student qualified to wrestle for a spot in the 2020 Tokyo Olympic Games (which have been rescheduled for 2021 because of the COVID-19 pandemic).
How did a budding team recruit such champions? Meet Women's Wrestling Head Coach Max Mejia, a former Harvard wrestler who became a women's and skills coach for Arizona's Sunkist Kids Wrestling Club, which produced 55 Olympic medalists in both men's and women's wrestling.
"In wrestling, you can control your destiny more than other sports. It's not about height or speed. Champions have mental toughness, diligence for detail, and a hunger to win," he said. "My goal is to produce the best women leaders in the world. When they graduate, I want them to understand how these traits convert to success in the real world. And I want the employers to gobble them up because they recognize what comes from that level of leadership, dedication, and grit," he said.
Mejia focuses on process, knowing results will follow. He seeks to understand each athletes' hopes and motivations so he can help them play to their strengths for both athletics and career success. Mejia empowers each wrestler to set her own goals: "I know I have the discipline to do anything I put my mind to, and I'll have a great mindset while doing it," said kinesiology major Savannah Vold '22.
"He doesn't see us as we are but as we could be," said Vayle-rae Baker '23, who ranks at the top of her weight class. "Then he pushes us through self-doubt or whatever is holding us back. I take more risks, and I'm seeing the rewards."
Those strengths are showing. With an overall record of 4-2, Auggie Women's Wrestling ranked among the top 10 programs in the NCAA as the team headed into the inaugural Cliff Keen National Collegiate Women's Wrestling Championships in early March. Augsburg finished in ninth place as a team, while Shilson claimed the national title to close out her inaugural collegiate season.
NCAA Names Women's Wrestling an 'Emerging' Sport
In January, NCAA Division II and Division III voted to add women's wrestling to its list of Emerging Sports for Women; in June, Division I voted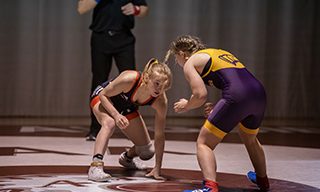 in agreement. The next milestone for the wrestling community will be to reach at least 40 NCAA-affiliated varsity women's wrestling teams, which is required to achieve official NCAA Championship status. At present, about 35 NCAA schools support women's wrestling teams.
Augsburg Athletic Director Jeff Swenson '79 is optimistic. "We have no doubt women's wrestling will build on our reputation as a 'wrestling school,' with our men's team having secured its 13th national title in 2019.
"In 1995, Augsburg made history with the region's first women's ice hockey team, and now you're unique if you don't offer women's hockey. Then in 2014, Augsburg started the NCAA's first varsity women's lacrosse team in Minnesota, and now, here we are with women's wrestling," he said. "Augsburg continues to be a pioneer for women's athletics, and we're invested in the success of women's wrestling."
Men's Wrestling Co-Head Coach Jim Moulsoff is thrilled that Augsburg is creating opportunities for women to wrestle at the collegiate level. Girls' wrestling is the fastest growing high school sport, according to the U.S. Wrestling Foundation, yet Minnesota and Wisconsin are among the 30 states that haven't made girls' wrestling an official sport."
"For the past 18 years, I have helped out at junior freestyle summer trainings, and it's been amazing to see the growth of women's wrestling from no girls in attendance to hundreds each year," said Moulsoff, the 2015 and 2019 National Wrestling Coaches Association Division III National Coach of the Year.
Team of 'Firsts' Mentors Young Girls
Members of the women's wrestling team also are driven to share their knowledge and pave the way for the next generation of women wrestlers. Every one of the student-athletes has lived a first—the first girl on a high school's wrestling team, the first match a competitor forfeited because he "didn't want to wrestle a girl," the first time she saw women's wrestling at the Olympics (in 2004). They embrace the strength gained from those moments, but it is time for more women to have opportunities to wrestle.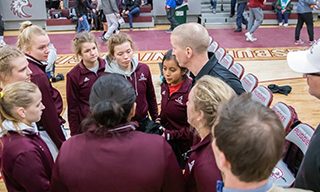 Nine years ago, Minnesota USA Wrestling began hosting open gyms at Augsburg every Sunday, and four girls attended the first session. Earlier this year, about 60 girls showed up every week, even with weekend tournaments pulling some away. Baker said she and her teammates consistently volunteered to coach and mentor the girls, who ranged from 6 to 18 years old.
"I started wrestling when I was 9, and I was the only girl on that team and the only girl on my middle and high school teams," Baker said. "I look forward to coaching and connecting with the girls each week. My teammates and I want to show them they can do this, and show them there will be teams for them when they go to college."
Chad Shilson '93, women's wrestling director and coach for Minnesota USA Wrestling, said lifelong friendships seem to emerge at every practice, as girls experience wrestling with those who are similar in strength, weight, flexibility, size, and goals. "They get to be the iron that sharpens other iron," he said.
The result: some of the top women wrestlers in the country, if not the world, have come out of the open gyms—"hungry for the sport and everything it has to offer," added Shilson, the father of top-ranked Augsburg wrestler, Emily Shilson.
Coach Mejia hopes to collaborate with USA Wrestling and other organizations to offer even more camps and open gyms (when it's safe and appropriate for public health regarding the coronavirus) for the estimated 300 girls who are wrestling at some level in the state. When they graduate from high school, Mejia said, "I want them to have no doubt that Augsburg is the place to be."
'We Keep Playing. … We Persist'
Word has gotten out. Alumni and friends of the university are tweeting their praises and sharing news coverage of the historic team. Children's book author and public speaker, Shelly Boyum-Breen '97, said the university's investment in women's wrestling is also an investment in girls and women in general.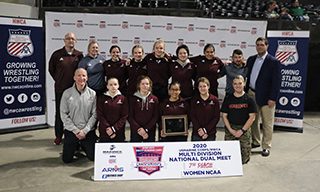 "I was fortunate to be at Augsburg when women's hockey started, and I saw lives changing before my eyes. I know firsthand the impact that continues to make on those women's lives," said Boyum- Breen, who taught physical education and coached women's basketball at Augsburg. "When we invest in women and our diverse communities, we invest in what's possible. We have to show it in action through media coverage. Kids need to hear these stories—boys and girls.
"Look at the decision-makers, the percentages of coaches, the funding gaps, and the near media blackout of women's professional and collegiate sports. And yet, we keep playing. And people keep watching. Because of the support that exists, we persist," said Boyum-Breen, who also established grants to pay sports fees and equipment costs that functioned as barriers to participation for some Minnesota girls.
Augsburg women's hockey coaches know better than most the kind of investment and persistent leadership required to create and sustain a vibrant women's athletics program.
"To be a leader—it's scary," said founding Women's Hockey Head Coach Jill Pohtilla. "I've seen Augsburg, time and time again, make bold moves based on what makes sense and what is right," said Pohtilla, who was inducted into the Women's Hockey Association of Minnesota Hall of Fame in 2006.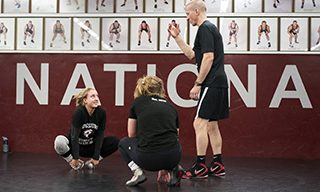 The women's wrestling program has made an immediate impact in the Athletics Department and has increased expectations for success, said Michelle McAteer, Augsburg's women's hockey head coach.
"Coach Mejia was able to bring in a large and talented class for the inaugural season, and it's clear how skilled, determined, and committed these women are," she said. "They are representing Augsburg and our Athletics Department with great pride, and growing the profile of their sport at the same time.
"They are making history, living history," McAteer added. "It's a special team doing very special things."
A Brief History of Women's Athletics at Augsburg
1922
Women's basketball team assembles. Beginning in 1950, they earn a record of 125-5 over 15 seasons.
1972
Title IX mandates equal opportunities in education, allowing women to participate on high school and college athletic teams. Augsburg basketball, gymnastics, tennis, and volleyball record their official inaugural varsity seasons in the Title IX era.
1974
Softball is added as a varsity sport.
1975
Women's track and field is added as a varsity sport.
1985
Women's soccer becomes a varsity sport.
1991
Women's cross country program begins.
1995
Augsburg establishes the first varsity women's hockey team in the Upper Midwest.
2003
Swimming and diving program begins.
2014
Augsburg establishes the first varsity women's lacrosse team in Minnesota.
2019
Augsburg launches the only varsity intercollegiate women's wrestling team in Minnesota.