The U.S. Department of Education announced that Augsburg University was awarded a federal Student Support Services five-year grant of nearly $300,000 annually to help more students succeed in and graduate from college. This is the fifth TRIO/SSS grant awarded to Augsburg, which has hosted the project since 2001. Each year, Augsburg TRIO/SSS serves about 160 undergraduate students.
The TRIO/SSS program is designed for students who are the first in their families to attend post-secondary education, students who are low income, or students with disabilities. The grant funds an array of services including academic skill development, academic advising, tutoring, financial aid advice, and financial literacy.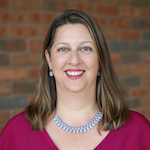 "Augsburg TRIO/SSS has established a reputation for helping students navigate higher education to achieve their academic goals," said Aly Olson, director of Augsburg TRIO/SSS.
"Students know their TRIO advisor is looking out for their best interests and helps them through the tough decisions of college life. We are thrilled to be able to continue this important work at Augsburg." —Aly Olson
The federal government contributes about 70% of the funds needed to support Augsburg's TRIO/SSS project. The university contributes the remaining program funds.
---
Top image: Brooklyn Jones '22, clinical psychology major and sociology minor, attends a Summer Bridge class in 2019. (Photo by Bob Stack '71)