by Betsey Norgard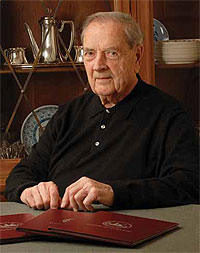 President's Scholarships recognize students with exceptional academic ability and leadership potential and can provide financial support up to full tuition for four years. Donors who choose to endow a President's Scholarship make special connections with these students, and those that follow them, one after another, as they see an Augsburg education made possible.
E. Milton Kleven '46 taught school in Minneapolis for 33 years and knows what this means to students from low-income families. He and his family have endowed three President's Scholarships and enjoy being part of the lives of the students who receive them, helping them begin their work and careers free from college debt.
Milt Kleven's Augsburg story began in a home two blocks from the College, where his Norwegian immigrant mother and father raised nine children. Since Augsburg was the college in the neighborhood, six of the Kleven children attended, with three completing their degrees.
In 1940, Milt followed his sister Agathe, who had just graduated from Augsburg. Like most students then, Milt's studies were interrupted by World War II, and in 1946 he returned and finished. Their brother Luther graduated in 1950. Milt graduated with a major in mathematics and a minor in physical education. His strongest and longest friendships he formed in the Augsburg A-Club, even though his student job downtown at the Minneapolis Club kept him too busy to participate in most sports, except for lettering in golf.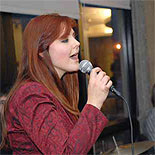 Becky Shaheen '11
Becky Shaheen is a sophomore from Elk River, Minn., majoring in vocal music performance and composition, with a pre-engineering minor. She sings in the Augsburg Choir, Gospel Praise Jazz Ensemble, and other ensembles. This is her second year as the recipient of the Dorothy Lijsing Kleven President's Scholarship in choral music, and she keeps in touch with the Kleven family.
"Music is my life, and this semester I've been able to dedicate more time than ever before to music. I am finally realizing that being a musician is possible …
"This scholarship has opened so many doors for me. I don't have to worry so much about the financial issues, and it has provided me with confidence and such an 'I can do anything!' attitude.
"When I first met the family, it was like meeting a huge part of my extended family that I didn't know about. … A picture of the family and me taken at the scholarship brunch hangs by my desk, a reminder of the people who are making this journey possible. "
Kleven's Augsburg story has a romantic twist on a broken leg. In late 1943 he left Augsburg to enter Navy pilot training. When he suffered a broken leg, he decided to spend the eight-week recovery period back at Augsburg, completing his math major with Professor George Soberg.
One evening in Augsburg's library, in the basement of Old Main, he met Dorothy Lijsing, the daughter of a Swedish immigrant father and mother, and she became his wife and partner for 53 years. Dorothy transferred to Gustavus Adolphus College and graduated there. They were married in 1947.
Soon after graduating, Kleven began teaching mathematics in the Minneapolis Public Schools. In addition to teaching, he also served as the teacher representative with Great West Financial on a voluntary investment fund created following a strike in 1970. From that experience, he learned a great deal about investments and wise financial planning that has served him well.
In the 1950s, the Klevens were approached by Sig Hjelmeland '41, Augsburg's development director, and asked for the first time to consider giving back to Augsburg.
"My parents always set aside their tithe," Kleven says, "and taught us that giving is a part of our responsibility."
In 1958, he and Dorothy established a scholarship in honor of his parents, Magnus and Kristofa Kleven. In its 50 years, more than 200 Augsburg students have benefited from the financial support of this scholarship.
During the 1960s, the Klevens continued their philanthropic support to Augsburg, and for many years worked closely with development officer Jeroy Carlson '48.
In 2001, when Dorothy passed away, Kleven established a scholarship in her name. With college costs skyrocketing, he knew from his large family what a difference a full tuition scholarship could make for students from low-income families, like those he had taught in Minneapolis.
"That's the main thing," Kleven says. "I want to help kids who have a need, and I want it to be a full scholarship."
So, the Dorothy Lijsing Kleven Scholarship became the first endowed President's Scholarship, and provides a full scholarship to a student interested in choral music, as Dorothy had been throughout her life. This endowment was created by Milt and their four children and families—Bruce and Maren Kleven, David and Barbara Kleven, Barbara and Zane Birky, and Diane and Philip Larson.
In 2007, the family created two additional endowed President's Scholarships. They added Dorothy's parents, David and Florence Lijsing, to the original scholarship for Milt's parents and raised it to the level of a full President's Scholarship.
The third was created in Milt's name—the E. Milton Kleven Scholarship for public service, so he can enjoy supporting students with a real financial need who plan to enter public service.
Kleven helped to facilitate two other scholarships. The Margaret Andrews Scholarship was established by Kleven and his fellow Trade and Industry coordinators in the Minneapolis public school system to honor their supervisor, Margaret Andrews. The Donald C. Carlson Scholarship, through the Normandale Lutheran Church Foundation, is named for founding pastor Donald Carlson '42 to support a Normandale member attending Augsburg.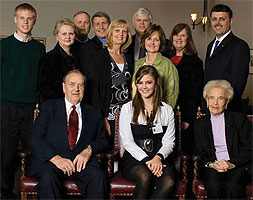 The Kleven legacy also includes major support to capital projects. In 1995-96, the family worked with President Charles Anderson and gave $1 million toward the construction of Lindell Library.
Milt founded Kleven Flooring Service, which installed hardwood flooring in houses in the Minneapolis-Saint Paul area. Over the years, he provided hardwood floors throughout the Augsburg campus, including the Augsburg Room in Christensen Center and Augsburg House.
His most recent gift celebrates his over 60-year tie to Augsburg A-Club and close friendships with Glen Person '47 and Dick "Pork Chop" Thompson '61. Together, as part of the construction of the new press box on Edor Nelson Field, the three provided the funding to name the Jeroy C. Carlson Hospitality Room in Kennedy Center in honor of their longtime friend and colleague.
For more information about endowing a President's Scholarship honoring Augsburg's most promising students, contact Institutional Advancement at 612-330-1613.