By Don Stoner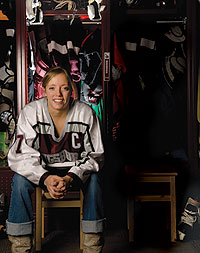 If it weren't for finding cheap hockey skates at a tent sale, Tiffany Magnuson's athletic career might have been quite different than it is today.
"My dad didn't want me playing hockey. They bought me figure skates, because my dad didn't want me messed up with the hockey guys," said Magnuson, whose father is a hockey coach in their hometown of Green Bay, Wis. "They bought the figure skates for me, and I couldn't skate in them because of the toe pick. But my dad always said that I had a natural hockey stride, and I kept telling him that I wanted black skates."
So Magnuson's mom found her a pair of black skates— hockey skates.
"My mom always said, 'Wal-Mart started your career,' because they had a tent sale at Wal-Mart on hockey skates," Magnuson said.
A senior, Magnuson has excelled at two sports during her Auggie career—hockey and softball—and will leave Augsburg as one of the top all-around female athletes in school history. Magnuson finished her hockey career as the school's second leading goal-scorer and No. 3 point-producer. She was a four-time All-Minnesota Intercollegiate Athletic Conference selection.
In softball, Magnuson played three positions—second base, first base, and pitcher—during last season's run to the MIAC playoffs for the first time in program history. A threetime All-MIAC selection, she enters this season with a .379 career batting average as the Auggies leadoff hitter.
Magnuson, a finance major and accounting minor, was recruited to play hockey at Augsburg and she said she chose Augsburg because it was a small school in a large city. Being active in back-to-back sports has helped her learn to manage her time.
"Sports have taught me about leadership, being committed and competitive, about interacting with others, and having to all come together for a goal," said Magnuson, who wants to work on the business side of a sports team. "It's a family [atmosphere], and for me being away from my family, it helps me with my life. That's what I like about Augsburg, the close-knit atmosphere."