by Wendi Wheeler '06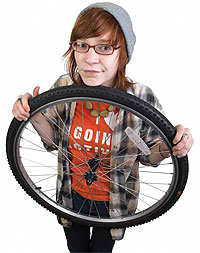 If you want to study sustainability, you need to go where it's done best. Students in the Sustainable Cities in North America summer course spent three weeks in Portland, Ore., and Vancouver, B.C., learning about the successes and challenges of two of North America's most sustainable cities. What they discovered, amidst green buildings and miles of bike trails, is that being sustainable requires attention to many interconnected aspects of life. This interconnectedness, they learned, means that what is beneficial for some may be detrimental to others, so working together to build strong communities is crucial to the success of sustainability measures.
In the end, the students not only learned more about their world; they were also empowered to bring their creativity and enthusiasm back to Minneapolis to implement a plan that would help Augsburg become a greener, more sustainable campus.
Studying sustainability
Sustainability is a measure of the quality of life for citizens in an area. It involves water and air quality, access to transportation, ability to find work and make a living, local food systems, energy use, the creation and maintenance of green buildings, housing availability and affordability, land use, and waste management—for starters.
To be ranked high on the sustainability scale, a city must do more than pave bike trails and purchase hybrid buses. Citizens must be educated about greenhouse gas emissions produced by their cars and about the effect of those emissions on the environment. The city must provide resources that citizens and businesses need to start and continue environmentally friendly efforts, such as incentives to use public transportation, access to buses or light rail, and routes that bring people easily from their homes to the places of work and back again.
To be truly sustainable, these efforts must be culturally appropriate and make the best use of the resources available in the area. And finally, the practices of sustainability must not only continue over time, they must improve as the city changes and grows.
The Sustainable Cities course was a short-term Augsburg Abroad program led by sociology and metro-urban studies professors Lars Christiansen and Nancy Fischer. The professors wanted not only to study sustainability in an urban context but also to travel sustainably and to minimize the impact of their program on the cities they visited. Rather than rent a van or bus, Christiansen and half of the class traveled by bicycle while Fischer and the remaining students used train, street car, and their own two feet to get around in each city.
"You really get to learn a city when you're 'behind bars,'" says Jon Peterson '10, a sociology major from Excelsior, Minn. "When I went to Portland with my family, we rented a car. I didn't learn nearly as much about the city and didn't have the appreciation." Traveling by bicycle helped the class reduce its greenhouse gas emissions and also gave the students an opportunity to experience the cities more fully.
While in Portland & Vancouver,
the students and instructors:
• Stayed in Epler Hall at Portland State University, a green dormitory and Portland's first LEED-certified building
• Explored neighborhoods using the five-minute walk exercise
• Met with city government officials and policymakers to learn about urban planning, waste management and recycling,
and transportation
• Met with community organizers to learn about grassroots movements and civic engagement
• Visited several professors to learn about sustainable development research and sustainability efforts on university campuses
• Toured farmers markets and community gardens and talked with the people who sell and grow in these spaces
• Participated in Portland's Night Ride and a Critical Mass bike ride in downtown Vancouver
Sustainability is complicated
As they studied and explored Portland and Vancouver, the students began to gain an appreciation for the complexity of creating and maintaining a sustainable city. "A lot of our experiences brought up the idea of equity," says Ricky Oudekerk '09, an international relations and peace and global studies major from St. Paul. "What might be a sustainable idea for the wealthy or for the government might not work for everyone."
The class went to Vancouver's East Hastings neighborhood—a site of controversy centered on an effort to clean up an area nestled between popular tourist destinations as the city prepares to host the 2010 Winter Olympics. There, many students said they witnessed poverty and desperation unlike anything they had ever seen.
"Basically they've quarantined the homeless and addicts into a four-block area," explains Oudekerk. "While it's sad, the support resources for those people could be centralized. And they have activists from their community. That was the first time I've ever seen homeless and addict activists."
Though both cities offer a robust transit system, the students learned that if citizens don't have access or aren't able to afford the fares, the system is not truly sustainable. "The transit system in Vancouver severely marginalizes lower income people," Peterson says.
Bus fare in Vancouver ranges from $2.50 to $5, and the fare covers only 90 minutes. In a city with a median income of $62,600 (CDN) where the average home price is more than $410,000, many people have been pushed out of the city and away from their places of work. "We discovered that fare didn't last very long once you are trying to get out to the suburbs, where many people have moved who are seeking cheaper residences," Fischer says.
"Before this course, I thought sustainable cities would be utopias where nothing bad ever happens," says Meagen Swartzer '08, a media writing major and urban studies minor. "With every good comes something bad. Once you reach perfection, not everybody can afford it."
Sustainability at Augsburg
Once students learned about the many dimensions of urban sustainability and began to understand its intricacy, Christiansen and Fischer challenged them to turn their knowledge into action. The professors knew that in order for the class' project to succeed, it had to be driven by the students so that they would educate and motivate each other.
Through their site visits and conversations, the students had learned that their project had to be right for Augsburg. "The recipe for sustainability is different and unique in every place," says Oudekerk. "The mix of what you've got to work with, including the people and the culture, needs to be taken into account in order to build a sustainable city."
In Portland, the class saw many of the one-block parks for which the city is known. As he explored the city, Peterson thought about the park in the center of Augsburg's campus. "We saw a lot of urban spaces the size of Murphy Park where they had done great things," Peterson says. "I thought we could really pay tribute to our heritage by rethinking and reforming that park and creating a more usable public space."
Several members of the class also discussed creating a mural with other community groups on the wall bordering I-94 at the southern edge of campus. "We wanted to transform that space and bring people together," says Kjerstin Hagen '10, an American Indian studies major.
One idea that has been successfully implemented is a composting program in campus dining facilities.
Working with Augsburg's foodservice provider, a group of students formulated a plan to collect organics and compostable paper products and to reduce the amount of waste in the Commons cafeteria. Composting bins and signage were added to the cafeteria in the fall. Students from the class helped diners place their compostable items and trash into the appropriate containers and answered questions about the program. "Education is key," says Hagen. "If you don't know why you are doing it or why it's important, you won't continue."
According to Jay Cross, Augsburg Dining Services manager, the effort has resulted in a significant reduction of waste. "Now we have only one bag of garbage per day," compared to 12 to 15 six-gallon bags that were collected daily prior to the implementation of the program. Currently, Swartzer and Hagen are working on a grant to purchase more composting bins for the campus' retail foodservice operations and for offices and residence halls.
Sustainable lessons
For many of the students in Sustainable Cities in North America, studying in Portland and Vancouver gave them much more than a comfortable acquaintance with the two cities. They learned lessons that changed their habits, their choices, and their lives.
Michael Wethington, with other Augsburg students, is organizing a bicycling tour back to Portland from Minneapolis. The group plans to contact policymakers and examine current legislative standing on alternative transportation with a focus on cycling in both Minneapolis/St. Paul and Portland. They'll perform a cross analysis of the cities: future directions and applications from one city, that may work effectively in the other.
Others who already had an interest in sustainability developed a deeper understanding of the issue. "This class trip really helped to broaden my view of the multi-faceted nature of sustainability," Peterson says, "and helped to strengthen my personal values for all the dimensions of sustainability."
The experiential nature of the program helped Oudekerk make connections to past classes and his personal interests. "This class made it easy for me to connect the dots between what I have read and what I was doing in the cities."
Oudekerk, who plans to work in the area of sustainable urban development in the future, came to understand that change happens when people work together. "This class influenced my understanding of the importance of community. Things that bring people together create sustainable relationships and healthy community. There are profound and significant benefits when this happens."
Fischer and Christiansen have received a grant from the Canadian Studies Faculty Enrichment Program and plan to return to Portland and Vancouver with another group of students in 2010.
Online exclusive: More on sustainable study abroad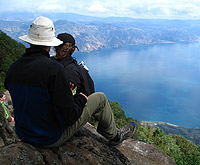 The participants in Sustainable Cities in North America used environmentally friendly transportation—bicycles, streetcar, train, and walking—to minimize their impact on the cities of Portland and Vancouver. The students also stayed in a green residence at Portland State University and toured several green buildings at the University of British Columbia.
Sustainable study abroad has recently become a topic of interest at colleges and universities across the country. Andrea Dvorak, coordinator of short-term programs for Augsburg Abroad, first became interested in "green" study abroad after hearing a presentation by Daniel Greenberg, executive director of Living Routes, at a national conference.
Following his presentation, Dvorak talked to Greenberg about getting more involved in the movement to encourage sustainability in study abroad. Greenberg was working on developing a sustainability special interest group for NAFSA: Association for International Educators and a best practices task force for the Forum on Education Abroad.
Many organizations are now emphasizing sustainability and environmental awareness in their study abroad programs, but Dvorak says the measures can be over-emphasized because "green" issues are important to students. "The challenge is not to 'greenwash' your programs to attract students," said Dvorak.
Dvorak said Augsburg's Center for Global Education, which is under the umbrella of the Office of International Programs (OIP) along with Augsburg Abroad, has been a forerunner for 25 years on social, economic, environmental, and community sustainability in its programs. "It's part of OIP's mission and what we believe in."
At the Center's site in Cuernavaca, Mexico, the kitchen staff has been composting for more than 10 years. They recently added dry toilets to conserve water, have hung clothesline for program participants to dry their clothes, and are working on planting a garden on the hillside behind the facility.
Moreover, CGE encourages students and faculty to think about the effects of their travel—everything from transportation to the purchase of souvenirs—on the local people and economy. "We ask students to consider how what they do affects the ongoing livelihood of the people in the communities," Dvorak said.
Dvorak is now encouraging students and faculty to use the Green Passport website to evaluate the environmental and socio-cultural effects of their study abroad programs. Students enter details about their program, and the site provides information on how they can study and travel more sustainably.
Biodiversity and Environmental Politics in New Zealand, another green study abroad program, will take place in May 2009. The students will have an assignment to calculate the carbon footprint of the program and will use part of the cost of the program to pay for carbon offsets.
Resources
Want to learn more about urban sustainability? The students in Sustainable Cities in North America used these books and websites:
Deep Economy, by Bill McKibbenToward the Livable City, edited by Emilie BuchwaldWorld Changing: A User's Guide for the 21st Century, edited by Alex Steffen, http://www.worldchanging.com/
Centre for Interactive Research on Sustainability, http://www.cirs.ubc.ca/
Ecotrust Building (Jean Vollum Natural Capital Center), http://www.ecotrust.org/ncc/
Coalition for a Livable Future, http://clfuture.org/
Better Environmentally Sound Transportation (BEST), http://www.best.bc.ca
Society Promoting Environmental Conservation (SPEC), http://www.spec.bc.ca/
Centre for Sustainable Community Development at Simon Fraser University
Pivot Legal Society (in East Hastings, Vancouver), http://www.pivotlegal.org/