By Wendi Wheeler '06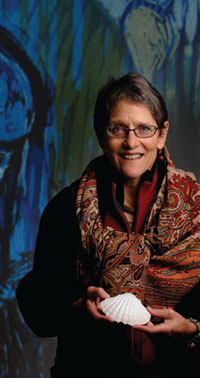 Shortly after she settled into her new home in Minneapolis, Martha Stortz (she prefers to be called Marty) did four things: she became a member of the Seward Co-op, she joined the Midtown YWCA, she took her bicycle in for "retooling" at the Hub, and she took herself on walking tours of the Seward, Longfellow, and Downtown East neighborhoods.
And those activities, along with a genuine love for the city and an infectious enthusiasm for Augsburg's mission, are what make her a true Auggie.
Stortz came to Augsburg this summer as the second Bernhard M. Christensen Professor of Religion and Vocation. She succeeds David Tiede, who retired and subsequently took a position as interim president of Wartburg Theological Seminary.
The Christensen Chair holds multiple responsibilities including teaching in the Religion Department, serving as counsel to the president and Board of Regents, and chairing the advisory council for the Augsburg Center for Faith and Learning. Furthermore, the chair plays a fundamental role in the interpretation and advancement of Augsburg's institutional vocation, its calling as a college.
Stortz says she is honored to be at Augsburg and excited about her role in the College's work. "I was quite taken with everything that you're doing," she says. "I love this city. This is a college in and for and with the city."
Augsburg College President Paul Pribbenow says Stortz' appointment affirms Augsburg's vision and direction. "I am grateful for the experience and wisdom Professor Stortz brings to this important position, and for the leadership she will provide as we continue to explore what it means to be a Lutheran college in the city," he says.
Stortz served as a member of the core doctoral faculty at the Graduate Theological Union in Berkeley, Calif., and taught for 29 years at the Pacific Lutheran Theological Seminary. She is an acclaimed scholar, teacher, and leader in the realms of the church, academia, and society at large.
Her interest in the Christian pilgrimage has been an important part of Stortz' personal and scholarly life. She has hiked part of the Camino de Santiago de Compostela, the Way of St. James, in Spain. She and a colleague have also joined two groups—one in El Salvador and another in Mexico City—as they explore post-modern "pilgrimages" through educational immersion experiences.
Though some might question her move from California to Minnesota, from theological education to higher education, and from seminary to college, Stortz feels as though she's called to be at Augsburg and to bring her connections, an eagerness to share the College's story with the community, and a commitment to her position.
She believes that her experience in circles of theological education and religion and education will bring some meaningful connections to Augsburg. "I'm very enthusiastic about what's going on here, and I think my key role is to make sure everyone knows what is going on."
"I'm eager to communicate Augsburg's vision and its sense of a living and lively tradition that is engaged with the city, the community, and the world. I've been a writer, speaker, and teacher, and I would now harness those gifts in service of the College's vocation."
When questioned about her decision, Stortz says, "I say to my friends, 'You don't know the Twin Cities, you don't know how exciting it is to have colleagues in other disciplines and how vibrant those multidisciplinary conversations can be, and you don't know Augsburg.'"
Excerpts from Martha Stortz' Inaugural Address, "Location, Location, Vocation"
"Tell me the landscape you inhabit, and I will tell you who you are."
—Jose Ortega y Gassett
However much we claim space, making it our own, space also claims us, telling us who we are.
Location shapes identity and gives the people who inhabit it a dis- tinctive vocation or calling. Like the Irish monks, we too live accordingly. I want to look at three dimensions of Augsburg's location—physical, historical, and spiritual—and probe how it shapes a vocation or calling that is distinctive to this College.
Physical location
… Augsburg is a college in, with, and for the city … [its] urban location is now central to the College's identity. The Christensen Center and Memorial Hall do not square off an academic quadrangle; rather, the space between them opens to a public park. The plan for the new Center for Science, Business, and Religion … does not feature a closed quad; rather, it imitates the freeway. As the freeway enables crosstown traffic between the cities, so this new building opens to the neighborhood; it invites cross-campus traffic and cross-disciplinary conversation.
Historical location
The College was founded by the Free Church Norwegian Lutheran immigrants who settled in the Cedar Riverside area in the mid- 1800s—and never forgot that they'd been strangers in a strange land … Consonant with that history, the College has welcomed the various immigrant groups that make up this neighborhood: Hmong, Somali, Ethiopian, Eritrean. Moreover, Augsburg consistently saw itself as an institution of higher learning that provided access and excellence to students who simply couldn't pay higher fees of other private schools. At times when it would have made more financial sense to go after wealthier families and their children, Augsburg elected to be faithful to its historic base.
Spiritual location
A tradition is not a museum piece, but a lively argument with the past, and throughout its history, Augsburg has loved a good fight. Incarnation and the neighbor stand as signal emphases of this tradition, the first witnessing to the fact that God entered the human condition—to the max.
At its best, Lutheranism is a tradition that has always leaned into the neighbor, always learned from the neighbor, and always looked to the neighbor to supply that unexpected bolt of grace that makes all things new (Revelation 21:5).
The Augsburg Center for Faith and Learning
In the spring of 2002, the Lilly Endowment, Inc. awarded Augsburg College a $2 million grant to expand the College's commitment to connecting faith and learning. As a result, Augsburg developed and implemented the Exploring Our Gifts program. After four years of successful programming (2002-2006), the Lilly Endowment awarded Augsburg a generous sustainability grant, matched by the College, to help support the project for an additional three years (2006-2009).
As a direct result of the success and positive impact of Exploring Our Gifts, Augsburg College is committed to continuing this important work beyond the life of the Lilly grant. To this end, the College has created the Augsburg Center for Faith and Learning (ACFL) to embody and build upon the convictions at the heart of Augsburg's educational mission:
"… to educate students to be informed citizens, thoughtful stewards, critical thinkers, and responsible leaders."
The work of the Augsburg Center for Faith and Learning is guided by the lessons of Bernhard M. Christensen, president of Augsburg from 1938 to 1962. Christensen taught that:
Christian faith liberates minds and lives
Diversity strengthens vital communities
Interfaith friendships enrich learning
The love of Christ draws us to God
We are called to service in the world
The Center's work focuses on three areas of activity:
Student and alumni engagement—Supporting discovery and development of talents and gifts, discernment of vocation, and exploration of calling
Faculty and staff leadership—Developing curricular and programmatic offerings to guide the theological exploration of vocation
Public witness and outreach—Promoting Augsburg's leadership in the pursuit and realization of individual and institutional calling
Sammie Guck, Christensen Scholar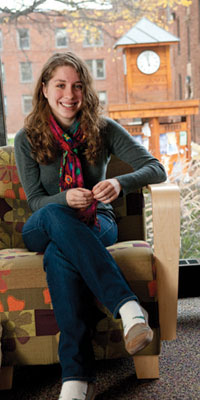 When senior Sammie Guck sees another Christensen Scholar on campus, she greets them with a simple but reverent, "Scholar."
"It's just our way of acknowledging each other when we are out in the world," Guck says.
Guck is one of 10 students involved in the Christensen Scholar program. Named for Bernhard Christensen, Augsburg's president from 1938 to 1962, the year-long seminar helps students explore the Lutheran concept of vocation and define their own calling.
Every year 10 junior or senior students are selected for the Christensen Scholar program, which is sponsored by the Augsburg Center for Faith and Learning. The heart of the pro- gram is a monthly three-hour seminar devoted to texts drawn from the Judeo-Christian tradition. Authors include biblical texts, Augustine, Luther, and Flannery O'Connor. Topics can range from religious pluralism to the art of prayer.
A philosophy major and religion minor, Guck says she appreciates the discussion-based seminar and the free exchange of ideas that happens among the scholars. "It's not a professor saying, 'Let me tell you what you should know.'" She adds that the scholars, who represent several different faith traditions, are very respectful of each other's ideas and backgrounds. "It's a great environment to share and explore," she says.
Guck says she is having a "senior year vocational crisis." She met with religion professor Mark Tranvik, who leads the scholar seminar, to discuss the idea of vocation. "I grew up Catholic, so I have a different understanding of vocation than the Lutheran concept," she says.
Together Guck and Tranvik explored different ways that a person of faith can live out his or her vocation. "I realized that vocation doesn't have to be one set thing, it can always be changing," she says. Guck was considering graduate school but does not think she will begin immediately after graduation. Instead, she is looking into other ways that she can express her vocation through a career in editing or publishing.
Whether she's pursuing her master's degree or working in a publishing house, two things are fairly certain for this Auggie. One—even after she graduates from Augsburg, she will continue to discern what her vocation is and how to make it a part of her life. And two—if she sees another Christensen Scholar walking down the street, they are sure to greet each other with the brief acknowledgement of the conversations they had at Augsburg.