By Wendi Wheeler '06
It's not uncommon to associate "research" with a scientific laboratory, microscopes, and tiny glass slides smeared with cells. But research at Augsburg is more than Bunsen burners and petri dishes.
Every year students in the natural and social sciences, the humanities, and the arts conduct intensive 10-week summer projects as well as ongoing projects throughout the year. Last summer alone, students wrote music and screenplays, tested the water quality in Rice Creek, studied aggression in Girl Scouts, produced wearable art, and tried to find a body mass index for dogs—among other things.
Student research is funded from a variety of sources: grants provided by the Office of Undergraduate Research and Graduate Opportunity (URGO), the McNair Scholars program, a NASA Space Physics grant, the Northstar STEM Alliance, and Augsburg donors. The funds not only allow students to focus on their projects for 40 hours a week in the summer but also provide opportunities for them to travel to national conferences to present their work.
Here we highlight the work of six outstanding Augsburg undergraduates—students whom we may see winning awards or publishing scholarly journal articles in the future.
To meet some of these student researchers and many others, attend Zyzzogeton, Augsburg's annual celebration of academic and artistic student achievement. The spring 2011 Zyzzogeton student research poster session will be held Wednesday, April 13 from 3-5 p.m. in the Oren
Gateway Center atrium.
Justin Ingebretson '12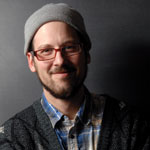 The Effect of Dopaminergic Neurotoxins on Daphnia magna Swimming Behavior
Faculty adviser, Matt Beckman
Justin Ingebretson spent a good deal of his summer shooting video of swimming water fleas. Actually, he was filming perturbed water fleas, also known as Daphnia magna. The purpose was to understand the role that certain neurotoxins have in motor behavior, with applications for humans suffering from disorders like Parkinson's disease. Ingebretson presented his research at the national conference of the Annual Society for Neuroscience, where he says he was able to hold his head high next to students from multimillion-dollar research institutions. A member of the recovery community who at one time did not see college in his future, this promising scientist says, "I feel honored that the faculty and this college entrusted me to represent them."
Becky Shaheen '11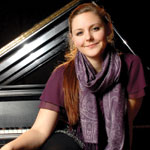 Art Song: Poetry into Music
Faculty adviser, Sonja Thompson
You wouldn't think a recipe or a letter to Miss Manners would make for a good song, but Becky Shaheen '11 knows otherwise. A talented musician and composer in her own right, Shaheen researched the relationship between text and music using the art song, a classical form that incorporates piano and voice. She analyzed the work of different composers and wrote seven songs, one for each of seven composer-poet teams. Shaheen's project emphasizes that research is not only for students in the sciences. "This project was created exclusively by me and really fed my passions," she says. In addition to funding her summer research, the URGO program also provided funds for Shaheen to travel to the Vancouver International Song Institute where she workshopped her pieces with singers and composers.
Tom Lopez '11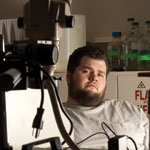 Construction of a Magnetic Needle Viscometer for Use in Research and Undergraduate Education
Faculty adviser, Benjamin Stottrup
Three years ago Tom Lopez, then a first-year mathematics and physics major, went to Google's scholar database and typed the words "magnetic lipids." No, these aren't typical search terms for the average student, but Lopez isn't the average student. A former construction foreman, Lopez entered Augsburg at the age of 27. He became interested in research after completing a project for his general physics course and meeting professor Ben Stottrup. Since that first summer, Lopez has had his research fully funded through the McNair program, a NASA Space Physics grant, the Computational Science Training for Undergraduates in the Mathematical Sciences (CSUMS), and the North Star STEM Alliance. He's applied to graduate school and hopes one day to return to the classroom as a professor. "I want to be able to mentor students and introduce them to opportunities like the ones I have had at Augsburg," he says.
Lucreshia Grant '11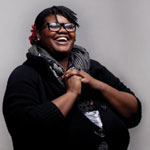 Hair Is, Hair Ain't: Black Women and the Meaning of Their Hair
Faculty adviser, Jessica Nathanson
When Lucreshia Grant shaved her head a couple of years ago, her friends started calling her "Mikey" and asking if she was going through some kind of phase. Then when she began growing dreadlocks, they asked if she was still going to be able to get a job after college. All this caused Grant to ask, "What does my hair mean?" Augsburg's McNair research program allowed her to ask this same question of several black women. She learned that hair shapes women's identities as well as their vocabularies, and she explored how black women's attempts to change their hair were both an assimilation of a white standard of beauty as well as an exploration of the versatility of black hair. A sociology and psychology major with a minor in women's studies, Grant hopes she can continue this research one day in graduate school.
Walker Krepps '12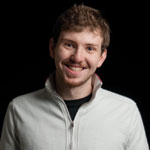 Quantitative EEG as a Bio-Marker for Addiction Risk
Faculty adviser, Henry Yoon
Sometimes research is boring. Even research that results in a new discovery can start out with some mundane tasks. But every once in a while, a student is able to be involved in research that has the potential to break new ground in its field. Such is the case with Walker Krepps and his work with psychology professor Henry Yoon. They have connected with a University of Minnesota team to examine brain waves that may predict the tendency toward addictive behavior in children of alcoholic and addict parents. What makes this so exciting for Krepps is the opportunity to conduct tests on a "perfect sample," namely students in Augsburg's StepUP® residential recovery community.
Kathleen Watson '12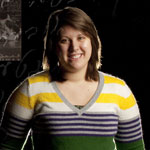 The Dramaturgical Process in Context: Sketches of Eastern European Jews at the Turn of the Century
Faculty adviser, Sarah Myers
Theatre-goers have undoubtedly seen the listing of a "dramaturg" in the playbill at their local playhouse and wondered what it meant. Kathleen Watson wondered, too, and spent the first few days of her research project trying to figure out how to explain it. In the case of her project, Watson worked with theatre professor Sarah Myers to provide the historical and creative research for Myers' play based on her family history. Watson immersed herself in Jewish culture and history, learning about Jews who entered the U.S. through Galveston, Tex., reading letters and looking at photos found in Myers' grandmother's attic, and even becoming a fan of klezmer music. "I learned some naughty words in Yiddish, too," she says. Watson plans to attend graduate school for dramaturgy. "It gets under my skin. I could do it all day, every day." And now she can explain what it is as well.