By Stephanie Weiss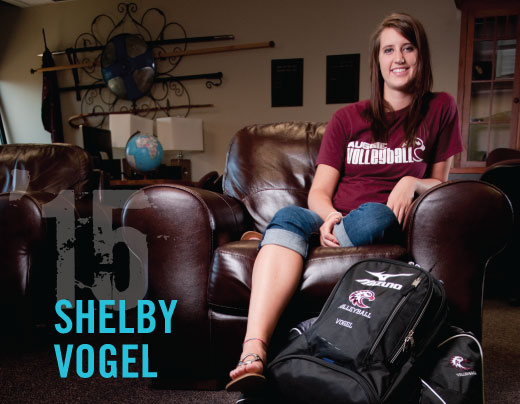 Shelby Vogel stands out in the classroom and on the volleyball court. The Auggie—a pre-med honors student double majoring in chemistry and physics—chalks it up to elbow grease. "I get good grades because I work hard," Vogel said. "And I don't feel good unless I work hard. I think that same mindset transferred to sports."
Although she's a first-year student, she earned enough college credits during high school to enter Augsburg as a sophomore. Vogel was in the National Honor Society during high school and received two of Augsburg's highest merit-based scholarships—the Regents' Scholarship and the Courtland Agre Scholarship, which is awarded to incoming first-year students with exceptional academic achievements in science and who meet standards for national test scores and grade point average.
Professor Larry Crockett, Vogel's honors adviser, said that Vogel is setting some of the agenda for discussions in the Honors Scholar Citizen class. "She engages well and raises good questions, which is the heart of the honors academic enterprise," Crockett said. "It's what I like to call 'academic jazz.'"
Outside the classroom, Vogel excels on the court. She is a high school all-conference and Junior Olympic volleyball player and was team captain. One of Vogel's favorite high school memories was going to the state championship during her senior year where she and her teammates beat their rival in the semifinal round. "It was happy and sad," Vogel said. "We all had played together since sixth grade, and we beat our rivals in the semifinals. But we lost the championship to a big school, and it was our last game as a team."
Augsburg's head volleyball coach, Jane Becker, said she's had her eye on Vogel since Vogel was a high school sophomore. "Shelby brings a maturity to the court that is rare in any athlete, let alone a first-year athlete," Becker said. "Her priority on the court is that the team succeed. Her work ethic and team attitude have already earned her the respect of her teammates and will serve her as she enters the medical profession. We're grateful Shelby is an Auggie on the court and in the classroom."
On the court as an Auggie, Vogel hopes to play at the NCAA Division III Tournament.
Vogel visited a number of private colleges—most of them in rural settings like her home city of Sheldon, Iowa—before selecting Augsburg. "I wanted to be in the city. I graduated with 89 people in a town of about 5,000," Vogel said. "I like it here because I'm in a big city on a small campus."