By Wendi Wheeler '06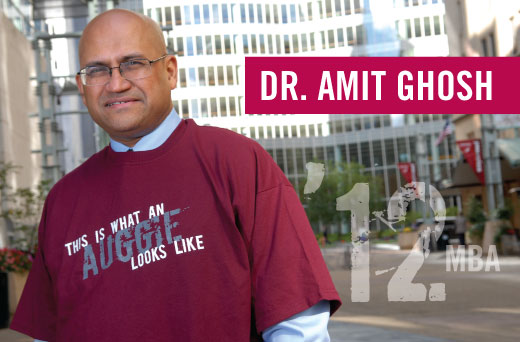 At first glance, it might seem surprising that an accomplished physician and educator, one whose office walls are lined with plaques highlighting his achievements, would count an MBA program as one of the most valuable experiences of his career. But give him a few minutes, and Dr. Amit Ghosh will offer many reasons why the Augsburg MBA has been a highlight for him.
As the director of the Mayo Clinic international program, a full professor in the Mayo College of Medicine, and the recipient of the 2010 Distinguished Mayo Educator award, Ghosh had established a successful career as a physician and a diagnostician. "But what I could never do was see what was going on around me in the business world," he said.
So in 2009, Ghosh's colleague, Augsburg College regent Dr. Paul Mueller '84, suggested the MBA program. Now Ghosh is learning, through connections with both the faculty and the students in his Rochester MBA cohort, to become what he calls an "organizational diagnostician."
"At every point in our lives we define ourselves," Ghosh said. "I thought in my journey with my career I needed to redefine myself, and my Augsburg education has helped me do that."
An esteemed educator in his own field, Ghosh holds the Augsburg faculty in high regard and appreciates the rigor of the curriculum. "I work in a world-class institution, and I can assess quality," Ghosh said. "The professors at Augsburg are amazing."
Ghosh said his Augsburg MBA professors bring real world experience to the classroom, which is helpful because their experiences add depth to classroom discussions. "We ask all kinds of questions from all angles, and without any trouble the professor answers them." After class, Ghosh said his professors often send additional articles and materials to continue the discussions.
Ghosh also likes the team-based cohort model and the opportunity to learn from classmates who he said bring valuable and diverse points of view to the program. "I have learned so many things about business from the students in my cohort," he said. Ghosh appreciates how his classmates challenge him. "They have forgotten I am a physician, and they really give me a run for my money."
In addition to the faculty and his fellow students, Ghosh said Augsburg staff members have enhanced his experience. He related a story about Ron Kurpiers, a librarian at the Minneapolis campus, who helped Ghosh with a paper.
Kurpiers took time on a Sunday, while he was caring for a sick family member, to lead Ghosh step-by-step through the process of finding articles to write a paper. "He thinks like a student, but he works like a librarian," Ghosh said. "It was as if he were sitting with me."
Perhaps Kurpiers' extraordinary dedication is one reason why Ghosh now says looking at the library website to find articles is one of his favorite pastimes.
His Augsburg education has helped Ghosh grow professionally toward his goal of becoming an organizational diagnostician. He said the program has changed not only how he approaches his work as a physician but also how he teaches at Mayo.
"I teach a whole spectrum of learners from students to faculty and use the things I have learned in business school to highlight relevant areas related to service-delivery that I think are not stressed or are missing from medical education," he said.
Ghosh will complete the Augsburg MBA in March 2012, and though he said he looks forward to finishing, it is clear that he does not want his Augsburg experience to end. Maybe, he said, as he matures as a manager, he could consider becoming a part of the Augsburg MBA faculty.
Whatever the future holds for Dr. Ghosh, it is clear that he is proud to call himself an Auggie. "My life journey would not be what it is without the Augsburg MBA program. It is one of the highlights of my career."