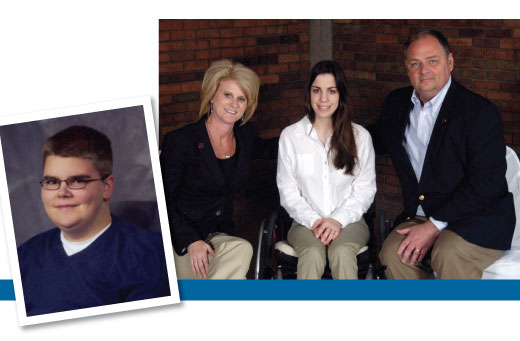 "Nathan Schott's life is an inspiration to me, and I'm humbled and honored to receive a scholarship in his name, a scholarship that is about future possibilities, not past liabilities."
These are the words of Alexandra Stoiaken '13, recipient of the inaugural Nathan R. Schott Scholarship. Nathan Schott came to Augsburg as a first-year student in September 2009. His time at Augsburg was short, but significant. He touched the lives of faculty, staff, and students like Alexandra. He had a unique ability to make connections within the Augsburg community.
Nathan was diagnosed with Duchenne Muscular Dystrophy at the age of six. He passed away at the end of his first year of college. Yet Nathan continues to make a difference in the lives of Auggies, present and future.
Teri and Chuck Schott, Nathan's parents, established the Nathan R. Schott Scholarship to honor Nathan's life and to give other students an educational opportunity in a supportive community. The scholarship provides support for students who, like Nathan, participate in the Center for Learning and Adaptive Student Services (CLASS) program. CLASS provides services and accommodations for students with attentional, learning, and physical disabilities.
"Augsburg was the right place for Nathan," Nathan's father, Chuck, said. "He had a feeling of belonging, and this was a place where he could participate and contribute to the makeup of the community."
Teri Schott, Nathan's mother, added, "The scholarship is a chance to see that the spirit of Nathan continues. It means he's still a part of this place."
"[Nathan] always had a ready smile for me when we passed in the halls," Stoiaken said. "There was real joy in his life, and he shared it easily."
Stoiaken, who manages life with cerebral palsy, said she was inspired by Nathan. "By receiving this scholarship, I will always endeavor to make Nathan and his family proud. Like Nathan, I will never allow my disease to define me. I will live life to its fullest, finding inspiration wherever I can."