By Wendi Wheeler '06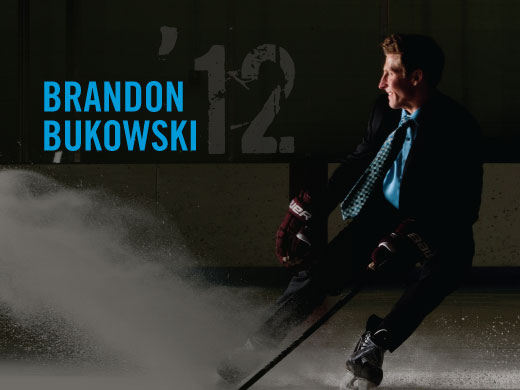 Balancing academics and athletics can be demanding for college student-athletes. For Brandon Bukowski '12, a double major in biology and chemistry with his sights set on medical school, managing academics and a hockey schedule was challenging. But Bukowski shone in the classroom and on the ice, graduating summa cum laude with honors in biology and leading his team as one of the top hockey defenders in the conference.
Bukowski came to Augsburg after three years playing junior hockey with the Tri-City Storm in Kearney, Neb., and the Fargo-Moorhead Jets in North Dakota. Chris Brown, Augsburg's men's hockey coach, had been in contact with Bukowski since high school, but Bukowski was interested in playing for a Division I school. "I never thought Augsburg was for me, but I was impressed with the hockey team and the strong science program," he said.
Studying biology while playing hockey required support from his coaches and commitment to time management. "In hockey, science majors are not common," Bukowski said. Some of his courses required 12 hours of lab work each week, but he said his coaches always found a way to make his schedule work. "At Augsburg, the coaches emphasize that we are students first and athletes second."
At Augsburg, students interested in pursuing graduate school are encouraged to participate in faculty-led research in order to prepare them for advanced study. For two summers, Bukowski conducted research with biology assistant professor Jennifer Bankers-Fulbright through Augsburg's office of Undergraduate Research and Graduate Opportunity (URGO), which funds 10 to 12 weeks of summer research for more than 30 students each year. Bukowski and Bankers-Fulbright studied a bacterium that is responsible for substantial mortality in patients with cystic fibrosis.
Bankers-Fulbright said she appreciated Bukowski's enthusiasm and dedication. "Brandon has a very strong work ethic and this, combined with his intellectual curiosity and drive, made him a valuable part of my lab," she said.
Bukowski also participated in Mayo Innovation Scholars, a program involving Mayo Clinic Ventures and the Minnesota Private College Council. As a member of a team including undergraduate science and business majors and an MBA student, Bukowski researched the efficacy of a potential product and conducted market analysis for the product.
His academic skill earned Bukowski Auggie awards as the men's student-athlete with the highest grade-point average in 2011 and 2012. On the ice, he was a four-year letter winner, appearing in 85 career games with 14 assists and 15 points, and the team qualified for the Minnesota Intercollegiate Athletic Conference postseason playoffs three times during his tenure.
Bukowski plans to apply to medical school next year and wants to become an orthopedic surgeon. For the summer following graduation, he has applied to a Med Scribe program at Emergency Physicians Professional Association (EPPA) in which he would shadow a physician and learn about the medical field by documenting patient history and observing exams.

At the annual Auggie Awards, the Augsburg College athletic programs roll out the maroon carpet to celebrate team and individual successes. For the promotional posters, Augsburg College photographer Stephen Geffre shows student-athletes in formal wear participating in their sport. See more of these striking action shots on flickr.