By Rebecca John
A BUBBLE. AN ERUPTION. AN EXPLOSION.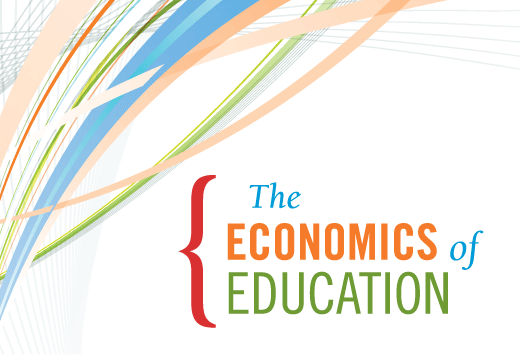 These are just some of the words used in news reports this year to describe college costs and higher education loan debt. While these headlines may grab attention, they unfortunately are not very useful in helping people fully understand the multifaceted topic of college affordability.
As Justin Draeger, president of the National Association of Student Financial Aid Administrators, said in a May 9 University Business article, a more accurate though admittedly less exciting headline might be: "A Complex Combination of Economic Factors Increases College Costs and Loan Debt for Certain Students."
As mundane as that headline seems, continued public dialogue is important and timely because many students and families today face real challenges in figuring out how to pay for college. This article provides a brief overview of four core areas related to the economics of higher education: the value of a postsecondary degree, key cost drivers in higher education, changes in government aid, and tuition and student loan debt trends.
Ironically, if it weren't for the significant benefits of a college education, the public debate about the cost of college likely would not be nearly as heated. If people didn't desire the outcomes of and opportunities afforded by having a college education—if they merely thought the price was too high—they would just simply stop going to college.
But that is not the case. Instead, the difference between having a college degree and not having one has become even more pronounced as more and more jobs require higher education. The Georgetown University Center on Education predicts that 63 percent of jobs in 2018 will require some form of postsecondary education. Already, according to the U.S. Census Bureau, high school graduates earn less than 70 percent of the income of bachelor's degree holders.
Moreover, as was evidenced in the recent recession, people with college degrees are much less likely to be unemployed than those with only high school diplomas. In 2011, the U.S. Bureau of Labor Statistics reported that the unemployment rate for high school graduates was 9.4 percent, whereas people with bachelor's degrees or higher were unemployed at only a 4.3 percent rate.
So, while rising tuition costs and student debt may raise questions about erosion of the ROI (return on investment) of a given college degree, the larger, societal concern is that the required investment—and, therefore, the benefits—of higher education may be out of reach for a growing portion of our population, no matter how promising the return.
College Costs
An oft-cited book in the discussion of rising college costs is David Feldman's and Robert Archibald's Why Does College Cost So Much? (Oxford University Press, 2010). The Augsburg College Board of Regents dedicated a portion of its January 2012 board meeting to a discussion of this book to better understand the key cost drivers in higher education and how those costs affect students and tuition.
Many factors affect college costs, but Feldman and Archibald, economics professors at the College of William & Mary, demonstrate that costs steadily have risen during the past 30 years in all personal-service industries that employ highly educated labor. Increasing costs have occurred not only in higher education but also in dentistry, health care, and legal services. Significant productivity advancements in other industries—for example, automation and robotics in manufacturing—have increased the demand for, and therefore the price of, highly skilled labor. As a result, labor-cost increases have affected all personal-service industries, including colleges and universities, which employ some of the most highly educated people in our country as faculty, staff, and administration.
This phenomenon is called "cost disease," said Jeanne Boeh, Augsburg College professor of economics. Boeh, who served as president of the Augsburg Faculty Senate in 2011-12, participated in the College's Board of Regents discussion of Feldman's and Archibald's book. She is a frequent commentator on economic trends for the Star Tribune, Minnesota Public Radio, and Twin Cities Public Television's
"Almanac."
"In higher education," Boeh explained, "capital and labor have not been substitutes but complements." For example, using course management software such as Moodle may enhance collaboration and streamline administrative activities, but it doesn't reduce the labor involved in teaching or learning in the same way that manufacturing automation does. Online courses also have been affected, resulting in higher operating expenses than originally anticipated.
"Augsburg offers several programs in a blended format-merging in-class time with online learning," said Boeh, who has taught all types of classes at Augsburg. "And we will continue to evolve course formats to take advantage of online technologies where they are most effective."
But no matter the format, Boeh said, "a one-on-one relationship between a faculty member and a student is critical for student comprehension and engagement—not only for any class lectures but also for in-class assignments and projects as well as out-of-class work."
So, while online formats offer attractive benefits—including making lectures available to a broader set of learners and providing flexibility to working adults pursuing advanced degrees—they have not, to date, offered a "perfect" substitute for individual attention from highly qualified faculty. As a result, the trade-offs between cost and quality in higher education exist whether course delivery is in-class or online.
Government Aid
The financial aid that students receive from the state grant program is an important part of the resources they have to pay for their college education, said Jay Benanav, Augsburg's director of government relations. "And, while the state has increased the overall dollar amount allocated to support higher education in the past 20 years, this aid has not kept pace with rising higher education costs," he said. "So, today, state grant aid constitutes a much smaller portion of a student's overall resources for college."
The Minnesota Private College Council (MPCC)—an organization representing 17 private colleges in the state, including Augsburg—has been actively engaged with the Minnesota Legislature on the topic of higher education funding. Chart 1, compiled by the MPCC, shows the declining share of the state's general fund that has been spent on higher education costs during the past several decades.
Because state support covers a smaller proportion of college costs today, a larger portion is falling to students and their families. In fact, the proportion of college costs that families cover has gone up faster than the overall cost of college.
To help offset the growing burden on families, Minnesota's private colleges have increased the aid they provide to students through their endowments and operational budgets. Chart 2, again from the MPCC, shows the dollar amount of college costs covered by Minnesota state grants, federal grants, MPCC college-funded grants, and student loans. The chart provides data from 1991 to 2009, a period during which student loan debt soared and grant aid from Minnesota private colleges grew to three times the amount provided by the state.
Net Tuition and Student Loans
As noted earlier, in addition to loans and government aid, many students also receive financial aid directly from their colleges or universities. This means that the out-of-pocket expenses (or "net tuition") that a given student pays will be less than the published tuition (or sticker price) for that college or university. How much less varies from student to student based on multiple factors—including the family's financial situation, the student's academic standing, and numerous other factors that enrollment offices take into consideration.
This variation means that the net tuition one student pays will not be the same as another student, even at the same institution. As a result, it has become increasingly important for students and families to understand their specific financial aid package at each institution the student is considering before making a final choice, or before assuming that a certain college is financially out of reach.
Even with financial support from colleges, however, borrowing has increasingly become a necessary part of how families of all socioeconomic backgrounds pay for college. Average U.S. undergraduate student loan debt for 2010 graduates was $25,250, according to the Project on Student Debt, an initiative of the nonprofit Institute for College Access & Success.
The average debt of Augsburg graduates was $24,311 that year. In addition to being lower than the national average, Augsburg's student loan debt average compares favorably with the averages for other higher education institutions in the state of Minnesota, said Julie Edstrom '90, '04 MA, Augsburg vice president for enrollment management.
"Financial counseling is embedded in our admissions process," Edstrom said, "and our financial aid staff work hard to make sure students and parents understand what they are taking on when they borrow."
Even people with significant financial experience should (and do) seek help navigating the financial aid process, said Paul Terrio, Augsburg's director of student financial services. "Financing college is a substantial investment for families, and it's an investment that has a major impact on one of the most important people in their lives," Terrio said. "So, naturally, people want to make sure they're doing the best they can.
"But since college financing is something people do only a couple times in their lives, most are not experts in the process," he said. As a result, every family, no matter their income level or financial sophistication, can benefit from working with a financial counselor who, according to Terrio, can "help them focus on their own scenario rather than on averages and statistics reported in the news, which may have little to do with the specific family's financial situation."
When one steps back from the headlines, it's easier to see how college costs aren't driven by one simple factor alone but, instead, are determined by a mix of state, federal, institutional, and individual factors. It's easier to see, as well, how changing one factor invariably puts pressure on other factors.
In the end, the challenge for Augsburg College—and every higher education institution—is to find a sustainable balance among these factors—state and federal government aid, institutional support, and student or family contributions—in a way that keeps higher education within reach for students of academic ability from all backgrounds.

At Augsburg's July 1 commencement, honorary degree recipient David Mathews, president and chief executive officer of the Kettering Foundation, focused his commencement address on the value–specifically the public value—of higher education. Mathews previously served as secretary of Health, Education, and Welfare under former President Gerald Ford and as president of the University of Alabama.