By Wendi Wheeler '06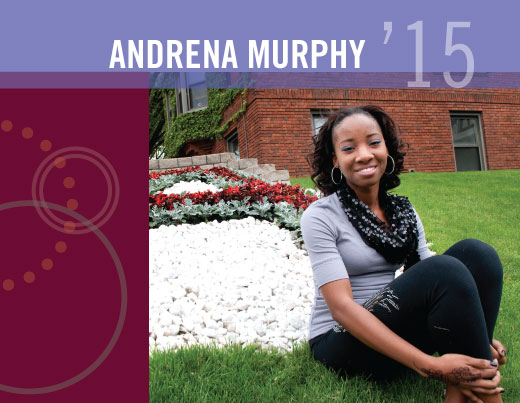 Blue ribbons and gold medals. These are what we normally associate with being "first." But for Andrena Murphy '15, being
first—the first in her family to go to college—meant making new connections, proactively seeking advice, and learning new skills.
During high school, Murphy said, her mother encouraged her to do well but didn't insist that she go to college. Though her mother had taken some community college courses, neither she nor Murphy's two older sisters had obtained a college degree. And each of them had been able to find a good job without a college education.
"Nobody in my family knew what college was like," Murphy said, "so no one could help me figure out if it was right for me."
Murphy used her senior year of high school and the resources of her high school's Advancement Via Individual Determination (AVID) college readiness program to help determine if college was the next step for her.
Through AVID, Murphy discovered Augsburg's TRiO/Student Support Services (SSS) program. Programs like AVID and TRiO/SSS help first-generation and low-income students succeed in college. For students in high school, these programs provide preparation for college entrance exams, assistance with college research and application, and information about the financial aid application process. On college campuses, these programs help students find resources and support to complete their degree.
Murphy applied for and was accepted to Augsburg's TRiO/SSS program. She attended TRiO's Summer Bridge program in July and August 2011 to begin her Augsburg career. Summer Bridge is a five-week residential program in which students take introductory religion and public speaking courses and attend academic support seminars, workshops, and other activities to help provide for a smooth transition to school in the fall.
"It was fun to be in an atmosphere where I could keep learning through the summer," Murphy said. She appreciated getting a head start on classes, learning what college was like, and meeting her classmates and professors. This summer, she will be a residential peer mentor for Summer Bridge and will share some of the lessons she has learned with the incoming TRiO students.
During the past academic year, Murphy met regularly with her TRiO/SSS adviser to update her academic plan and to talk about the challenges of balancing school with family time, social life, volunteering, and her job. She said that her time management skills and even her eating habits improved in her first year of college. She also learned how to make connections with professors and to reach out to them for advice. "That's something I never did in high school," she said.
Murphy also was involved with the Bonner Leader program during the school year. Through Bonner, she served as a youth development and enrichment coordinator at Kaleidoscope Place, an after-school program for elementary and junior high school students.
Murphy officially will enter the Education Department this fall. She's excited about her education classes and about becoming an elementary teacher one day. "When I look back, there were a few teachers who really made a difference for me, and I want to do that for someone."
STUDENT STORIES
Nic Adducci '15 | Rachel Hastings '15 | Andrena Murphy '15