BY WENDI WHEELER '06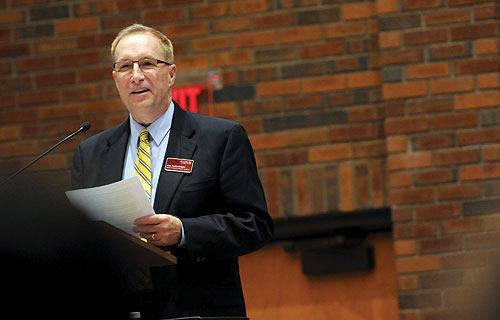 The Master of Arts in Leadership (MAL) program celebrated its 25th anniversary in late September. The milestone was an opportunity to acknowledge the healthy and long success of the program and to look toward the future of the College's graduate studies as a whole.
The success of the MAL program comes from the vision of its early leaders and its alignment with Augsburg's mission, said MAL director Alan Tuchtenhagen. "It seems natural," he said, "that one of Augsburg's first graduate programs was in leadership because leadership is central to who and what defines Auggies."
Norma Noonan, Augsburg professor of political science, directed the program for 18 years and stepped down from that role last spring. About Noonan, Tuchtenhagen said, "Norma played a critical role in establishing the MAL program's identity and strength, making it a cornerstone graduate program for Augsburg."
Throughout the years, the program has grown and changed. Going forward, and thanks to a formal program assessment done in partnership with MAL faculty, Augsburg can ensure that the program continues to be timely and relevant.
During the assessment, Tuchtenhagen worked with Andy Aoki, professor of political science; Tom Morgan, executive director of the Center for Faith and Learning; Diane Pike, professor of sociology; and Velma Lashbrook, director of the Center for Teaching and Learning and assistant professor of leadership studies. Other faculty and alumni also were engaged in the review.
The group explored educational outcomes of the program and identified ways to ensure that the curriculum matches current and future students' needs. Some recommendations from the group include refreshing the MAL model to reflect current issues in leadership and integrating community engagement into the curriculum.
Additionally, the group suggested streamlining the curriculum and program completion options and placing a greater emphasis on development of graduate-level writing and research skills.
The MAL program will continue to offer a classic classroom-based format and an integrated hybrid format that combines face-to-face and online learning. In addition, the College now pairs the Master of Business Administration (MBA) program with the MAL to form a dual degree that, Tuchtenhagen said, "integrates the career focus of the MBA with the developmental nature of the MAL."
These changes to the MAL program will help maintain the strength of the graduate studies program at Augsburg. "Graduate studies offers one of the highest areas of growth potential for Augsburg," said Lori Peterson, assistant vice president and dean of graduate and professional studies. "We are excited to have the strong foundation in the MAL program and to see it and other graduate programs continue to evolve to meet the needs of learners in our community."

Augsburg offers nine graduate degrees with classes meeting primarily in the evenings and on weekends. Learn more on the Graduate Studies at Augsburg website.
Doctor of Nursing Practice
Master of Arts in Education
Master of Arts in Leadership
Master of Arts in Nursing
Master of Business Administration
Master of Fine Arts in Creative Writing — BEGINNING SUMMER 2013
Master of Music Therapy — BEGINNING SUMMER 2013
Master of Science in Physician Assistant Studies — FULL-TIME DAY PROGRAM
Master of Social Work
Dual degree programs:
MBA/MAL
MBA/MSW
MSW/MA Theology