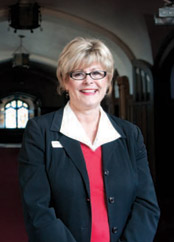 Karen Hartz '05 enrolled in Augsburg's Weekend and Evening College because earning a college degree was her lifelong goal.
"I was missing something," Hartz said. "I knew that I had excelled in my career, but I wanted to go through the classroom experience. I wanted to meet fellow students, take exams, write papers, and do everything else students do. There was a hole in my life, and I knew I could fill it by going back to school and getting my degree."
Hartz declared a major in communication studies because she believed sharpening her organizational communication skills would positively impact her vocation.
For more than 20 years, Hartz has worked as a church administrator—a role, she said, she fell into by "happenstance." While in her mid-30s, Hartz switched from a career in banking and finance to one where she could serve her church congregation. Her professional career since has led her to work for multiple suburban churches in the Twin Cities metro area, and in 2009 she became the director of operations at Minneapolis' Plymouth Congregational Church.
"I love the challenge of being in an urban setting and having the pulse of city life around me," Hartz said. "I experience all that's going on in the neighborhood and in the community."
As with all of her previous church administration roles, her position at Plymouth Congregational Church requires quick thinking and a "ready-for-anything" attitude. Hartz oversees approximately 20 employees on the church's support staff team, and each of her workdays is unique. "I never know exactly what is going to come up," she explained. "I could have a tree fall down, or a plumbing leak, or an HR problem, or maybe an issue with donor giving.
"I believe that in order to work as a church administrator, as with any ministry position, you need to be called to serve because it can be tough, tough, tough work," she added.
Hartz dedicates more than 40 hours a week to her job, and she juggles numerous volunteer and family commitments that require much of her time. She said that Augsburg's adult undergraduate program accommodated her schedule as a working adult and supported her educational ambitions.
"I went to school thinking that the professors were going to be very strict," Hartz recalled. But, she soon realized that the first priority of faculty members and academic advisers was to help her succeed at the College. "The people at Augsburg respect adult students and understand that we all have very busy lives with families and jobs," Hartz said.
Hartz wanted to live the college experience firsthand, but she also wanted to finish her degree by the time she turned 50 so that she could move on to new life goals.
And she did it—with a month to spare.