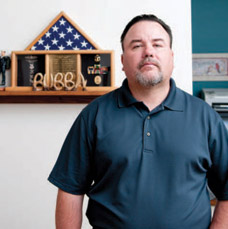 James "Bubba" Chambers '07 sums up his typical workday in one word—"busy."
And that, he says, is exactly how he wants to spend his time. As an accounts payable supervisor at Ecolab, Chambers works on accounting tasks, corporate banking,
tax analysis, and so many other duties he can barely relay the list in a single breath. But, even if he must pause, Chambers undoubtedly will mention that he supervises other staff members.
In 2004, Chambers enrolled in Augsburg's accounting program through the Weekend and Evening College because he needed a bachelor's degree in order to find a job that matched his skill level and desire for leadership.
Chambers served in the U.S. Navy for 20 years and retired from the military as a chief petty officer in 2001. While enlisted, he worked as a course supervisor for an eight-week school house program. The Navy uses the school house model to educate and train servicemen and servicewomen for specialized roles. The training activities that Chambers managed prepared sailors for their first duty assignment by teaching them payroll and travel entitlement procedures.
Chambers sought an Augsburg education because he knew that the College was renowned for its business programs and that furthering his education would enable him to find a challenging civilian vocation where he could return to a supervisory role.
"It was upsetting to have the qualifications to do a job and know the only thing I was missing was a four-year degree," Chambers said.
At Augsburg, Chambers took two classes each term to maintain full-time enrollment status, a requirement for his G.I. tuition benefit. Some of his military experience fulfilled course requirements at the College, and he finished the accounting degree in 2007. Chambers secured his job at Ecolab a few months before completing the accounting program, and he later returned to Augsburg to obtain his finance degree when the company granted him funds for continued education.
"I'm glad that Augsburg offered the Weekend and Evening College," Chambers said. "I don't think I would have been able to complete my degrees and work full time to support my family without this program."
Signs of a liberal arts education
As an Augsburg student, Chambers '07 took American Sign Language (ASL) classes to fulfill his modern language core curriculum requirement. Chambers completed accounting and finance degrees through the Weekend and Evening College and now uses his business savvy during each workday.
He also applies his second language skills to his new night and weekend gig—serving as the fifth and sixth grade assistant football coach in Eagan, Minn. Chambers communicates with the mother of one of his players using ASL. He said his ability to sign allows the parent and the player to feel more involved in the football program.
Student stories from Weekend and Evening College celebrates 30th anniversary