BY WENDI WHEELER '06
On the first Saturday of the 2012 Weekend and Evening College (WEC) fall term, Tina Prchal seemed as excited and nervous about returning to college as you might expect a new student to be. Tina met with me on that first day of classes through Augsburg's "Start" program, which helps new WEC students transition to Augsburg and provides WEC alumni an opportunity to help those new Auggies navigate their college experience.
At lunch in the Quad between Tina's morning and afternoon classes, she talked about her first class—algebra. She said she loved her professor, but she was nervous about studying math after more than 20 years away from the subject. She also talked about her previous college experience, her current job, her family, her long commute to campus in the winter, and her career and educational goals.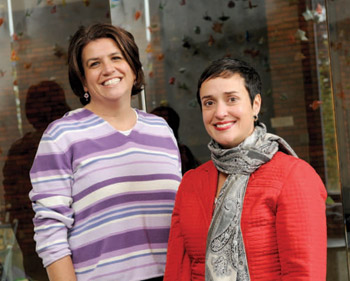 As I listened to Tina, I remembered my own feelings about beginning classes at Augsburg in 2001. Like Tina, I looked forward to being a student again but was also anxious about getting good grades, balancing life and work obligations with schoolwork, making friends, and, frankly, being able to stick with the program in order to complete my degree. What I know now, and what I shared with Tina that day, was just how much support is available at Augsburg for all students.
For 30 years, students in Augsburg's weekend and evening programs have achieved the goal of obtaining a degree through their own dedication and with the encouragement of staff and faculty. The Start program now gives WEC alumni an opportunity to join in to support students and help them achieve success at Augsburg.
So how is it going for Tina? After her first week, she said she felt less intimidated. "I was afraid that I wasn't going to be successful in my classes, but seeing that other students felt the same way as I did gave me confidence," she said. "I'm so very glad I transferred to Augsburg."
Share your success with a new Auggie
If you are a WEC alum, you can help support a new adult undergraduate student through the Augsburg Start program. Contact Pat Grans in Alumni Relations at 612-330-1329 or gransp@augsburg.edu to volunteer for the upcoming winter or spring trimester.