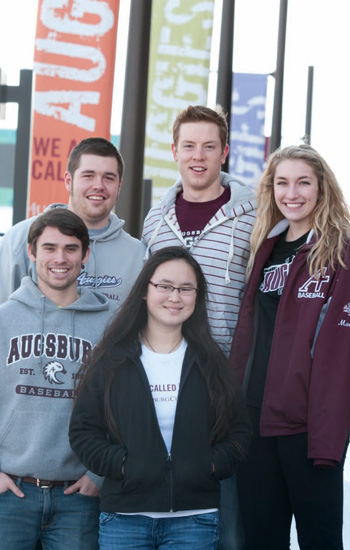 A group of dedicated students play an important role in the life and future of the College. Since 2005, the Augsburg Stewards have shared their stories of being a student with alumni. The Stewards also have taught their college peers about the importance of philanthropy to the life of the College.
These dedicated Auggies perform their service to Augsburg through alumni relations programs and Augsburg Fund initiatives. In return, the Stewards find that their service yields unique career development opportunities.
In addition to educating their peers on the role they will play as alumni, Stewards also connect with other students throughout the year through Philanthropy Week, the Feed the Pig class challenge, and the 100 Days to Graduation Senior Party. Each of these programs is intended to inspire a lifetime of Auggie Pride in Stewards and other students.
Stewards, as current Auggies, connect with alumni at events such as Advent Vespers, the Convocation Series lectures, Homecoming, the Alumni Summer Series, the Alumni/Student Networking evening, and Scholarship Brunch, and begin to build relationships that can lead to internships or career opportunities.