After 21 years at Augsburg, she is at ease teaching painting and drawing in the College's on-campus studios. But, Sweeney said, since 1999 she has pushed herself—and the students she instructs—into "deeper observing, questioning, and creating" through short-term study abroad programs in Italy and France.
"Learning to draw in a study abroad program is an opportunity to travel in an entirely different way than a typical tourist," Sweeney said. "It wakes us up. Sketching in the midst of daily life challenges the habitual ways we think about ourselves, where we are, and what we know. It coaxes us to be more open, more present to what we encounter."
In January 2013, Sweeney collaborated with Merilee Klemp, associate professor of music, to teach the fine arts course, The Sights and Sounds of Europe: Paris, which encouraged students to embrace art and music as interrelated disciplines during an Augsburg Abroad winter break program.
Sweeney said students sketched at key cultural locations as well as at art museums and live musical performances throughout the City of Lights, prompting the travelers to learn new visual and aural skills, engage with people in the community, and embrace the diversity of their unfamiliar setting.
"Drawing is its own language—one that can be shared without words," Sweeney said. "It makes the artist and the art-making more visible and approachable. Strangers pause, watch the sketches unfold, and sometimes share their stories. Empathy and trust grow out of this experience. These attitudes are essential to drawing and designing, to teaching and learning, and to embracing and understanding the world we live in."
---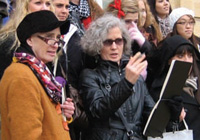 Prior to teaching, Sweeney was a freelance book illustrator and designer as well as executive art director for Mpls. St. Paul Magazine. She is a prolific artist whose recent work ranges from artist books to mixed media paintings and drawings. She holds signature status in the Minnesota Watercolor Society. The Phipps Center for the Arts in Hudson, Wis., recently exhibited 42 drawings from her current series, "Close to Home: A Visual Journal." Her spring 2013 sabbatical project focuses on the completion of this series.