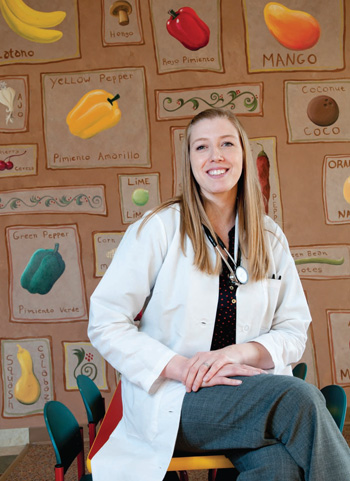 In June 2012, Forbes named physician assistant studies one of the best master's degrees for jobs, citing the discipline's salary and employment outlook in which job opportunities are expected to grow 30 percent by 2020.
Physician assistants (PAs) are in demand due to an aging U.S. population, a projected shortage of primary care physicians, and a need for increased access to affordable health care. And—in alignment with health care industry demand—100 percent of Augsburg PA alumni are employed within six months of graduation, according to Dawn Ludwig, the College's PA program director.
Jamie Schneekloth '11 MPA is one of these graduates. She worked as an emergency room technician and nursing assistant for a half dozen years. After witnessing firsthand the important role PAs play in the health care industry, she gained admittance to the highly competitive Augsburg College PA program. She wanted to earn a well-regarded education in general practice medicine, to expand her earning potential, and to pursue an exceptionally versatile career path.
Schneekloth secured her first full-time PA position at La Clinica following her master's degree completion.
"In my day-to-day practice, I manage a number of acute and chronic conditions such as diabetes, high blood pressure, asthma, and I focus on preventive health," Schneekloth said. "I perform procedures as needed, such as joint injections … and laceration repair."
As a Spanish-major-turned-physician-assistant, she was a natural fit for employment at the St. Paul-based community health center that provides multicultural and multilingual treatment to immigrant and low-income communities.
"PAs are a cost-effective way to deliver quality health care in primary care areas," Ludwig said. "The licensure of a physician assistant is dependent upon the practice of the physician, which means physicians can delegate certain responsibilities to the PA to help them run their practices."
Augsburg began its PA program in 1995 and during 2001 became the first college in Minnesota to offer the Physician Assistant Certificate along with the Master of Science in Physician Assistant Studies—a degree program that prepares mid-level health care providers. As a PA, Schneekloth is licensed to examine, treat, educate, and write prescriptions for patients while under the supervision of a physician.
"The profession has exploded in the past 15 years," Ludwig said.
Schneekloth completed the Augsburg College PA program in three years. Current Augsburg students earn a PA certificate and a master's degree in 31 months. The program's duration is a fraction of the length of medical school, which requires a commitment of at least seven years. Like med students, Augsburg College PA students enroll in lecture courses emphasizing science and diseases, then complete 2,500 hours of clinical rotations during the second half of their education. These rotations are "key to what makes you confident in providing quality care for a patient," Schneekloth said.
PAs also are generalists who can easily change medical disciplines. "I liked that the career was versatile," Schneekloth added. "I could work in any specialty, as opposed to physicians who have to maintain the particular career path that they chose in residency for their entire career."
The Augsburg PA program promotes a commitment to lifelong personal and professional development and has a "strong reputation in the country," according to Ludwig. "That leads to high-quality people applying, which means we are selective about the candidates we admit, which then leads to high-quality graduates."
Did you know?
The first physician assistant program was established at North Carolina's Duke University Medical Center in 1965, and the discipline has become increasingly popular in all 50 U.S. states. Early PA programs were modeled after the fast-track training available to World War II doctors and addressed a shortage of primary care physicians.