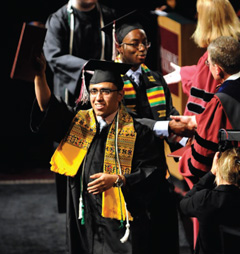 Trevor Rodriguez-Sotelo '13 was the kid who was fascinated by anything with a steering wheel and motor. From a young age, instead of playing with Matchbox cars or Tonka trucks, he would tinker with real engines in his uncles' garages.
Later, when Rodriguez-Sotelo enrolled at Augsburg College, he had a clear vision of his dream: to work as an engineer designing automobile—specifically BMW—engines. He knew entering this highly specialized field was going to be a challenge, but he soon learned that Augsburg faculty and staff were eager to help him achieve his dream.
During his first semester at the College, Rodriguez-Sotelo took Calculus Workshop, an elective course designed by Rebekah Dupont, the coordinator of an Augsburg program that seeks to increase the number of minority students who complete degrees in science, technology, engineering, and mathematics.
Rodriguez-Sotelo said Dupont helped prepare him for success in college-level mathematics courses, supporting him inside and outside the classroom. She recognized Rodriguez-Sotelo's remarkable abilities and suggested that he take them to the next level through undergraduate research on campus, which he went on to conduct with Benjamin Stottrup, associate professor of physics.
"Trevor came with a dream, and he had to slog through my biophysics lab to get to that dream," said Stottrup, who for two years advised Rodriguez-Sotelo in the use of scientific instruments to measure resistance to flow in biomaterials.
Rodriguez-Sotelo said he knew this research wasn't linked perfectly to his automotive engineering interest, but would give him priceless experience. Part of Rodriguez-Sotelo's on-campus research was made possible through Augsburg's McNair Scholars Program, a federal grant-funded graduate school preparatory program to help ready underrepresented students for doctoral study.
"Stottrup stressed writing skills even though we're in the sciences," Rodriguez-Sotelo said. "This helps you become more articulate and allows you to present yourself better— those skills are applicable in my future."
Rodriguez-Sotelo's work on campus bolstered his off-campus research applications and opened the door to a prestigious summer automotive engineering position at Oakland University outside of Detroit, Mich.
In addition to conducting research on and off campus, Rodriguez-Sotelo was a member of the men's track team, was president of Augsburg Latin American Students and of Augsburg's Society of Physics Students chapter, mentored first-year STEM students, and more.
"I had the opportunity to do all the academic, cultural and social activities I liked," he said. "I was able to do everything because of personal and academic support from faculty and staff. I followed their advice, and they put me on the right path."
Rodriguez-Sotelo graduated last May, and in August took a step closer to achieving his goals by beginning a master's degree program at the renowned Clemson University International Center for Automotive Research. He earned a competitive BMW fellowship, which will help fund his graduate studies and allow him to intern at BMW Manufacturing Co. next summer. He credits earning this award to his "whole body of work" at Augsburg.
"The beautiful thing about Augsburg is that faculty and staff pay attention to their students…they care what kind of person I am and where I go after Augsburg," he said. "Since I was a little kid, I knew this was where I wanted to be, and now I'm here—an automotive engineer."