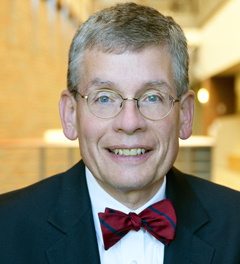 In this issue of Augsburg Now, you will find a summary of Augsburg 2019, a strategic framework developed over the past several months with the involvement of Regents, faculty, staff, and students. Focused on Augsburg's 150th anniversary in 2019, the plan sets out an ambitious vision, which claims that in 2019, "Augsburg will be a new kind of student-centered, urban university—small to our students and big for the world."
I hope you find in this vision statement a glimpse of the Augsburg we all know and love—and that we all want to support and help strengthen for the future.
The Augsburg that we all know is a college where students are central to our daily lives; where personal relationships and a sense of community combine to provide rare opportunities to learn and serve; and where academic, civic, and faith commitments are explored and strengthened. A college that is small to our students.
At the same time, we are a college that makes a remarkable impact on the world—as a community and through our thousands of graduates pursuing their vocations in various settings around the globe. A college that is big for the world.
When reviewing the editorial plan for this issue of Augsburg Now, I was struck with how this vision of "big for the world" is evident in so many different ways. And at the risk of violating what my predecessor, President Bill Frame, called Augsburg's "militant modesty," allow me to brag a bit about this very special college…
About one of the largest first-year classes in Augsburg's history this fall—more than 460 first-year students—and the effect they already are having on campus with their spirit and activism.
About the fact that our science faculty have generated unprecedented funding from the National Science Foundation and other federal agencies, ranking Augsburg third in the state among all higher education institutions, behind only the University of Minnesota-Twin Cities and the University of Minnesota-Duluth.
About the fact that we were named this past fall as one of the top 25 colleges in the country for service learning programs, exemplifying how our commitment to education for service is imbedded in the curriculum and recognized by others as a high-impact way of learning.
About the fact that we are partnering with more than a dozen colleges and health care institutions in the Twin Cities to combine our human and fiscal resources in support of neighborhoods along the new Central Corridor Light Rail Line between downtown Minneapolis and St. Paul.
About the fact that we raised more than $19 million in gifts and pledges during the 2012-13 academic year from alumni, parents, friends, corporations, and foundations—another record year in fundraising for Augsburg, our third record year in a row—and that we have now raised more than $25 million for the planned Center for Science, Business, and Religion.
About the fact that we continue to develop innovative academic programs, including our new Master of Fine Arts in Creative Writing, which was launched this past summer with a first cohort of 16 students, and a partnership with the Minneapolis Community and Technical College to offer the first fast-track RN/Bachelor of Science in Nursing professional program in Minnesota between a two-year public institution and a four-year private college.
And I could go on. There's more in the pages that follow and even more in the daily life of the Augsburg community. Come and visit, as Minnesota State Senator Terri Bonoff, chair of the Senate Higher Education Committee, did recently, and see for yourself what she described this way: "This is a special college—one where being small to students and big for the world is really true." I couldn't have said it better.
Faithfully yours,
PAUL C. PRIBBENOW, PRESIDENT