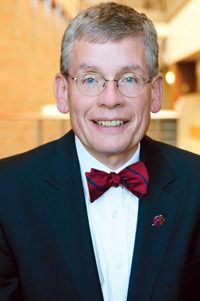 The 2014-15 academic year—the 146th in Augsburg's history—was a very good year for the College. National honors for students. Awards for faculty teaching, research, and advising. The successful completion of the $50 million campaign for the Center for Science, Business, and Religion, and the early preparation work on the construction site. Important conversations on and off campus about interfaith living, race relations, demographic trends, and diversity. Remarkable outreach programs like the Minnesota Urban Debate League and Campus Kitchen receiving major support for their important work. A national wrestling championship! And so much, much more.
Reflecting on these accomplishments, I am so grateful for all our faculty and staff do for this special college and its students.
But I also realize that these achievements are made possible by an increasingly clear vision of our future that says we will be "a new kind of student-centered urban university, small to our students and big for the world." And the fruit of our labors is made possible by our common efforts to live into this vision and our shared commitment to an Augsburg education that equips our students for lives of meaning, purpose, and significance in and for the world. That is what truly excites me about Augsburg's future—a persuasive vision that proclaims our desire to be a college that is student-ready!
What do I mean by student-ready? I mean that we are turning 21st century higher education on its head by not focusing on whether students are "college-ready." You've probably read and heard that phrase many times. Demanding that students are college-ready allows lots of smart people to claim that the responsibility belongs elsewhere when it comes to ensuring that students show up on our campuses prepared by someone else for what we think a higher education should look like. If students aren't able to read or speak English as well as we would like, if their math skills are lacking, if they don't participate in class like we once did, if they demand more of us because of difficult personal circumstances or diverse learning and leading styles, then they are not ready for college. In other words, if they don't learn and behave like us, they are not college-ready.
So here comes Augsburg offering a different—even countercultural—vision of what higher education is all about today. And it is a vision grounded in our faith and academic heritage. It is a vision that claims we are called to be ready for students with the diverse gifts and experiences they bring to our campus, gifts and experiences that demand changes in how we engage them, teach them, and learn from them. It doesn't mean that we lower our standards—that is the too-easy retort to our vision. It means that we define and claim even higher standards of academic excellence and achievement, of teaching and learning, of civic engagement and community life—standards shaped not by measures imposed from without, but by a collaborative and democratic measure borne of our shared experience and engagement.
And, come to find out, when you take the path of being student-ready, when you quit measuring by someone else's standards, you begin to witness to a way of being in the world as educated people that others want to embrace. And students and faculty win major recognition, your campaigns are successful, and you are positioned to lead in the 21st century.
Wow, that is exciting and inspiring. I give thanks every day for a community that embraces this vision of a college that is student-ready and student-centered. A college that is faithful and relevant. Our college—Augsburg College!
—Paul C. Pribbenow, President