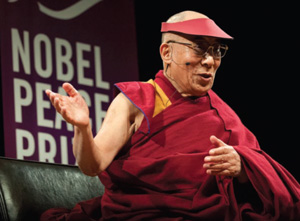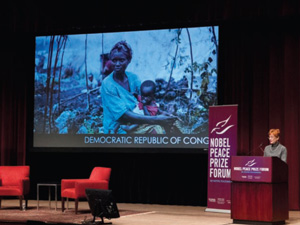 The 26th annual Nobel Peace Prize Forum—an event that celebrates the importance, consequence, and controversy of the Nobel Peace Prize—was held March 1 and 7-9 in three Minneapolis locations, including Augsburg College.
With "Crossing Boundaries to Create Common Ground" as its theme, the 2014 Forum brought Nobel Peace Prize winners, civic leaders, and scholars together with students and other citizens to contemplate questions of peace and conflict. Now in its third year of permanent residency in the Twin Cities, the Forum welcomed more than 5,700 ticket holders who explored topics ranging from science to law and from music to global affairs and business.
His Holiness the 14th Dalai Lama, the 1989 Nobel Peace Prize laureate, delivered the Forum's opening address at Faith and Peace Day. Leymah Gbowee—a 2011 Nobel Peace Prize winner and Liberian peace activist—spoke at Global Day, and Dr. Deane Marchbein represented Doctors Without Borders/Médecins Sans Frontières (MSF)—the 1999 Nobel Peace Prize laureate— on Science and Health Day. Representatives from the Organisation for the Prohibition of Chemical Weapons, the 2013 Nobel Peace Prize winner, also led a breakout session.
In addition to engaging attendees in speeches, book signings, networking events, and more, the 2014 Forum premiered a partnership with social networking service Google+ that enabled online attendees to live-stream events, submit questions to keynote speakers, and participate in thought-provoking dialogue—all from their unique locations around the globe.
"The opportunity to host the Nobel Peace Prize Forum offers our students, alumni, and international community inspiring examples of those people who strive to make peace and to make a difference in our world," said Augsburg College President Paul Pribbenow. "At the heart of Augsburg's mission are our commitments to educating informed global citizens and to embracing the links between faith and learning."
PEACE ON THE STREET
The 2014 Forum was an event that united the Augsburg community, and Auggies participated both as guests and as volunteers.
One Auggie who worked at the Nobel Peace Prize Forum was Banna Kidane '15. A Sabo Scholar studying computer science, Kidane was an intern for the Nobel Peace Prize Forum and acknowledged the rarity of his chance to serve.
"Being an intern with the NPPF is a once-in-alifetime opportunity that I'm happy I didn't pass up," Kidane said.
It is through making memories, sparking ideas, and spurring action that the Forum lives out its mission to inspire peacemaking. A few Auggies shared reflections, takeaways, and highlights from their NPPF experiences:
CHARMAYNE SLETTEN, AUGSBURG PARENT
"The presentations inspired peacemaking that starts with love and compassion by each individual."
PAUL BATALDEN '63
"I realize I can't personally control the emerging, complex world. I, too, have no other choice but to control what I pay attention to, what words I use, what relationships I maintain, and what community I foster. Through these recognitions, choices, and actions, I can exert my influence and do my part for peace and a better world."
BRAD ST. AUBIN '15
"The Dalai Lama is looked at as a paragon of peacemaking, but his address helped reinforce that he is also human. When doing peace work, we want solutions, but his ability to say, 'I don't know,' gave a nod to the fact that even our revered leaders don't have all the answers."
KIM BESTLER '10, Augsburg program assistant and tutor coordinator, TRiO/Student Support Services
"It's a privilege that Augsburg gets to host an international event that so tightly corresponds with our College mission."
SHELBY ANDRESS '56
"Augsburg is unafraid to enter a complicated world, guide its entire community in ways of peace and noble action, and use its spheres of influence."
LIZZIE FONTAINE '16
"The NPPF brings together a whole community. That's a huge gift for Augsburg."
BRAM OOSTERLEE '16
"My favorite part of the Nobel Peace Prize Forum is the connections you make with the speakers and the audience. The speakers open up discussions that are not held often enough, and the audience is excited and encouraged to take action."