As excitement and anticipation grow regarding the campaign for the Center for Science, Business, and Religion, Augsburg's newest alumni can articulate why studying at a college that emphasizes thinking across disciplines and beyond convention proved beneficial in their education and invaluable when launching their professional careers.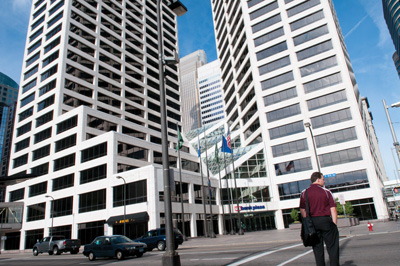 TRENT ANDERSON '12
Studied: accounting, business administration, and economics
Current role: Certified Public Accountant and Assurance Associate, CliftonLarsonAllen
People have the wrong idea about accountants, according to Trent Anderson '12. "It's not really as math-intensive as you'd think," he said. Sure, Anderson admits that part of his job entails adding or multiplying large groups of numbers, but he also stresses that teamwork and client relations are equally important— and, for him, energizing—aspects of his career. Anderson chose to attend Augsburg because the College offered him the opportunity to exercise his passion for teamwork as a student athlete. During his undergraduate experience, Anderson found that he and his baseball teammates developed friendships with bonds as strong as family and a network with the potential to influence their careers. It was an Augsburg alumnus and former baseball player employed by CliftonLarsonAllen who introduced Anderson to what turned out to be his fi rst employer—and one of the top 10 accountancy firms in the United States. Both Auggies benefited from the College's small-school experience, Anderson explained, where it is possible to develop meaningful relationships with professors, fellow students, and Twin Cities professionals. "It's an interesting mix," he said. "Augsburg is about more than mastering one subject. It's about being a well-rounded student, a well-rounded individual. Now that is something I value to this day."
Watch Trent Anderson discuss his start at CliftonLarsonAllen.
ANGELA BONFIGLIO '13
Studied: sociology, youth and family ministry
Current role: Director of Youth Programs, Redeemer Center for Life and Redeemer Lutheran Church
During her second year at Augsburg, Angela Bonfiglio '13 sought the opportunity to become involved in Minneapolis' community partnership work, and the College's Sabo Center for Citizenship and Learning was able to connect her with an organization matching her interests and her studies. By the next fall, Bonfiglio was an afterschool program coordinator at Redeemer Center for Life, a nonprofit seeking to meet the housing, employment, and youth development needs of Harrison and North Minneapolis neighborhood residents. Her work—funded through a Batalden Scholarship at Augsburg—turned out to be a near-perfect fit, and she continued to lead the program during her senior year. A few months prior to completing her degree, Redeemer's executive director offered Bonfiglio a full-time position following graduation. She accepted the offer, recognizing that she could use the knowledge and skills she'd gained during college in her future position. "I loved youth ministry classes, and sociology challenged me in a new way," she said. Today she couples her sociological research experience with her background in youth programming to guide the "big picture" for the nonprofit's youth activities. "The work is completely interdisciplinary," she said. "I can 'plug into' contexts for both sociology and youth ministry, and that's because of Augsburg."
ALEX SORUM '13
Studied: biology, chemistry
Current role: Postbaccalaureate Cancer Research Training Award Fellow, National Cancer Institute
Daily tasks vary widely for Alex Sorum '13, a research fellow in one of the National Cancer Institute's chemical biology laboratories. Some days he tests enzyme activity, and other days he synthesizes compounds. Synthesis, it seems, is a common theme between his college experiences and his life since graduation. As a double major, Sorum was quick to take part in every opportunity available to him, oftentimes combining his interests. "I always knew I wanted to go into research," he said. "The biggest benefit for me was that Augsburg professors use a hands-on approach in their teaching." Sorum satisfied his appetite for research through on- and off-campus opportunities that allowed him to gain valuable experience and strengthen his relationships with faculty mentors. It was Michael Wentzel, assistant professor of chemistry, who helped introduce Sorum to the National Cancer Institute, and other faculty members' thoughtful letters of recommendation that allowed him to secure the prestigious position. The National Cancer Institute was "looking for someone with the ability to perform in this research position," he recalls. "With my past experience, I had the ability to both think critically and to problem-solve. Now that's key."
Watch Alex Sorum discuss the URGO project he completed with Jennifer Bankers-Fulbright, associate professor of biology.