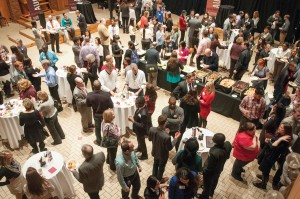 Building connections, facilitating networking opportunities, and supporting students and graduates keeps the Alumni Board and Alumni Relations engaged with inspiring Auggies year-round.
Thanks to those who attended the annual Alumni Board-sponsored Auggie Networking Event, a reception that welcomed nearly 150 alumni and more than 100 current students for an evening of networking, conversation, career pointers, and speakers who shared their stories of finding success after graduation. Among the speakers were Tina Nguyen '08, small business project analyst for U.S. Bank, and Greg Schnagl '91, former educator and founder, TeacherCentricity.
The event was a partnership with the Clair and Gladys Strommen Center for Meaningful Work, which assists students in discovering their vocation; offers career and internship tips; and helps students with interviewing skills, resume building, and networking.
The Strommen Center also seeks to help companies recruit more Auggies. One company with a strong connection to Augsburg alumni is 3M. In January, Augsburg College President Paul C. Pribbenow joined more than 100 Augsburg graduates now working at 3M for an alumni event coordinated by Alumni Board member Holly Knutson '03, '07 MBA.
In addition to celebrating the amazing presence of Auggies in the Maplewood, Minn.-based company, the event honored Nicholas Gangestad '86, who last summer was appointed senior vice president and chief financial officer at 3M.
3M also is a major donor to the Center for Science, Business, and Religion and a strong recruiting partner, hosting internships for Augsburg students and hiring Augsburg graduates.
If you are interested in hosting an alumni gathering at your workplace, contact Sara Schlipp-Riedel '06, director of Alumni Relations, at 612-330-1178 or schlipp@augsburg.edu.
New Volunteer and Alumni Engagement Manager
Katie Radford '12 joined the Augsburg Alumni and Family Relations team in January as the new volunteer and alumni engagement manager. In this role, she hopes to continue to provide meaningful opportunities for students, alumni, and friends to connect, give back, and thrive together as Auggies.
Radford previously worked at Greater Twin Cities United Way, helping plan and execute corporate United Way campaigns dedicated to community outreach, volunteerism, and community giving. She is excited to be back at Augsburg to continue those initiatives in the College's community. If you are interested in volunteering, mentoring, or serving in a volunteer leadership role, email her at radford@augsburg.edu.
Share your experience
All over campus and in corporate communities, Auggies are connecting and sharing their insight and expertise. There are many ways to support current students and recent graduates as they move between classroom and career. No matter your position—whether you're navigating a career change or looking to bring more Auggies into your workplace—Augsburg programs can help.
As alumni, you are invited to share your career expertise, interests, and life experience with Augsburg students. One way to do this is through the mentorship program Augsburg Builds Connections. Learn how to get started in this program by contacting Katie Radford, volunteer and alumni engagement manager, at volunteer@augsburg.edu.
To learn more about helping Auggies succeed or to take advantage of career planning services and graduate school information, contact the Clair and Gladys Strommen Center for Meaningful Work at 612-330-1148 or careers@augsburg.edu.