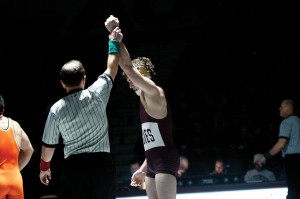 In February, Augsburg wrestling alumni celebrated the championship teams from 1975, 1985, 1995, and 2005 in the College's Kennedy Center with a Reunion of the 5s. Teams from these class years exhibited exemplary accomplishments both on and off the mat, and their successes represent four of Augsburg wrestling's record 32 MIAC Championship teams and two of the College's record 11 NCAA DIII National Championship teams.
Former teammates and wrestling alumni from all classes gathered to hear coaches and managers Jim Moulsoff and Tony Valek '12, and Athletic Director Jeff Swenson '79 share memories and laughs about the incredible talents from these four wrestling classes. The crowd of wrestling legends, families, friends, and current Auggies cheered at the Battle of the 'Burgs competition as Augsburg took on longstanding rival, Wartburg College, on the elevated stage. Despite a packed house of enthusiastic supporters, Wartburg took the victory.
The two teams battled for the newly created Swens-Millboy Championship Belt. The belt is named in honor of Augsburg's Jeff Swenson (nickname: Swens) and Wartburg's Jim Miller (nickname: Millboy), the head coaches who led these teams to power. Both men won 10 national team championships as head coaches and now, retired from coaching, are active in supporting their winning wrestling programs.
The belt will travel with the previous year's winner to the duel each year and will be engraved with the score and the winning team. Scores from previous years were engraved to mark the historic nature of this rivalry.
As Auggies, we are proud to celebrate the history, legacy, stories, and success of four generations of Augsburg College wrestling. Future Auggies can become a part of the action with our 29th year of summer wrestling camps. Augsburg wrestling coaching staff and athletes supervise these camps, which serve a variety of ages.