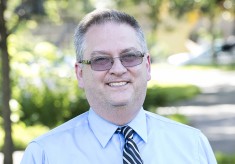 Dear alumni and friends,
I was connected to Augsburg as a student working in the admissions office, as a resident assistant, and even after college. But there's something that comes with age, time, and distance that really makes me appreciate the Augsburg that I continue to be involved with today. When I began to connect with fellow Auggies and eventually the Alumni Board, my connections to the College were enriched, and they continue to grow.
Augsburg has grown, too. It's exciting to see the ways in which the College has become larger—not only with new buildings and faculty, but through an energetic and engaged commitment to the city and the community—in both programs and leadership. Augsburg is thriving, and this growth makes me so proud to call myself an Auggie.
In honor of Augsburg's sesquicentennial in 2019, the College is embracing a vision for its future that is both bold and rooted in values that are uniquely Augsburg.
Focusing on where the College wants to be in 2019, the Augsburg Board of Regents and President Paul C. Pribbenow engaged the College community in creating a strategic vision statement that includes three aspirational dimensions: the College will educate for lives of purpose, be at the table with our neighbors and partners, and be built for the future.
I believe my education at Augsburg prepared me for the future. When I see what's happening at Augsburg today— and what's planned—I know the College's future is bright. Augsburg today is a place that calls many to the table to participate in the life of the College.
The time I first heard about the Center for Science, Business, and Religion, I may have wondered how all these disciplines would work together in the same space. I have come to know that this building represents the future, and its interdisciplinary emphasis is deeply Augsburg. It is a demonstration of the College's vision to work with its community, to embrace the world, and to prepare its students for the future.
Today's students know Augsburg as a place where faith, service, and learning intersect. It is a College we can be proud of, and I know I want to help build an Augsburg that continues to generate pride and equip graduates for the world in which we live. The outstanding scholarship and research being done by our faculty and students deserve to take place in a facility whose quality and capability match their exceptional work. I want to be a part of preparing for that future.
The interdisciplinary emphasis of the CSBR will match the world that today's graduates enter and will truly demonstrate Augsburg is a sustainable and vital force for educating future generations. As you'll see on the inside of the back cover of this magazine, we can all be part of building that future for Augsburg by buying a brick that will be a part of this important new building. Won't you join me in helping Augsburg build for the future?
Sincerely,
Chris Hallin '88, Alumni Board President