Each year, the Augsburg College faculty recognizes select colleagues with Distinguished Contributions to Teaching and Learning awards—acknowledging those who have demonstrated outstanding support for students through teaching, advising, and mentoring.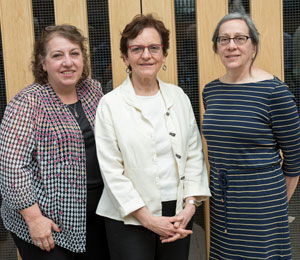 Excellence in Teaching
Joan Kunz, professor of chemistry
Kunz is recognized for her commitment to Augsburg's students, embodying the College's mission to educate students to be informed citizens, thoughtful stewards, critical thinkers, and responsible leaders. Since 1987, Kunz has worked toward creating and sustaining a vibrant learning community in the sciences.
Excellence in Advising and Mentoring
Susan O'Connor and Donna Patterson, assistant professors of education
O'Connor and Patterson are recognized for their work to incorporate Public Achievement into the special education teacher training program in the College's Department of Education. The Public Achievement model changes lives for students in special education by giving them a voice to act as citizens in a democratic society.