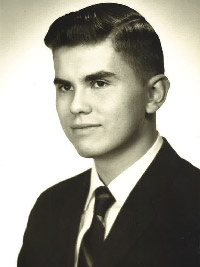 James E. Ericksen '72, whose life was marked by his commitment to faith and passion for the arts, passed away in January at age 68, leaving Augsburg an unexpected and extraordinary bequest of more than $5 million.
To honor his legacy, the majority of Ericksen's gift will be designated to the Center for Science, Business, and Religion. Part of this gift will honor Ericksen's faith and be directed to Christ Auditorium, the 80-seat classroom at the heart of the new building. In tribute to his love of music, a renovation to Sateren Auditorium and its lobby also will be named for Ericksen.
His gift was one of the largest estate gifts in Augsburg's history.
"We wish so much that we could have thanked him during his lifetime," said Heather Riddle, vice president of Institutional Advancement.
Ericksen graduated from Minnehaha Academy in Minneapolis in 1964 and enrolled at Augsburg College that fall. While still a student, he enlisted in the U.S. Army and was stationed in Germany. Ericksen returned to Augsburg College after his service, finished his business administration degree with an emphasis in accounting, and graduated with the 139-member class of 1972.

A history minor, Ericksen later told Augsburg staff that Carl Chrislock, remembered as one of Minnesota's preeminent U.S. historians and a professor emeritus of history at the College, was one of Ericksen's favorites. He returned to Augsburg College several times over the years to attend concerts, particularly those for which his piano instructors served as accompanists.
A loyal public servant
After starting his career at Polaris, Ericksen worked as an auditor for the State of Minnesota Department of Revenue for 31 years before retiring in 2009. Along the way, he invested wisely and lived carefully.
"Nobody knew much about him, including his family," said his cousin, Robert Quick. But they knew he loved history, travel, and classical music—especially symphonies.
In mid-life, Ericksen began piano lessons at MacPhail Center for Music, where he studied with Victoria and Dan Sabo for many years. Friend and piano instructor Janet Holdorf described Ericksen as "so sincere and ardent in his appreciation of music making." He didn't consider himself much of a musician, but he enjoyed learning and playing. His home was equipped with a large sound system and filled with carefully cared-for albums, many of them the symphonies he loved so much.
Ericksen traveled often, venturing to France, Italy, Norway, Sweden, the United Kingdom, and elsewhere. He took long driving trips, eventually visiting nearly all 50 of the United States and taking time to explore each destination's history. When he was at home in the Twin Cities, he attended Bible study at Mount Olivet Lutheran Church in Minneapolis.
In his will, Ericksen remembered many family members, friends, and organizations dear to him.