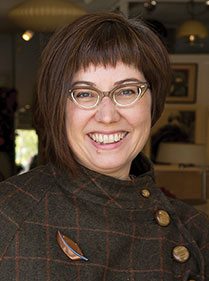 Reduce. Reuse. Recycle.
For decades this adage has prescribed an approach for improving individuals' personal impact on the environment, and today the once underrated middle "R" is among the chicest ways to go green.
Augsburg College Associate Professor Nancy Fischer teaches courses in sociology; environmental studies; urban studies; and gender, sexuality, and women's studies. Her current project, "The Social Life of Secondhand Clothes," is a sociological analysis of the secondhand and vintage clothing industry. Fischer is exploring the emergence of secondhand clothing as a trend in pop culture, the places and urban spaces that sell these clothes, and the many reasons people buy them. Here is a glimpse into an area of the fashion world where some looks are truly timeless.  
Q: What factors have contributed to the emergence of vintage clothing as a popular fashion trend?
A: Wearing old, out-of-style clothing was first a subcultural fashion statement—think beatniks, hippies, and punks. It was a rebellion against post-war consumerism, an appreciation of craftsmanship, and eco-consciousness (as a political statement against a wasteful society). In the late 1960s—first in London, then in New York City—fashionable youth started visiting thrift stores, purchasing Edwardian coats and Victorian petticoats, and vintage dressing began to move into the mainstream.
The emergence of the vintage trend accompanied a global expansion and standardization of the international garment industry. People who buy vintage usually buy new clothing as well, but vintage shopping provides a different experience; you never know what you might find.
Q: How is purchasing secondhand clothing advantageous for society?
A: Buying secondhand clothing generally is a form of reuse and keeps clothing out of landfills. Ideally, clothing should never go into landfills. Torn and dirty clothing can be reused as insulation and as paper. But that doesn't mean we should buy clothes with abandon and then donate them. Most secondhand clothing winds up being shipped to developing countries where in some cases it has undermined traditional garment-making industries.
Vintage clothing—as a subset of secondhand—is advantageous because it tends to retain its value. Vintage clothes also reveal our own industrial history. We see those "Made in the USA" labels, and sometimes more specifically "Made in Minneapolis." There's value in that historical glimpse at the past.
Q: What's your favorite vintage piece to wear?
A: I have a favorite for every season. For winter in Minnesota, my favorite is a 1950s plaid swing coat. It was made in Dallas(!) from boiled wool, which is thick and super warm. It's custom-made, and I always picture the Texan coat-maker taking on this garment as a rare challenge.
Online exclusives:
Q: Each year designers release new clothing lines. What role does technology play in determining which apparel designs are possible and what is in style?
A: Computerized design technology is very sophisticated; it streamlines the design process and some haute couture can only be created through digital design. In terms of fabric, 1950s wool tweed will be very different than contemporary tweed because the industrial looms are not the same. However, we have to keep in mind that all clothing is still manufactured by individuals sitting at sewing machines. In that sense, the technology for garment construction has undergone relatively little change.
Q: Do you incorporate your research on the secondhand clothing industry in the classes you teach?
 A: In my Introduction to Sociology course we read Elizabeth Cline's book "Overdressed." Students count the amount of clothing they own (at least what is stored in their dorm rooms), and we record where it came from, including secondhand items. We talk about buying secondhand as a way to reduce overall consumption.
Q: Can you offer any tips for vintage or secondhand shoppers?
A: If you're in a place like a flea market where you cannot easily try on the clothing, hold the sides of the garment, and place one side of the waist on your navel and the other on your spine – if it covers comfortably, it probably fits. And think about whether a "near-fit" can be altered—older clothing often had larger hems and seams so there's sometimes a little room to make something longer or slightly larger.
---
Nancy Fischer is collaborating with other secondhand clothing lovers on a new book. If you wear vintage and are interested in discussing your role as a consumer as part of her research, email fischern@augsburg.edu.