Augsburg College's 2016 Homecoming celebration was held Sept. 22-24—a festive weekend when alumni, students, and families took part in new events and beloved traditions. More than 500 alumni from 64 different graduation years attended celebrations, including reunions for the classes of 1966, 1976, 1991, and 2006.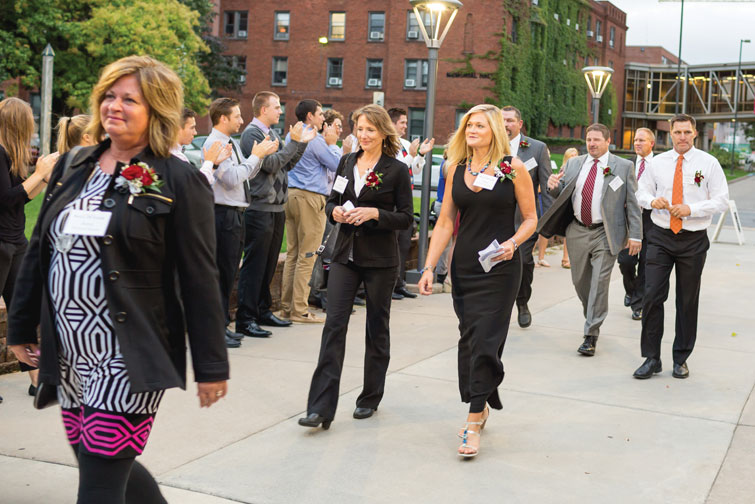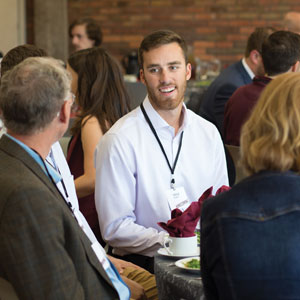 Ten Auggies were inducted into the Athletic Hall of Fame after being welcomed to the ceremony by current student-athletes. During a Homecoming lunch with alumni award recipients, students were invited to share in discussion with recipients of the First Decade, Spirit of Augsburg, and Distinguished Alumni awards. In an evening ceremony, six alumni and two honorary Auggies received awards and were recognized for their generous service to the world.
The Taste of Augsburg featured 38 booths—most hosted by student groups—and offered games, entertainment, and food, including the Augsburg Chemistry Society's liquid nitrogen ice cream. Augsburg won the football game against Carleton College, and alumni, families, and students stayed after the game to enjoy s'mores at an Auggie Block Party featuring the band Broken Spoke.
This year, 30 Homecoming events celebrated the best of Augsburg, from an all-band reunion to Auggie Talks led by alumni, staff, and faculty experts. The Centennial Singers and an alumni band led by Professor Emeritus and Spirit of Augsburg Award recipient Bob Stacke '71 invigorated the chapel at a worship service where Associate College Pastor Justin Lind-Ayres welcomed all Auggies with a "Home Calling" message.
Homecoming snapshot gallery