Devean George '99 was the first NCAA Division III player ever selected in the first round of the NBA Draft—and he played professionally for more than a decade. Now retired from basketball, he's gone back to his roots to help revitalize the Minneapolis neighborhood where he grew up.
November 3, 1999. The Los Angeles Lakers are debuting in their brand new home, the Staples Center, with an unveiling ceremony followed by a game against the Vancouver Grizzlies. A crowd of 20,000 fans is packed inside, waiting for NBA stars Kobe Bryant or Shaquille O'Neal to make opening remarks.
But instead, the Lakers players decide to encourage their newest rookie to address the crowd. The lights go down, and all becomes still. In less than 30 seconds, it's go time.
"No, guys, don't make me do this! I don't know what to do," whispers a 22-year-old George. But his pleas were met with laughter.
"I just remember shaking in my boots. There are tens of thousands of people here, and I'm going to be out at center court—all eyes on me," recalls George. "So I get out there, and it just clicked. It was easy."
George credits his education in communication studies from Augsburg for helping to prepare him for that life-changing moment, as well as all of his public speaking engagements from that point forward.
"As an NBA player, you have a camera with that big, red light in front of your face every day," George said. "You have to know how to conduct yourself and communicate effectively. And all those communication classes I took at Augsburg come into play."
From 10,000 lakes to the Los Angeles Lakers
After high school, George enrolled at Augsburg assuming he would play basketball for the Auggies, earn a degree, and find a job in business. But his "hoop dreams" became a reality pretty early on in his Augsburg career.
"When I recruited Devean, he was about 6'2″ and 170 pounds," said former Augsburg basketball coach Brian Ammann '85. "Fortunately for Devean, he grew about five inches and put on 50 pounds by his sophomore year. And his hard work paid off in big ways."
George was the first NCAA Division III player ever selected in the first round of the NBA Draft. He was the 23rd overall pick in 1999, chosen by the Los Angeles Lakers—one of the most storied franchises in NBA history.
George is now retired from the NBA after playing 11 seasons and becoming only the seventh player in history to win a league championship in each of his first three seasons. He has since found a successful career in real estate development and a passion for giving back.
Building a firm foundation
George was raised by devoted, hardworking parents in the Willard-Hay neighborhood of north Minneapolis and still calls the Twin Cities home — a place he loves for its friendly people and four seasons. His current work focuses on helping to improve his childhood community.
After George joined the NBA, he started volunteering his time in schools and after-school programs. He noticed many of the children he visited didn't have stable housing, which significantly affected their security and education.
"That's when I decided helping kids and families would be the foundation of what I do," said George, who has two young sons. He founded Building Blocks, a nonprofit organization committed to providing quality housing, community development, and programming for youth and families.
"If you don't have stable housing, you're not going to care about schooling, safety, or eating healthy. If we get those families into stable housing, then they can focus on those other things," George said.
A slam dunk
George's first affordable housing project opened this spring—The Commons at Penn in north Minneapolis, an income-restricted, 47-unit workforce apartment building that also includes an on-site health and wellness facility, an after-school program, a fitness center, a toddler playground, and a grocery store.
Long-term, George would like to help create a more family-friendly community in north Minneapolis—a community that provides greater amenities for its residents. So far, The Commons at Penn has been a successful addition to the neighborhood.
"[The] Commons at Penn achieves multiple city goals: creating new, high-quality, affordable housing options [and] increased residential density along a key commercial and transit corridor, and bringing in commercial activity and services," said Andrea Brennan, director of Housing Policy and Development for the City of Minneapolis. "This project sets us on a promising course to continue development at this important north Minneapolis node."
George is planning phase two of The Commons at Penn, which will go up right across the street from the existing mixed-use building. He also is developing housing complexes in South Carolina and Louisiana, and has been contacted by fellow professional athletes who would like to see a change in the neighborhoods where they were raised.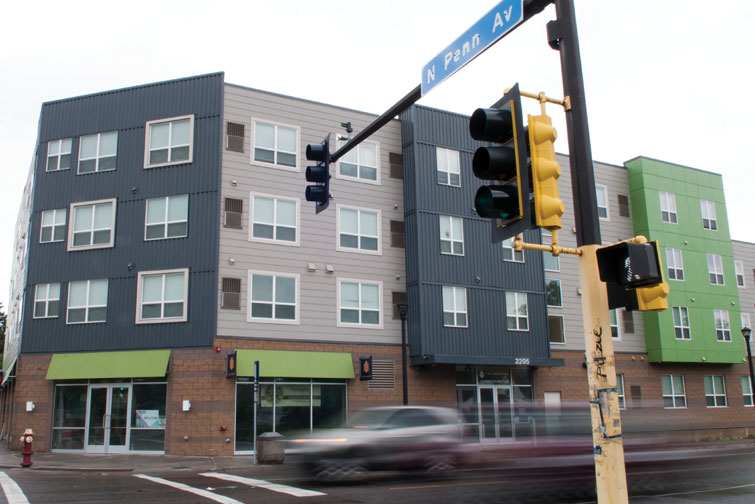 Investing in our future
In addition to literally helping build a solid foundation for families through stable housing, George also helps build a strong foundation for young people through mentorship programs like Read to Achieve.
"The kids think that [NBA players] are not human beings because we know how to play basketball," said George. "If I can tell a kid to go to school and not to do drugs, and just because I can play basketball he'll listen to me, I'm going to try to use that to my advantage."
George is also busy instilling the values of compassion and service in his own two sons, ages 7 and 4. For starters, they learn to share by donating their toys to kids who otherwise wouldn't have any.
"They're still young, but I started teaching my boys early on a way of giving and understanding. I explain to them that this [lifestyle] isn't normal; they're in a blessed situation," George said. "I've been able to achieve a lot of things. But I know I've had a lot of help along the way."