Conflict is a pervasive characteristic of human interaction.
This is the opening line of the summer syllabus for Augsburg College's Master of Arts in Leadership course, "Navigating Local & Global Conflict: Interfaith Dimensions." The statement underscores how important it is for leaders to develop the ability to navigate and inspire others in the face of conflict and sets the stage for the work of analyzing leadership in the context of real-world situations.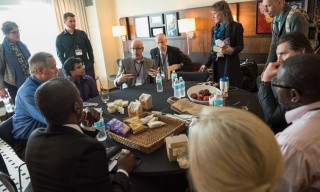 By design, the course is integrated with the annual Nobel Peace Prize Forum, for which Augsburg is the host sponsor.
"The Nobel Peace Prize Forum is a gem," said history and leadership studies professor Jacqueline deVries. It's a one-of-a-kind event that allows students to learn through direct engagement about the contexts and complexities involved in conflict. deVries, who also serves as director for Augsburg's general education program, co-taught the course with Martha Stortz, Bernhard M. Christensen Professor of Religion and Vocation, and Tom Morgan, professor of leadership studies.
Held annually in Minneapolis, the Nobel Peace Prize Forum is one of only three programs officially associated with the Norwegian Nobel Institute. The Forum's mission is to inspire peacemaking by focusing on the work of Nobel Peace Prize laureates and by engaging students and the wider community with national and global leaders in the process of peacebuilding.
The Forum provided the students in the graduate course with direct access to leaders from businesses, nonprofits, and government organizations whose work involves navigating complex, real-world challenges that range from food security to civil unrest to poverty and climate change. The students used examples from the Forum, as well as from their own lives, to analyze conflict involving religious diversity in their communities, examine contemporary issues in a historical perspective, and develop a view on what effective leadership looks like (or might look like) in actual situations.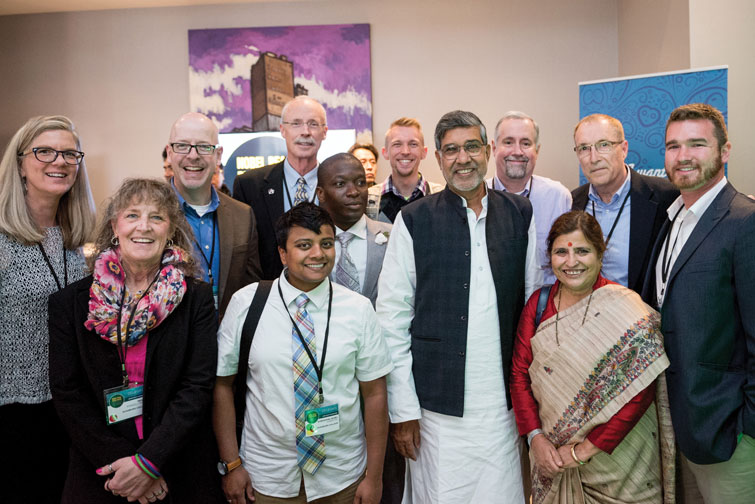 Students come to the Master's of Arts in Leadership program with experience in both for-profit and not-for-profit organizations. In gathering during a lunch break to share reflections about what they were learning at the Forum, the class observed that it is not possible to be effective as a leader without knowing what's going on in the world. The Forum, they said, was a prompt for thinking about how a leader would approach addressing challenging topics and situations in their work.
Too often, people are so wrapped up with their jobs and family and school that they don't think about the difficulties others are facing in the world. It's not that people don't care about these topics, one student said, but they often just don't pay attention to the issues on a daily basis. Being at the Forum offered a level of understanding that may not happen in a classroom, the students said.
In fact, during the Forum the students directly engaged with difficult topics, and it required a conscious choice to hear the tragic stories about topics like child slavery and human trafficking. This is where our general population may be falling short, one student observed—choosing to turn away instead of understanding the reality of these issues.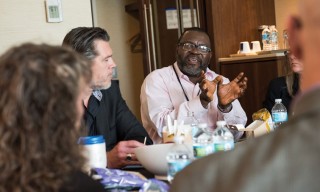 The Master of Arts in Leadership program, however, equips individuals to turn toward—rather than away from—challenging issues in order to seek solutions and inspire others toward a common goal. The program is designed to prepare leaders who are ethically and morally responsible, who can see beyond immediate concerns, and who are sensitive to the complex problems that organizations face. By using the Nobel Peace Prize Forum as a classroom, these students worked to understand both the systems that contribute to conflict and the systems that effective leaders can use to address it.
For example, some students thought that business was potentially the most powerful force for addressing the issues discussed at the Forum; others argued that the biggest changes will come when consumers demand it, quoting comments by Nobel Laureate Kailash Satyarthi, who, in his opening remarks, said, "We have to change the demand."
Another student observed that every person has a powerful "what's in it for me" filter and noted that, if we don't translate the message in a way that addresses this filter, it will not be effective. And, although the class agreed, the students also recognized that people are often motivated not just by what benefits them directly, but also by generosity and helping others—by what, as one student phrased it, satisfies a need of the heart.
---
Top Image: 2014 Nobel Peace Prize Laureate Kailash Satyarthi shared his vision for global compassion during the Nobel Peace Prize Forum. More than 300 students, academics, activists, and thought leaders participated in three days of discussion and presentations to advance peacebuilding.