Augsburg College alumna Jenni Lilledahl '87 was a featured speaker at the Auggie Networking Experience in February. As co-owner of the sketch and improvisational comedy theater Brave New Workshop in Minneapolis, Lilledahl brought insight from the improv world to the crowd of nearly 300 alumni and students meeting to exchange career advice. No matter their personality or career, Lilledahl said, all people have anxiety about jumping into new conversations or taking new career paths. Here she shares tips for individuals to jump-start meaningful conversations and say "yes" to new experiences.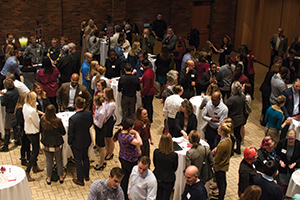 We all get uncomfortable, yet we cannot let this feeling control us. Instead, we must face our fears and immerse ourselves in new experiences.
Sometimes saying "yes" is easier than we think. Don't rattle off 20 excuses; jump in with an open mind.
Stop yourself from using the word "but." Instead, use the reframing mindset of "yes-and" to add something positive to each situation you are in. Don't use excuses to squash new ideas, possibilities, or adventures. Rather, embrace them.
Be intentional about your communication. Don't just be there. Be awake, aware, and connected to the other people in the room.
Have gratitude for the chance to develop relationships, share ideas, and try new things. People who create authentic connections with others are often more successful than those who possess only technical skills.