1960-1969 | 1970-1979 | 1980-1989 | 1990-1999 | 2000-2009 | 2010-2015 | Graduate Programs
---
1961
Last year, First Lutheran Church in Red Wing, Minnesota, recognized Arlan Johnson '61 for 50 years of service to its choir as a singer and director. While a student at Augsburg, Johnson played in the band for four years and sang in the choir for two years. He enjoyed tours with the band and choir in the Pacific Northwest, and in 1960 he participated in an extended Alaskan band trip to the Anchorage Music Festival. After graduating from Augsburg, he completed his education requirements, student taught at Braham (Minnesota) Area High School with Herman Aune '50, and finished a second major in biology. Johnson taught band and vocal music in Stewart, Minnesota, and elementary, junior high, and middle school band in Red Wing until his retirement. He and his wife, Phyllis, continue to live in Red Wing.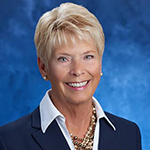 Barb (Walen) Hanson '67 became president of the Minnesota Golf Association at its annual meeting in November. She is the first woman to serve in this role. Since retiring from her teaching career, Hanson has been actively involved in the golf world, having served as president of the Minnesota Women's Golf Association and president of Women in the Golf Industry. She also wrote an e-book titled, "Hit It, Alice! A Woman's Golf Guide to Everything But the Swing."
1968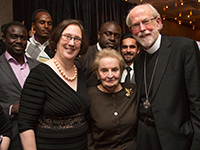 [L to R]: This fall, Lutheran Immigration and Refugee Service President Linda Hartke met with former U.S. Secretary of State Madeleine Albright and the Rev. Mark Hanson '68, former presiding bishop of the Evangelical Lutheran Church in America, at the LIRS Walk of Courage Award Gala. Albright and Hanson were honored at the event for their commitments to furthering equity for all people.
1969
Associate Professor of Chemistry Sandra Olmsted '69 retires after serving Augsburg since 1978.
1971
Darrell Skogen '71 retired after teaching for 46 years. He spent the past 41 years at St. Michael-Albertville High School in Minnesota. Skogen is the longest-tenured employee in the history of the school district. He taught classes such as AP World History and AP U.S. History. Skogen continues to instruct part-time at the high school and records stats for its football program. He says that the school's Class 5A football state championship victory in 2015 was the first in his 50 years walking the sidelines.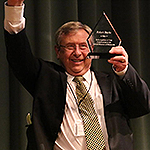 Bob Stacke '71 received an award from the Somali Museum of Minnesota on the occasion of the museum's third anniversary last October. Stacke has provided music and photography services to the museum since its inception.
1974
Dr. Subhashchandra "Pat" Patel '74 and Annette (Hanson) Patel '73 donated their dental clinics in Clarkfield and Cottonwood, Minnesota, to Open Door Health Center of Mankato. Open Door will run satellite dental clinics in the towns. Pat retired in June 2016.
1975
---
Auggies near and far
Last fall, metro-urban studies alumnus Mark Johnson '75 invited Sociology Professor Tim Pippert to the remote country of Vanuatu in the South Pacific. The pair distributed solar lights donated by Johnson to villages on the island of Tanna, which in 2015 suffered widespread destruction due to Hurricane Pam. For Pippert, the trip was an adventure of a lifetime and an opportunity to observe the relationships Johnson has developed with local people over the course of several previous trips.
The connection between Johnson and Pippert was built, in part, through their involvement with Augsburg's Torstenson Community Scholars program that supports undergraduate research. Since 2015, Johnson has funded research opportunities for Auggies engaged in the program, which is named in memory of Professor Joel Torstenson '38, a founder of Augsburg's Department of Sociology. This February, four Torstenson Scholars traveled with Pippert to North Dakota's Bakken oilfield region to assess how residents have been impacted by oil exploration.
---
1976
Associate Professor of Music Peter Hendrickson '76 retires after teaching at Augsburg for more than two decades.
In August, Neil Paulson '77 was elected state committeeman for the Republican Party in Orange County, Florida.
1978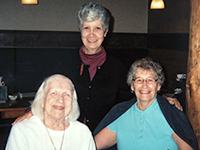 [L to R]: Margaret Marx '78, Margo Casey '78, and Cathy (Kaiser) Bloomquist '78, all members of the original second step Bachelor of Science in Nursing program at Augsburg, continue their friendship today. The women gathered in Scandia, Minnesota, in September, and they share this photo as a reminder of the second step program's impact on the nursing profession in Minnesota.
1979
Walter Ohrbom '79 earned a doctorate in chemistry from North Dakota State University after graduating from Augsburg. He retired from BASF as a senior research associate with more than 120 U.S. patents. Over the years, he and his wife, Patricia, have traveled around the world to backpack, bike, canoe, and scuba dive.
In a new "Augsburg Now" story, Athletic Director Jeff Swenson '79 draws connections between student athletes' time on campus and leadership roles after graduation.
1983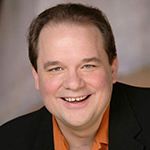 Actor and performing arts educator Luverne Seifert '83 won a $25,000 fellowship from the William and Eva Fox Foundation. He is part of a national cohort of artists supported by the foundation, which underwrites training and career development for performers. The support will enable Seifert to deeply explore his art and travel to France and Switzerland. In the past 25 years, he has acted at theaters in the Twin Cities and across the U.S.
1987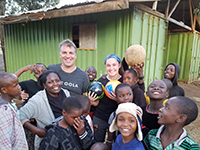 Pete Pfeffer '87, who holds a Doctor of Chiropractic degree, and his daughter, Maggie, served on a chiropractic and medical mission team in Kimana, Kenya. The team provided care and education to hundreds of Maasai villagers living in bomas and orphanages in an underserved area. Pete and his brother, Mike Pfeffer '92, jointly own and serve as chiropractors for a HealthSource Chiropractic and Progressive Rehabilitation Clinic in Alexandria, Minnesota. In addition to private practice, Pete has taken on a national role with the HealthSource Corporation to provide training in technique and rehabilitation procedures for new franchises.
1988
Kiel Christianson '88 was promoted to full professor in the Department of Educational Psychology at the University of Illinois, Urbana-Champaign, where he conducts research on language processing, reading, and bilingualism. He is associate chair of the department, as well as leader of the Educational Psychology Psycholinguistics Lab and co-chair of the Illinois Language and Literacy Initiative, both in the Beckman Institute for Advanced Science and Technology.
1990
In July, Karen Jean Reed '90, a music therapy major, was honored with the President's Award at the Southern California First Ecclesiastical Jurisdiction Church Of God in Christ 50th State Women's Convention, held in Palm Desert, California. She also was nominated for the 50 Women of Excellence honor for her exemplary service and outstanding achievement in music and administrative service in local, church, district, regional, and state positions. Reed has excelled in music as a gospel saxophonist and in women's ministry. She was recognized for exemplary service by Barbara McCoo Lewis, the assistant general supervisor of the Church of God in Christ International. Reed serves as the assistant regional missionary for the Santa Barbara region and also works with youth. Professionally, she is a program director at the Department of State Hospitals-Coalinga, overseeing the treatment of sexually violent predators. She is the author of "Music is the Master Key."
1991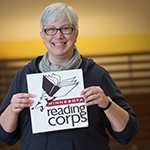 Nancy Palmer '91 joined the Minnesota Reading Corps September Institute and tutors students in kindergarten through third grade.
Scott Peterson '92 has accepted a call to be the pastor at Lutheran Church in the Foothills in La Cañada, California. After living in Canada for more than 17 years, Peterson has returned to the U.S. to continue ministry within the Evangelical Lutheran Church in America.
1993
Chad Shilson '93 is the Minnesota women's wrestling director for USA Wrestling. He has completed his 100th marathon and qualified for his fourth Boston Marathon. Marathon running has taken him to 36 states, including 29 states in the past two years. A dedicated daily runner, Shilson has run at least one mile per day for more than six years.
1996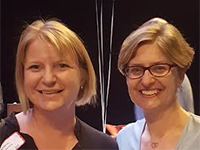 Stephanie Harms '96 and Kristin (Young) Miller '91 are helping change the nation's response to vulnerable individuals and families through their work in the supportive housing movement. Both Auggies work at CSH, a national nonprofit organization that connects housing with services for vulnerable populations. Based in New York City, Miller leads a successful CSH program that assists communities throughout New York, New Jersey, and Pennsylvania. Harms serves as chief operating officer and leads CSH's communications, administrative, talent, and human resource efforts. CSH has ended veteran homelessness in several communities throughout the U.S., created more than 100,000 homes for individuals and families, and changed public systems to address the root conditions that create turmoil in the lives of vulnerable individuals and families.
1999
Peter Durow '99 has been commissioned by the American Choral Directors Association of Minnesota for the 2018 ACDA-MN State 4-5-6 Girls' Honor Choir. ACDA-MN has been committed to commissioning new choral works for all-state and honor choirs from Minnesota composers each year since 1975. Durow serves as visiting director of choral activities at St. Cloud State University.
2000
Juliane Derry '00 blends science with artistry and research with intuition as a historic materials conservator.
2001
Mathematics and Statistics Instructor Alyssa Hanson '01 was honored with a Distinguished Contributions to Teaching and Learning award.
2002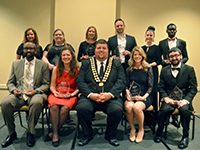 JCI Minnesota (formerly Minnesota Jaycees) selected Katie Lindenfelser '02, founder of Crescent Cove, as one of the Ten Outstanding Young Minnesotans for 2016. The mission of Crescent Cove is to offer care and support to young people with a shortened life expectancy and their families. The vision of Crescent Cove is to build and operate the first residential children's hospice and respite care home in the Midwest. Started in 1950, the Ten Outstanding Young Minnesotans honor is Minnesota's only statewide recognition program for outstanding young leaders ages 18-40 who have devoted themselves to improving their communities. The program acknowledges the efforts and accomplishments of young adults who contribute to Minnesota through their service, thought and influence, community involvement, or entrepreneurship.
2003
Reginaldo Haslett-Marroquin '03 published "In the Shadow of Green Man." The book, published by Acres USA, chronicles Haslett-Marroquin's upbringing in revolution-torn Guatemala and how he built his vision to develop a regenerative farming model that uplifts individuals and communities. Throughout the book, he shares the fable of the Green Man, a tiny and wise Guatemalan folk character whose stories teach the importance of respecting the natural world. Haslett-Marroquin is chief strategy officer for Main Street Project, based in Northfield, Minnesota. Haslett-Marroquin has served as a consultant for the United Nations Development Program's Bureau for Latin America and as an advisor to the World Council of Indigenous People. He was a founding member of the Fair Trade Federation, and was Director of the Fair Trade Program for the Institute for Agriculture and Trade Policy from 1995 to 1998. He also led the creation, strategic positioning, startup, and launch of Peace Coffee, a Minnesota-based fair-trade coffee company.
Samuel Gross '03 designs new Augsburg University logo.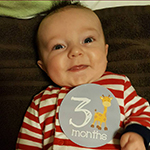 Paul Putt '03, '15 MAE and his wife, Katie, celebrated the birth of a son, Theodore Howard, in October.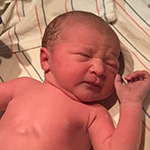 Nick Rathmann '03 and wife, Shannon, welcomed a daughter, Finley Grace, in November.
2005
Andrea (Carlson) Conway '05 and Riley Conway '05 welcomed a son, Soren Jon, in December. Soren is the grandson of Jon Carlson '79 and great-grandson of Jeroy Carlson '48.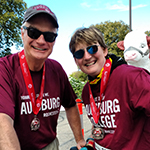 Janeece (Adams) Oatman '05, an Augsburg Alumni Board member, and Jim Gross, associate provost for academic innovation and strategic initiatives, were part of the Auggie team at the Rochester, Minnesota, Tour de Cure in October.
2006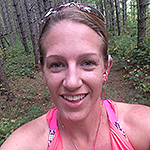 Missy (Gaulke) Wilson '06 completed her first Ragnar trail race and her third Ragnar overall race in September. She ran 15.2 miles on the Ragnar Trail Northwoods – WI in the Ragnar relay.
Mike Matson '07 helps teach student-athletes how to engage in difficult conversations.
Jenessa Payano Stark '07 began a Master of Science in Nursing program at Yale University this past fall. She is studying in Yale's Nurse-Midwifery/Women's Health Nurse Practitioner program. She received a prestigious National Health Service Corps Scholarship that pays her tuition and fees, and defrays her living expenses for three years in exchange for future service in an area with a shortage of health professionals.
2008
---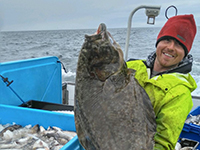 Healing waters
Jason Kusiak '08 spends late winter and early spring long-lining for cod and haddock, and most of the year catching lobster. Fishing in long-established seaports near Gloucester, Massachusetts, gives Kusiak an appreciation for the area's rich history and a healthy respect for those who made a living fishing the Atlantic in earlier times. "With fishing," he said, "you can see the direct result of your work ethic."
Today Kusiak recognizes that his entrepreneurial inclination was shaped by Assistant Professor of Business John Cerrito and former staff member Peggy Cerrito, and that his drive for continual personal growth was influenced by his involvement in StepUP®, the College's residential collegiate recovery community. While at Augsburg, Kusiak found that the College's commitment to building strong community connections and emphasis on learning through experience resonated with him. He now seeks out opportunities to interact with new people, to give back, and to offer hope to individuals and families who struggle with substance abuse. He's driven to invest in the future of his business and his community.
Read more about Kusiak's vocational journey.
---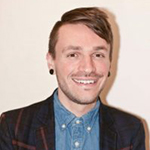 Chris Stedman '08, an interfaith activist and author, is joining Augsburg this spring as a fellow serving the SaboCenter for Democracy and Citizenship where he will facilitate and build new community partnerships for non-religious and interfaith civic engagement. Stedman also will consult on the development of interfaith engagement programs at Augsburg.
2010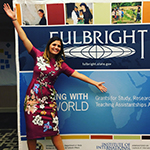 Beckie Jackson '10 received a Fulbright Distinguished Award in Teaching and is one of approximately 45 U.S. citizens traveling abroad through the program in 2016-17. In January, she headed to Botswana to spend five months conducting educational research. Recipients of Fulbright grants are selected on the basis of academic and professional achievement, as well as demonstrated leadership potential. Jackson teaches at Moose Lake High School in Moose Lake, Minnesota.
2011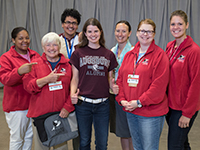 Several Augsburg College alumni serve as tutors and coaches with Minnesota Reading Corps and Minnesota Math Corps. Tutors pledge one year of service in schools to help children become proficient readers by the end of third grade and proficient in math by the end of eighth grade. [L to R]: Charmaine Bell '11, Kathleen Abel '76, Joaquin Vences '16, Kacie Carlsted '15, Christine Fankhanel '02, Amy Riebs '18 MAE, and Alicia (Oppelt) Musselman '14.
Dan Skaarup '11 and Casey (Ernst) Skaarup '11 welcomed a daughter, Eowyn River, to the world in December.
Laura Schmidt '11 and Sarah Witte '12 launched a nonprofit, spiritually based community called Intertwine Northeast. The group's mission is to be "made and moved by story, convinced by compassion, always in process, and about questions, not answers."
2012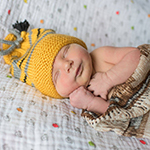 Kathleen (Watson) Bradbury '12 and Krissy Bradbury '12 welcomed Peter Gene to their family.
Mike Gallagher '12 shares life lessons with current students.
2014
Composer and percussionist Zack Baltich '14 was featured in the 2017 Cedar Commissions. Baltich's piece "ingress/passage" used contact microphones and uncommon performance techniques on marimba, glass bottles, and other found objects. The Cedar Commissions(formerly the 416 Commissions) is a flagship program for emerging artists made possible with a grant from the Jerome Foundation and has showcased new work by more than 30 emerging composers and musicians.
Catherine Colsrud '14 was one of 25 leaders who participated in the eighth cohort of the Native Nation Rebuilders Program sponsored by the Native Governance Center and the Bush Foundation. Representatives from 12 Native nations from Minnesota, North Dakota, and South Dakota were selected for the Rebuilders Program as a leadership component of a larger initiative to support tribes as they strengthen their governing capabilities. Colsrud serves the Mille Lacs Band of Ojibwe as the commissioner of administration, chief of staff, and acting commissioner of natural resources. Native Governance Center and Bush Foundation Rebuilders convened for four structured sessions during which they developed action plans to share knowledge with peers and their respective tribal governments.
GRADUATE PROGRAMS
Nursing Department Chair Joyce Miller '02, '05 MAN, '11 DNP earns a Distinguished Contributions to Teaching and Learning award.
Tommy Redae '09 MBA helps Auggies prepare for a healthy financial future.
Rochelle Fischer '14 MSW became a hospital administrator at Anoka-Metro Regional Treatment Center in January. For the past four years, she has been an assistant program director at the Minnesota Security Hospital in St. Peter, Minnesota, providing day-to-day operational and administrative leadership for persons with complex behavioral health symptoms.
Dan Klein '15 MBA and Kaitlin (Astleford) Klein were married February 25 in Hollywood, Florida.
Nicole (Egly) Olson '15 MBA and Mark Olson were married February 24 in Playa del Carmen, Mexico.