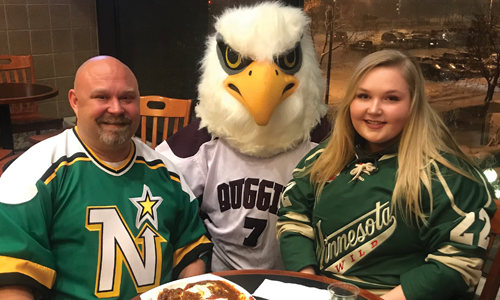 Beginning this past fall, alumni, parents, students, and friends have had the opportunity to attend a number of events in the new Auggies in the City series that offers discounted tickets and Augsburg-specic programs to popular Twin Cities activities. The series includes arts and cultural programming, family-oriented outings, and athletic events.
"Auggies love to explore and appreciate the community in which we live. We have had families, couples, and Auggie friends enjoy a variety of activities, ranging from zoo and museum visits to sports events and theater performances," said Katie Code '01, Augsburg director of alumni and constituent relations.
The theater events have been a sellout success and included tickets to the Tony Award-nominated musical "Waitress," fan-favorite "A Christmas Carol," and the family singalong extravaganza "Annie." The events were complemented with unique, Augsburg-specific receptions or activities. For example, Darcey Engen '88, associate professor and chair of Theater Arts, hosted a discussion at the "Waitress" pre-performance pie buffet about the significance of the all-female
production team.
For Auggies with children, popular family-friendly events included an afternoon at the Minnesota Children's Museum with an Augsburg party featuring Auggie Eagle, coloring books, bow tie making, and a photo booth. Another event attracting families was the interactive learning session at the Minnesota Zoo at which a zookeeper brought animals to the Augsburg reception—including a lizard, a porcupine, and a chinchilla—for children to see and touch.
Additionally, Auggie families and friends have embraced Minnesota sports as part of the Auggies in the City series. In January, Auggies watched the Minnesota Wild take on the Ottawa Senators, and four attendees won a drawing to ride the Zamboni machine. A number of current Augsburg University men's hockey players attended the event and mingled with former Augsburg hockey team members. Events this summer included a St. Paul Saints game and—still ahead—a Minnesota Twins game in July and a Minnesota United FC match in August.
---
Web Extra: For more information or to buy tickets for upcoming events, go to augsburg.edu/alumni.