Augsburg University Day was a moment of celebration—a time to honor and appreciate the abiding principles on which Augsburg was founded and an opportunity to consider Augsburg's commitment to shaping the world for generations to come. Augsburg marked the transition from college to university through a commemorative day full of fun and fellowship. And, although Augsburg College officially became Augsburg University on September 1, the campus threw its proverbial hat in the air a few days later—on September 5, the day Augsburg formally welcomed its most diverse incoming class in school history.
Opening Convocation
On September 5, Augsburg's Class of 2021 rose early to participate in the grand finale of their welcome week: Opening Convocation. New students marched across campus, past rows of cheering faculty and staff, and toward Hoversten Chapel with pride (and maybe a few sheepish grins), to engage in a historic beginning for them and for their school: the commissioning of Augsburg University's inaugural first-year class. This year's event featured elements linked with Augsburg's commitments to faith, diversity, and vocation: Lutheran hymns, interfaith blessings, and international flags representing the countries from which Augsburg students come. President Paul Pribbenow encouraged new Auggies to do justly, love mercy, walk humbly … and follow him on Twitter. And that was just the beginning.
A Moment to Remember
Following Opening Convocation, the Class of 2021 processed from the chapel to the quad where they were met by stilt walkers, local musicians, Haitian and Somali dancers, and the smells of dishes as varied and diverse as the neighborhoods surrounding Augsburg's metropolitan campus. More than 800 students, faculty, staff, and friends of the University convened to feast on sambusas, Mexican tacos, cotton candy, brats and sauerkraut, and, in some cases, all of the above. Students had nearly two hours to take in their surroundings, grab food, pose at the Auggie photo booth, and assemble hygiene kits for the Augsburg Health Commons, which serves unsheltered persons throughout Minneapolis. Many even had time to read a proclamation, signed by Minnesota Gov. Mark Dayton, naming September 5, 2017, Augsburg University Day.
A University of the City
In the afternoon, more than 500 students, faculty, and staff gathered in small groups and dispersed throughout Minneapolis to listen to, learn from, and volunteer with local partners and nonprofits with ties to Augsburg. In total, the Class of 2021 donated nearly $35,000 in service work at more than 20 Twin Cities locations. The entire string of events—from the convocation, to the celebration, to the service-learning opportunities—demonstrated that Augsburg's name change was much more than updated monument signs (though they do look nice),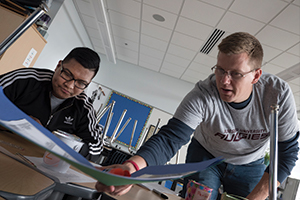 letterhead, and websites. The name change was a collaborative effort to share Augsburg's story—the narrative of a place that's deeply embedded in its community, that richly lives out its traditions, and that points to a bolder vision of what a student-centered, urban university can be … small to its students, and big for the world.