"Only priests and participants' fathers can be anywhere near the pool," three St. Catherine's nuns echoed in protest as Augsburg's 1963 swim instructor, Malcolm "Mac" Gimse, led then-20-year-old Joyce Pfaff '65 and three other physical education majors onto the pool deck.
Gimse reluctantly exited the building, but as the Auggies lined up at water's edge, "GO AUGSBURG" boomed from the stands. Pfaff looked up, and there was her instructor, wearing a big smile and a clerical collar.
Call it obstinate or call it resolute, but Pfaff adopted that tenacity—and it helped her climb over, chisel away, and bust down a decade's worth of walls in women's athletics and coaching prior to the passage of Title IX, a federal law that allows women access to any federally funded educational program or activity. So, it comes as no surprise that Augsburg's first women's athletic director is "beyond proud" that a recent report ties Augsburg with Macalester College as the Minnesota Intercollegiate Athletic Conference's schools with the most female head coaches.
This distinction, out of the University of Minnesota's Tucker Center for Research on Women and Girls in Sport, is particularly encouraging as national studies point to dramatic decreases in women coaching women's sports. When Title IX was passed in 1972, women coached 90 percent of women's collegiate athletic teams. Today, only about 40 percent of those teams are led by female coaches, according to the NCAA.
Augsburg hits national average out of the park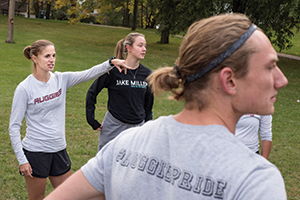 Pfaff coached at a time before women's athletics were afforded official equipment or facilities. In fact, Pfaff helped build Augsburg's first softball field. Today, she remains confident in Augsburg's ability to advance equality. According to the Tucker Center, Augsburg leapt from having slightly more than 36 percent female head coaches in 2014 to nearly 73 percent in 2017.
"Think of how far we've come," Pfaff said. "Augsburg's first volleyball coach, Mary Timm '81, could 'afford' to coach for us because she had a full-time job as a day care supervisor, and she used vacation time to travel with the team. Today, Augsburg has more women's teams (11) than men's (10), and the Athletic Department works hard to create an equitable, forward-thinking, and inclusive culture."
Augsburg Athletic Director Jeff Swenson '79 and Associate Athletic Director Kelly Anderson Diercks appreciate the Tucker Center's acknowledgement of Augsburg's dedication to women's athletics. University leaders are ever-vigilant in their efforts to support all coaches, staff, and student-athletes in achieving a well-balanced life.
"Coaching demands all of you and more, with 365-day recruiting on top of practices, planning, and leading student-athletes in competition and out in their everyday lives," said Swenson, who has worked at Augsburg for more than 36 years. "We are committed to work-life integration. The best coaches are ful lled, healthy, and productive members at home and in the community— an approach to life we want to mirror for our student-athletes."
Anderson Diercks recruits coaches and advises student-athletes interested in transitioning from court to clipboard. She is keenly aware of the factors contributing to the diminishing number of female coaches across the U.S. and emphasizes that even if you're in a position of success, there's still room for improvement.
"College athletic departments need to do a better job of recruiting and retaining women coaches through mentoring, professional development, and supportive cultures," she said. "And it is critically important that this conversation is not just about women coaching women. It should be about women in coaching, which includes women coaching boys and men. It's vital for all students to see women as role models in all professions, including athletics."
Popularity of women's athletics contributes to decline in coaching equity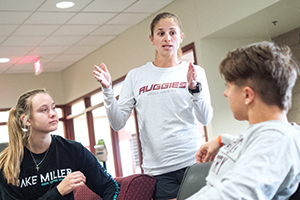 The NCAA's findings suggest that a major factor contributing to the decline of women coaching women is, ironically, tied to the boom of women's athletics. With increased popularity came expanded staffs and higher salaries, attracting men—particularly longtime assistant coaches—to lead women's teams. And while 60 percent of women's teams are coached by men, according to the study, women guide only about 3 percent of men's teams. Roughly 80 percent of collegiate athletic directors are men.
Is a solution to ignore gender? "Absolutely not," Anderson Diercks said. "Like any dimension of diversity, to ignore or deny a part of someone's identity does not allow them to show up as their fullest and best self, and then we all miss out. There is richness in diversity, and women are an important part of that diversity, especially in the athletic arena."
A coaching job is demanding, with long hours, travel, and high expectations, but those pressures can be overcome, Swenson said. The more universities exemplify work-life balance, the more family-oriented student-athletes, regardless of gender, will be drawn to the profession, he added.
Negative perceptions still cast a shadow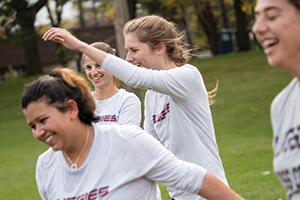 Stigmas, misconceptions, and high stakes also contribute to the decline in women seeking and maintaining leadership roles in university athletics, according to the NCAA. Interviews with female coaches across the U.S. drew out comments about increasing demands, assumptions about female coaches' sexuality, and perceived gender bias. Augsburg Women's Hockey Head Coach Michelle McAteer said if she could squash an assumption curbing female coaches, it would be the belief that "all women are catty and emotional."
"Since women hold fewer leadership positions in all realms— from athletics and business to politics—we are put under a microscope and our actions are generalized," she said. "Women in leadership need to become the norm and not the exception in order to combat these myths so we can get onto the business of empowering those we lead (and winning games)."
And she would know. McAteer, who led the Augsburg women's hockey team to its highest MIAC finish since the '90s, played for female coaches throughout her high school and college years. These models of "strength, resolve, and compassion" gave her confidence and an awareness of her role now, as a coach, to model those values for the next generation, she said. "It's a responsibility I care deeply about."
For Pfaff, this and other reflections from today's women coaches signal that the legacy she and others fought to instill is holding strong. Sure, there always is yet another contest to win, she said, but what's the fun in not having a fight? The best part, for Pfaff, is knowing that Augsburg is on the right side of the field—maybe even the infield she helped grade for Augsburg's first softball diamond.
It's vital for all students to see women as role models in all professions, including athletics.

—Kelly Anderson Diercks, associate athletic director