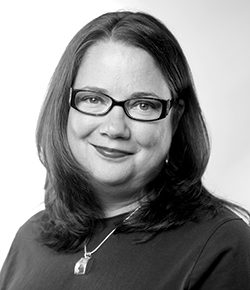 Michelle Budig's story is deeply woven into her pioneering research to expose gender inequality and examine family policies in the workforce.
The product of an outspoken dental receptionist and a pious electrician— who staked the yard with opposing political signs—Budig learned from a young age to question, wonder, and voice her beliefs. In preschool, for example, she insisted her class change the lyrics of "Yankee Doodle Dandy" to remove "and with the girls be handy."
But despite her early and strong advocacy for girls' rights, Budig still believed that as an adult she would have to choose between motherhood and a meaningful career. Indeed, at 22, she married her Augsburg sweetheart, nurse practitioner Peter Landstrom '91, but then waited almost 20 years—until after she secured tenure as a sociology professor—to adopt their daughter, Lucy. Her beliefs about how things should be were tempered by her understanding of how things actually are.
It may be no surprise, then, that Budig focused her scholarly research on the impact of parenting across gender—specifically the wage inequities between fathers and mothers across the pay scale. Her latest findings, currently making rounds in The New York Times and the like, assert that although the gender pay gap is decreasing (women now make about 76 cents for every man's dollar), wage inequalities among parents who work are increasing.
Overall, fathers incur an average wage increase of more than 6 percent with each child, while women experience, on average, a 4 percent decrease in salary per child. Fatherhood, ultimately, is considered a "valued characteristic, signaling perhaps a greater work commitment, stability, and deservingness," said Budig, Sociology Department chair at the University of Massachusetts Amherst. Mothers, on the other hand, are often perceived as "exhausted and distracted at work," rendering them less productive.
Beyond perception, other significant contributors to the discrepancy include that women often take time off to care for children and bypass higher wages for mom-friendly roles. "Kids are seen as a privilege, not a right, so if you want to have them, you must pay the price," Budig said, referencing a view some hold. But it's not as simple as "dads make more, moms make less," Budig said. Using sophisticated statistical techniques on a large sample of U.S. workers, Budig found that parenting exacerbates earnings inequalities within genders depending on income.
The "fatherhood bonus," as she calls it, is highest for the most advantaged men—married, white, college graduates with professional jobs. Unmarried, black men in non-professional occupations, for instance, receive minimal—if any—bonus. The motherhood penalty is smallest among women who earn above the 90th percentile of female workers, with women at the very top of the income distribution experiencing no wage penalty. Low-to-average earning women incur the greatest motherhood penalty, Budig found.
"I always thought that women who made the most would have the most to lose, but that is certainly not the case, and it makes complete sense when you consider factors and stressors influencing populations at the top and bottom of the pay scale," Budig said. "Fathers and mothers earning lower wages often rely on fragile networks of free child care, and when a grandmother or friend is sick or doesn't show, those parents can't make it to work. Conversely, parents who can afford it, secure reliable, consistent child care operated by licensed professionals." Wider wage gaps among lower-earning individuals are exacerbated by the fact that people tend to marry within socio- economic situations, Budig adds, so low-earning couples take greater hits, while highly paid duos keep climbing.
Additionally, lower-earning men and women statistically are more likely to have children, Budig said, which leads to higher penalties for those families.
Accessible child care among policies to close the gap
Budig suggests two policy shifts to reduce the gap: publicly funded, high-quality child care for babies and toddlers and non transferable paid leave for both mothers and fathers. The "nontransferable" part is critical, Budig reiterated, as "evidence suggests that if fathers can transfer leave to a female partner, they will."
"Access for all to high-quality, reliable, licensed child care options would certainly even the playing field for both parents and children," Budig said. "Think of all the stress it would alleviate from low-income families relying on less dependable child care. Businesses would likely be more productive with a more resilient, consistent workforce. And children growing up in low-income situations would bene t from the same instruction and care as wealthier families, giving those young ones a stronger start."
This approach is not new. Many Scandinavian countries, which support publicly funded child care and offer incentivized paternal leave, report smaller or no parental pay gaps. In contrast, countries with entrenched gender roles, like Germany, where new mothers are expected to take a year or more off work, report the highest motherhood penalties. "Workplace policies matter," Budig said. "Most of my life, I had to choose between being a mother and having a meaningful career, and unless progressive policies are adopted, the parental and economic gaps will persist."
The Organization for Economic Cooperation and Development ranked the United States last in a study the intergovernmental organization conducted about the national paid maternity leave policies of its member countries. The average amount of paid leave time for mothers among its 35-member countries was a little more than one year, as of 2016.
Budig notes there is progress on the state level, citing California's paid family leave, which allows family members to take time off to care for a loved one or to bond with a new child entering their
life (either by birth, adoption, or foster care). Without a comprehensive federal approach, however, Budig warns of the implications of inconsistencies across states.
"It's encouraging to see states and companies take action, but it leads to inequities among states and industries, which may only add to our country's increasing divide," said Budig, who has testified before Congress and the United Nations about the implications of her research. "More universal support will reduce wage gaps, promote greater equality, and better prepare our children to
be productive members of society."
The culture is shifting as men embrace female roles
But beyond evolutions in policy, Budig sees hope in the young people she interacts with as a professor and mentor. They expect both parties—and want both partners—to be involved in maintaining the household. Single-paycheck families are difficult to sustain, and popular books and blogs are encouraging mothers to shed the mom guilt, cast aside the superwoman expectations, and go order a pizza for dinner.
"Believe me, I get it. Even with the most supportive husband, who as a nurse, experiences his own gender stereotypes, I still slip into unrealistic expectations," said Budig, who earned a master's and doctorate in sociology from the University of Arizona. "Our marriage is a constant conversation, and splitting up the chores by room works for us."
A 2016 PayScale Gender Pay Gap Report found that men still out-earn women in every state in the union, but Vermont is the closest to equality, with women earning 84.8 percent of what men earn overall, as opposed to Alabama, Louisiana, Texas, and Wyoming where women earn from 71 to 73 percent of their male counterparts' income. The national average is 76 percent, per the report, which does not factor in years of experience, education, or job title. When such national statistics were first calculated in the 1970s, it was about 60 percent.
Mentors pushed her to live with a 'heart for service'
Budig lost both her parents nearly two years ago. She often wishes she could talk with her mom about her latest research, knowing her mom would get a kick out of hearing about innovative solutions to promote equality and increase access for women.
"My mom was wildly supportive of my work, but I'll never forget the first time she read a major study I published about the wage gap. I was driving, and she was in the back seat. She looked up and said, 'Michelle, everyone knows women earn less than men. That's what you've been working on?' Gee, thanks, mom," Budig said. "I think she would have appreciated this last batch of research and what I'm focused on next, which involves female entrepreneurs and a study about the motherhood penalty in Israel."
Although there is no replacing a drive- and-talk with mom, Budig is not short on inspiring female mentors. At Augsburg, where she majored in English and sociology, Budig sought out educators to support her journey. Sociology Professor Diane Pike has taught Auggies for more than three decades, and Budig certainly stands out.
"Michelle had a seriousness and sophistication about intellectual ideas and work that was exemplary, and being a first-generation student, she never lost sight of the privilege it is to pursue higher education. She set the bar high for herself, and we've been following her career ever since," said Pike, who specializes in organizational analysis, sociological theory, and research methods. "There is nothing better than seeing one of your students succeed at such a level. Michelle's a big deal in sociology, speaking at top conferences and advocating for important change. She has a rare ability to convey complex data and theories to general audiences, and we are very proud of her."
Budig's Auggie roots run deep, and both she and Landstrom commit themselves to its mission through caregiving and advocating for change. Augsburg gave them a way of looking at the world and approaching life that will never leave them, Budig said.
"The greatest takeaway from Augsburg is our desire—the responsibility, really— to give back and live with a heart for service to others. Every day, we try to live out that change in our personal and professional lives."
---
[Top Image]: Budig's 19-page curriculum vitae details the more than $725,000 in grants she's received, including some from the National Science Foundation, and lists her articles in professional journals, including the American Sociological Review. She regularly contributes to national and international media outlets, including The New York Times, Money Magazine, and the Washington Post.