This year, John and Kristian Evans started their Thursday mornings off right … and left.
At the 6 a.m. DinoMights practices in the Augsburg Ice Arena, young players sometimes put their hockey skates on the wrong feet or jerseys on backward, focusing more on catching up with teammates than on the logistics of assembling picture- perfect uniforms. As a volunteer coach, Kristian describes the weekly 10-minute rush to outfit 20 elementary schoolers for the ice as "pure chaos." After he and his fellow coaches ensure that skate laces are cinched tightly against players' tiny ankles and the kids are safely in their gear, these volunteers prepare for a new challenge: channeling the young athletes' enthusiasm into a successful practice.
"It's crazy how much energy the players have in the morning," Kristian said. "It's never a problem to wake them up; it's always me who's the sleepy one."
Fortunately, the players' spirited attitudes are contagious, according to the Auggie, who is studying communication, marketing, and political science. "They act like a shot of caffeine," he said.
---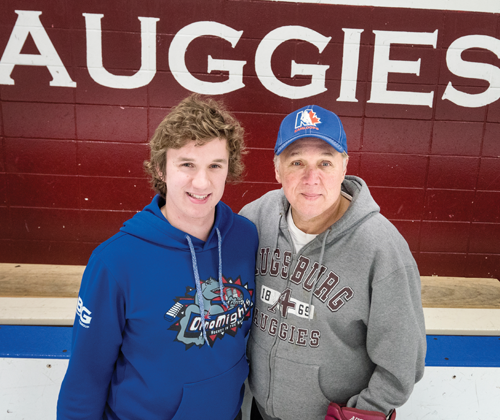 It's helpful that DinoMights practices leave Kristian with a boost of energy. The third- year student was enrolled in a full course load at Augsburg this fall and used his time outside the classroom to intern at a U.S. senator's office, serve as a sports editor for the Augsburg Echo student newspaper, do play-by-play announcing for Auggie soccer teams, and promote the Nobel Peace Prize Forum—Minneapolis as a student member of the Forum's marketing team.
Volunteering for DinoMights, Kristian said, was a way to carve out time in his schedule for one more thing he loves: hockey. DinoMights builds relationships with at-risk youth in South Minneapolis
through hockey teams and training, tutoring and academic support, mentoring, and spiritual development opportunities. As one of approximately a dozen nonprofit organizations that lease athletic space at Augsburg each year—from the Cedar- Riverside Community School to the Minnesota Sports Federation broomball state tournament—DinoMights benefits from access to quality facilities that are otherwise scarce in the Twin Cities.
---
A passion for hockey—and for Augsburg—runs in the Evans family.
John, for instance, has been skating at the university for nearly 40 years. The Augsburg Athletic Hall of Famer played for Auggie men's hockey teams that won four Minnesota Intercollegiate Athletic Conference championships and the National Association of Intercollegiate Athletics championships in 1981 and 1982.
While earning two national titles was a thrill, John now looks back on his college days and acknowledges that it's the relationships he developed with teammates, classmates, and faculty members that truly influenced his life. "It's the friendships you remember," he said.
Decades ago, John chose to attend Augsburg because he wanted to live and work in Minnesota's urban core and was drawn to the school's pioneering emphasis on experiential education.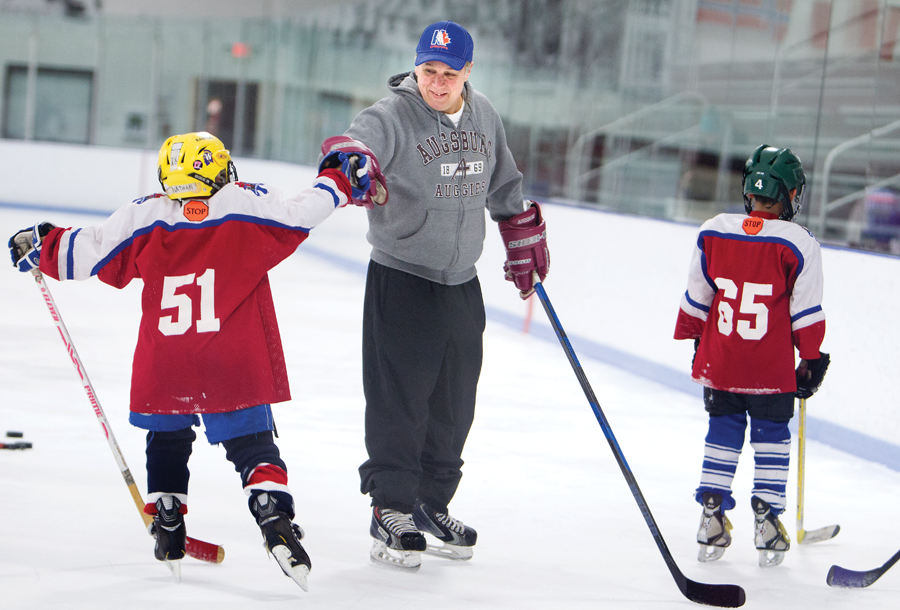 Today, as fathers and sons go, John and Kristian appear to be more alike than different. Both men played hockey in Norway; John signed a pro contract after Augsburg, and Kristian played there following high school. When Kristian was searching for a college after his junior hockey eligibility expired, at first he thought he'd go to school anywhere but Augsburg, wanting to venture farther afield than his dad and mom, Joan (Moline) Evans '83. Kristian's desire to take an entirely new path soon gave way to the revelation that Augsburg's metropolitan location and commitment to community involvement were a perfect fit for him, as well.
And, much like his father, Kristian values the power of Auggie friendships. In January 2017, he was diagnosed with cancer, underwent surgery to remove a tumor, and began chemotherapy treatments to rid his body of any remaining cancer cells. He continued to attend Augsburg full time and learned to lean on his roommates for support, whether he needed help shaving his head after he began to lose his hair or someone to accompany him to chemo appointments.
"I have friends who'd walk with me in the middle of winter to the East Bank hospital where I received care and sit with me for three hours before they had class," Kristian said. "You don't get that with every group of people, and that fact is never lost on me."
With his cancer in remission, Kristian sees his role with DinoMights as a way to strengthen an important network for Twin Cities youth who face challenges ranging from navigating life as first-generation Americans to living in single-parent households.
"It's amazing to be part of a group that says, 'We understand that you're going through some tough stuff, and we will help you in whatever aspect of your life means the most—whether that be through athletics or through faith or through education,'" he said. "That's why we build communities of support—so that when one of us falls, there are other people who are willing to step in."
For Auggies like John and Kristian who've come to embrace Augsburg's commitments to vocational discernment and civic engagement, DinoMights is just one example of the power of transferring the University's educational framework to a real-world application. "If you can make one corner of your community better, then you can say you're doing your part," Kristian said. "This is what Augsburg teaches when it comes to vocation."
---
[Top image]: Kristian Evans '19 helps a member of the DinoMights Squirt team prepare for hockey practice. Players are 10 or 11 years old.